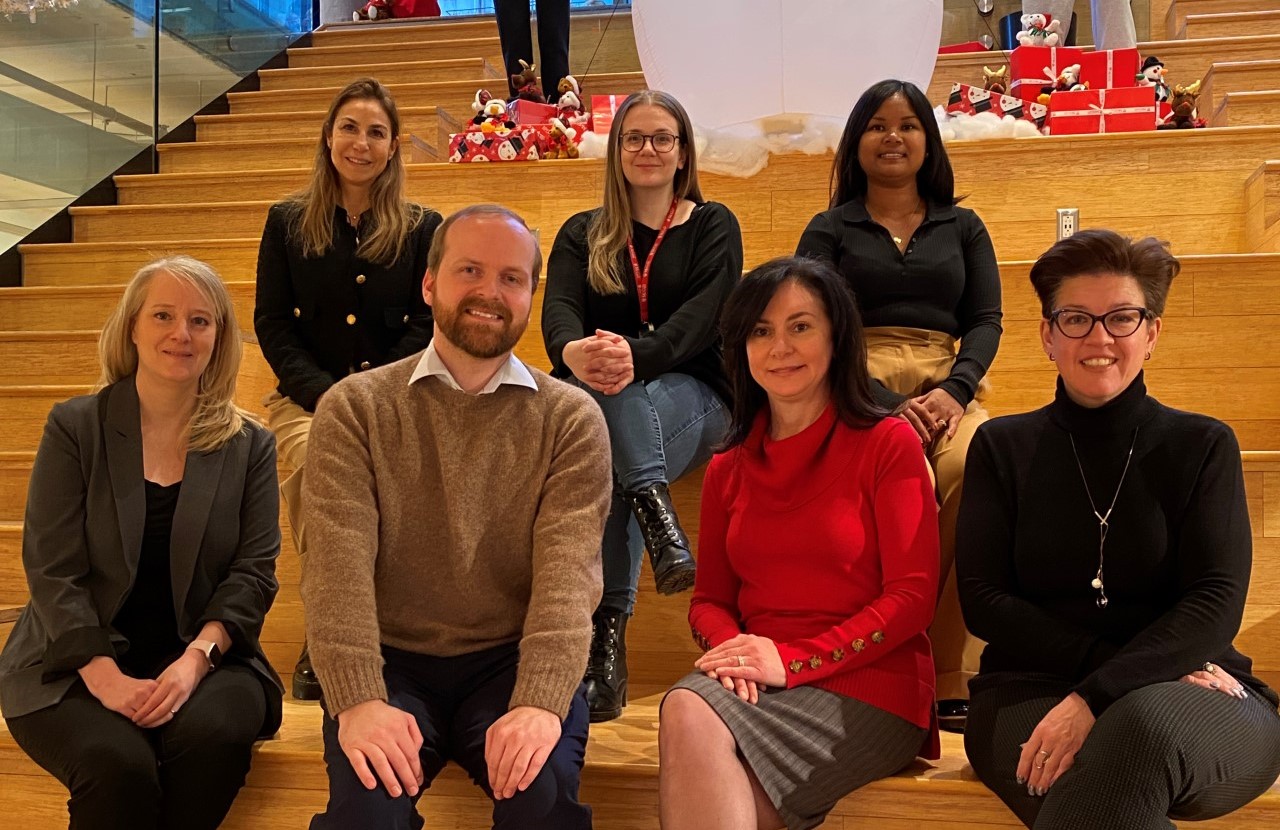 McGill Human Resources (HR) is walking the walk, reaffirming their commitment to sustainability with the Sustainable Workplace Certification program.
The seven Centres of Expertise that make up McGill's central HR — the Office of the Associate Vice-Principal, Organizational Development, Total Compensation, Pensions and Benefits, Labour and Employee Relations, Staffing, and HR Information Services — have all achieved Bronze-level Sustainable Workplace Certification, becoming McGill's first unit to achieve department-wide certification.
"McGill as an institution and a community strongly values and invests in sustainability. We are an organization oriented towards the future, by nature through the University's research and teaching mission, and by choice and intention as an employer," says Associate Vice-Principal, Human Resources, Diana Dutton.
"It is important to me and to my colleagues here in central HR to apply those positive values throughout what we do, in concrete ways," Dutton says. Building on this momentum, all seven teams are now working toward Silver-level certification.
Pichara Chhe, Sustainable Workplace Ambassador for the Total Compensation team, says that "since the process was done by units across the department, it was great to connect with other teams and see what initiatives they were working on."
"It was also nice to have a common goal that was outside of the usual scope of HR. And since each unit was responsible for their certification, a little bit of friendly competition was nice," she says.
Labour Relations' Sustainable Workplace Ambassador, Melanie MacArthur, echoes the sentiment. "Our team wanted to do our part to contribute to the greater good," she says. "Small daily ecological gestures can have a large impact."
Taking it step by step
The Sustainable Workplace Certification, which has certified 52 teams across the University since its creation in 2017, encourages participating teams to start small as they work to embed sustainable habits into their daily lives. For most, it makes one thing clear: they've already started on their sustainability journey without realizing it.
"Our team was already practicing most of the actions [in the Bronze-level checklist], and working remotely has helped us be more sustainable," says Pina Iannazzo, Ambassador for Shared Services (HR Information Services). She cited "less printing, reusing dishes and cutlery, [and] taking care of our health during the pandemic" as examples.
Karen Rasinger and Geneviève Leroux, of the Pensions and Benefits Centre of Expertise, agree. "Most of our work has now moved to being completely paperless and even being back in person, we will never go back to the old way of doing things," they say.
Other ways that HR colleagues said they've incorporated more sustainable habits into their daily lives include setting Ecosia as their default search engine to plant trees with each search, purchasing refillable whiteboard markers, bringing items to local Ecocentres to ensure proper disposal, and completing the McGill Equity Scavenger Hunt.
Growing the movement
The impacts of sustainable habits adopted through the certification don't stop at the Roddick Gates.
As a result of seeking certification, Staffing's Sustainable Workplace Ambassador Alessandra Cunzo says her teammates "feel great that they are making a difference, however big or small."
Ambassador Christine Khatchadourian says the HR Information Services team is "supportive about the changes we've implemented as a result of the certification."
As teams work their way through the varying levels of certification, they are encouraged to move beyond personal actions and think about what influence they have on the systems around them to inspire greater change. Examples of such actions include embedding sustainability-related objectives into Performance Dialogues, including sustainability in the onboarding process, and ensuring succession planning for the Sustainability Workplace Certification.
"We found that as individuals it can be overwhelming to reflect on what impact we can have to address the climate crisis," says Organizational Development's Ross McDonald. "The framework that was provided by McGill's Office of Sustainability for the Sustainable Workplace Certification was helpful because it broke it down into manageable steps and helped us to understand how our changes were part of a larger systematic change at the University and beyond."
"Going for the Bronze-level Sustainable Workplace Certification has been a rewarding project that has allowed our team the opportunity to affirm our commitment to sustainability at McGill and at home," says AVP HR Ambassador Sima Dantzigian. "We have demonstrated how easy it can be to choose sustainable options, practice self-care and promote health and wellbeing even during the most challenging times."
To learn more about the Sustainable Workplace Certification program and get started, visit the Sustainable Workplace Certification website.