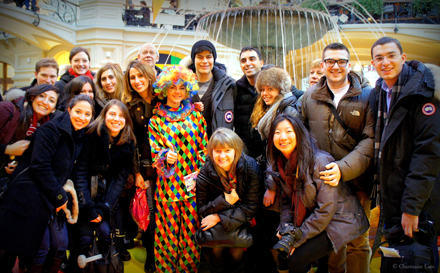 By Allison Lickley
Ten months ago, I volunteered to help organize Desautels' fifth annual Hot Cities of the World trip. I enjoy the challenge of detailed logistics; in my pre-MBA life, I booked national concert tours and publicity campaigns. As it turns out, booking a Canadian tour and booking a Russian trip for 44 people are very different beasts.
Professor Karl Moore has been taking groups of McGill MBAs, BComms and alumni to emerging economies around the world for the past five years. This time, he was considering several hot climates for our March trip, as well as the opposite end of the spectrum: Russia. Needless to say, Russia won, and I ended up buying a lovely down coat instead of a bikini.
Fast-forward through a year of Google translate, wire transfers, thousands of emails, and much lost in translation; we have arrived. We have a packed schedule: meetings with over 20 business and political leaders as well as charitable and cultural events to attend.
Our first afternoon in Moscow is spent buying 44 metro passes. Our Russian translator and MBA alumni, Anastasia, led my co-coordinator, Thomas, and I to the ticket counter. The woman at the counter thinks she must have misheard us – 44 metro tickets is not something she has ever processed in her career. Over the next hour, she processes the passes. The crowd grows and pushes behind us. There is another ticket counter open, but the passengers are not happy about the line-up we've caused. A man circles, yelling at us in Russian every five minutes. I decide that I can live with this for an hour; it's all part of the cultural experience.
The wait was worth it. While in Moscow, we mostly use the metro to avoid the awful city traffic. The metro is beautiful. It's like walking into a palace. The ceilings are complex, gilded, artful. There are paintings and statues in certain stations, and some stations are as deep as 84 metres. We learn that they were built during the war to double as bomb shelters.
Our second day in Russia, we take a bus out of Moscow to visit Kitezh Children's Community. As part of our trip, we have chosen to fundraise and visit a charity. We have set a target to raise $20,000 for Kitezh, a community of foster families based in the countryside, away from the influences of Moscow. We arrive to see a series of wood houses laid out on a property. We are welcomed by foster children and the adults of Kitezh – foster parents, psychologists, and teachers. They feed us a delicious, but simple lunch of Russian salad, borscht and bread. We learn about how many of the children experienced traumatic childhoods, either in their home lives or in the orphanages. Russian orphanages have been listed on Human Rights Watch reports in recent years. Kitezh offers orphans the chance to be placed in loving foster homes in their community, something that is rarely done in Russia. The kids learn to garden, chop wood, have access to therapy, and earn state accredited high school diplomas. After leaving a traditional orphanage at 18, there are high rates of suicide, prostitution, and homelessness. The graduates of Kitezh are all employed or studying at university. Some of our McGill students join the teenage boys to stack wood for the afternoon. It is nice to be able to offer some help today, in addition to our fundraising efforts.
The Russians can be so grumpy at first, but when you persist, they start to warm up. They have an amazing sense of humour. A bit sarcastic, offbeat, deadpan…I find it delightful. Late for a group dinner one night, Thomas and I grab a cab. The driver doesn't seem to speak any English, but we show him the address and he takes off. Thomas and I start talking about Russia, and somehow get onto politics. Suddenly, Whitney Houston's 'I Will Always Love You' comes on the radio, and the cab driver cranks the volume. It is so loud that if Thomas and I shout at each other, we still can't hear. I am laughing so hard at the absurdity of the situation, and we sing at the top of our lungs. The cab driver has a wry smile on his face – I can't tell if he understood our political conversation or just loves Whitney. It is these moments that I will take away with me. Russia has been so many things, but it has never been boring.
For more information or to donate to the McGill Hot Cities Fundraising campaign for Kitezh Children's Community, click here.
Allison Lickley has just finished her MBA at McGill. Before starting her Masters, she managed her full-time career in music for five years. Following graduation, she will be working in Strategy Consulting for SECOR/KPMG.