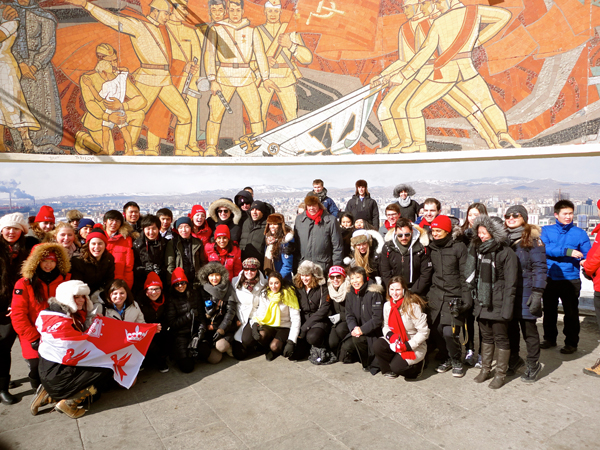 By Sabrina Ostrowski
If a year ago someone told me I'd be spending my spring break camping in the Gobi desert, 30 degrees below zero, I probably wouldn't believe them. Yet "expect the unexpected" seems to be the tagline for the week we experienced during the sixth edition of the Hot Cities of the World Tour, led by Professor Karl Moore.
When I found out that this year's trip was headed to Mongolia and South Korea, I had two thoughts: 1) I wouldn't qualify Ulaanbaatar and Seoul as "hot," and 2) Where do I sign up?
On February 28, forty-one curious souls set out to "Take the Future to the Future" in the sixth edition of the Hot Cities tour. Moore has been taking groups of McGill MBAs, BComms and alumni to emerging economies around the world since 2009. This year's destinations were quite polarizing. Although Seoul seems like an obvious pick, Ulaanbaatar doesn't. Then again, most people don't know that its GDP is growing at a staggering rate of 18 per cent, the fastest in the world.
Over 20 hours of traveling and a quick pit stop in Seoul later, we finally made it to Chinggis Khan Airport… already exciting in and of itself.
It would take us three days to be able to properly see Ulaanbaatar's landscape out our windows, given the omnipresence of smoke in the air. Amidst being the coldest capital and the second most air-polluted city in the world, Ulaanbaatar is quite charming.
After meeting with high school students and important players from the country's mining industry, we made our way to the Veloo Foundation. The charity provides love and care for the children of nomads who live off of the scraps they find in large waste dumps on the outskirts of the city.
Prior to Veloo's commitment, these young children were either left home alone or worked scavenging with their parents through these toxic dumps.
We had the tremendous honor of spending time with them and the sheer joy on their faces could make a grown man cry. Words can't really explain what we saw when visiting the dump, nor can pictures. One of my classmates described it as the closest thing he'd come to picturing what the apocalypse would look like; it was shocking. Yet amidst the hardship, the people we met all had one thing in common: their overwhelming hospitality.
Mongolia still has a large nomadic population, living in outdoor tents called "gers." We were told it'd be too cold for us to experience, so we had no other option but to accept the challenge. Fast-forward to us galloping into the desert at dusk (Mongols are obsessed with horses), in cold-beyond-belief temperatures – quite literally a scene out of a movie. Our hosts welcomed us with open arms after sacrificing mutton for our arrival. We shared traditional vodka, sang around an immense bonfire, and created memories that would last us a lifetime.
Mongolia made me experience emotions I never knew existed and I truly hope to return someday.
Seoul's skyline was expectedly different. The city was everything I hoped for and more. Amidst its highly concentrated population (Seoul is more populated than the entire province of Quebec), its concrete jungle maintains a unique personality, a perfect marriage of old and new. I never expected to visit a Zen Buddhist temple in the middle of the financial Gangnam district, yet I did.
As business students, we were able to satisfy our corporate aspirations through meetings with the Financial Times, Deutsche Bank, Samsung, the National Assembly and the Canadian Embassy. We already knew about the cutthroat, high-performance business environment for which South Korea is known. What we didn't know was how prominent the work-hard, play-hard mentality was. Boy, do Koreans know how to party.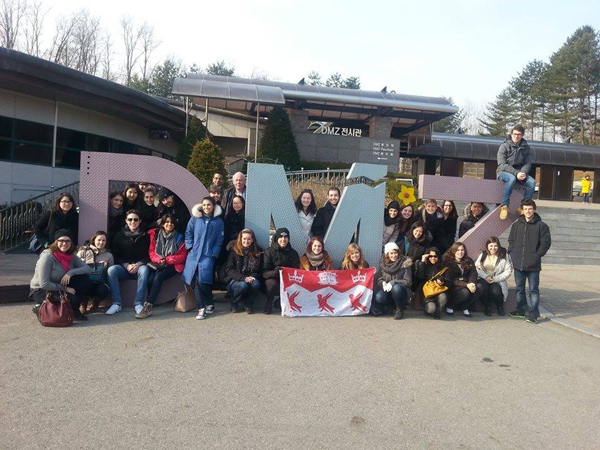 During our time off we explored the countless markets and street food the city had to offer. We shared the "occasional" soju bottle(s), and we got Professor Moore to sing karaoke. As any tourists would, we recreated Psy's dance video, and waved hello to North Korea. When I left South Korea, I had eaten my body weight in bulgogi and my blood type had become kimchi…but I wasn't mad about it.
For more information or to donate to the McGill Hot Cities Fundraising campaign for the Veloo Foundation, click here.
Sabrina Ostrowski is a U3 International Management BComm Candidate at the Desautels Faculty of Management. This summer she will continue working in Marketing and Account Management at Pratt & Whitney Canada. She hopes to return to next year's Hot Cities World Tour as an alumni.