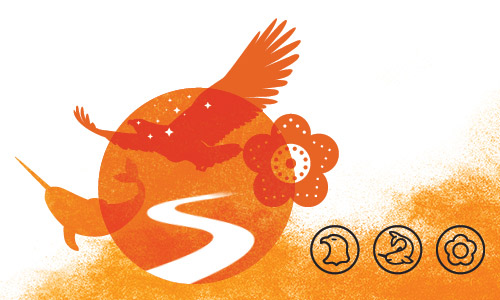 On September 29 – 30, McGill will honour the lost children and survivors of residential schools, their families and communities, with a series of events across campus. Canada's inaugural National Day for Truth and Reconciliation (September 30), coincides with Orange Shirt Day, an Indigenous-led grassroots commemorative day that pays tribute to the children who survived residential schools and remembers those who did not.
McGill will fly the flag atop the Arts Building at half-mast on September 30. The University will also illuminate the Arts Building on the downtown campus and the Centennial building on Mac Campus with orange lights from the evening of September 29, to the morning of October 1. Institutions across the country will be doing the same.
For Dicki Chhoyang, Interim Director, Indigenous Initiatives, marking the National Day for Truth and Reconciliation is part of a broader commitment by the University. "The 52 Calls to Action [in the Report of the Provost's Task Force on Indigenous Studies and Indigenous Education], express McGill's wish to partake in a national effort to repair, redress the damage and injustices done by colonization with residential schools being one of the most recent concrete examples."
Here is a sample of some of the events taking place at McGill:
Students, staff and faculty are encouraged to wear orange shirts on September 30. The Students' Society of McGill University, the McGill Law Students' Association, and the Indigenous Law Students' Association (ILADA) is fundraising by selling "Every Child Matters/Chaque enfant compte" orange t-shirts (designed by an Indigenous artist and law student). The cost of each t-shirt will be $20, and all proceeds will go to the Indian Residential School Survivor Society (IRSSS). T-shirts can be purchased on September 29, from 4 pm – 5:30 p.m. on McTavish Street, near the SSMU Offices.
People should consult the Indigenous Initiative website for a list of events to mark the National Day for Truth and Reconciliation. Please note that the list is not exhaustive.