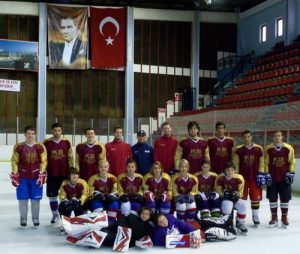 By Jim Hynes
In Montreal and most other Canadian cities for that matter, you can't swing a broken hockey stick with hitting an expert on Our Game. But that's not the case in a number of countries where hockey is still a developing sport, short of the kind of experienced and knowledgeable people needed to help it grow.
That's where Hockey Sans Frontières (HSF), aka Hockey Without Borders, comes in. The Montreal-based, non-profit organization is committed to using hockey to promote hockey and foster health, peace, integration, volunteerism, leadership and cooperation both locally and internationally. The group's approach focuses on sending coaches abroad, organizing grassroots initiatives, engaging in local clinics and sending equipment to underfunded hockey communities around the world.
"We think that our approach of growing hockey by sending coaches abroad to live in these communities is the best way to help a sport like hockey take off. One thing we see consistently is that they lack coaching," says, Craig Klinkhoff, an HSF ambassador and a current McGill Marketing student at the School of Continuing Studies.
Founded in, 2009, HSF has its roots in and is bolstered by its strong connections to McGill. Its current and founding team members include current Redmen assistant coach and former team captain Dan Jacob, alumnus and former Montreal Alouette Ron Perowne, and former Redmen goaltender Murray Cobb, to name a few.
"Some people involved in this organization have learned the value of sharing their love for hockey," Klinkhoff says. "They had the opportunity to live abroad in a place where hockey was not the No. 1 sport. And they realized the value of their knowledge. There's a community that looks up to you and you have a resource that is invaluable to that community. They don't have that type of coaching. You can make a tremendous difference."
The group's strongest roots are planted in Serbia, home of former McGill forward and current Serbian national team star Marko Kovacevic, and the country where Ron Perowne's son Fred has played and coached since 2001. Dan Jacob also represented the country at two IIHF World Championships, and the Redmen hockey squad played in a tournament there in December 2007, holding clinics for youth hockey players in between games.
The organization is newly established in Sarajevo, Boznia-Herzegovina, where two HSF coaches will be heading in a month's time. Klinkhoff himself, meanwhile, now has hands-on experience in bringing his Canadian hockey smarts abroad after spending a week running a camp for men and women hockey players in Ankara, Turkey this summer with fellow ambassador and recent McGill grad Matthew Robins.
HSF, entirely self-financed until now, is launching this week a new phase of its program and seeking support from businesses and other sports organizations as well as individual donors to help them continue their mission. Their goal is to raise $20,000 to launch the Hockey Without Borders Global Initiative that will send Klinkhoff and Robins to such non-hockey hotspots as Mexico, India, Israel, Japan and South Korea to evaluate the viability of introducing their program there as well as assessing the needs of each location. To help launch this next phase, HSF is debuting a seven-minute video the produced during the pair's time in Ankara.
To view the video and learn more about Hockey Sans Frontières and their programs, or to volunteer with them or make a donation, go here  or email them at info@hockeysansfrontieres.org.