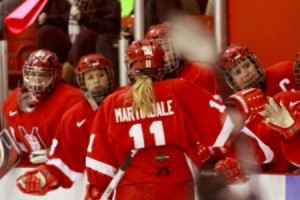 By Jim Hynes
It's now 70 and counting for the McGill hockey Martlets.
On Dec. 28, the two-time Canadian Interuniversity Sport (CIS) women's hockey champions established a new mark of 68 consecutive wins over Canadian University opponents with a 4-1 victory over the University of Toronto at Concordia's annual Theresa Humes tournament.
Ann-Sophie Bettez of Sept-Iles, Que., scored once and added two assists as the No.1-ranked Martlets shook off the rust of a 23-day layoff to break the CIS record set by the University of Alberta Pandas between 2003 and 2005. The same Pandas handed the Martlets their last loss, a 2-1 shootout defeat on Dec. 30, 2007.
The Martlets streak moved to 69 the next day when a second-period hat-trick by Bettez helped lift them to an 8-1 win over Guelph. Consecutive victory number 70 was a 4-2 decision over No.4 Manitoba the following day that gave McGill a share of the tournament title with the York Lions, who also posted a 3-0 record in the round-robin affair. York outscored its opponents by a combined score of 8-4, while the Martlets had a 16-4 differential over their three matches.
The Martlets, who boast a 10-0 Quebec league record at the season's mid-way point, now return to their regular season schedule. The team, which has played its last nine games on the road, returns to the friendly confines of McConnell Arena on Jan. 8 and 9, when it resumes regular season play against Ottawa (7 p.m.) and Concordia (2 p.m.), respectively. The playoffs and the team's pursuit of a third-straight CIS title begin Feb. 24.
The Martlets are playing the season without No. 1 goaltender Charline Labonté, who was officially named by Hockey Canada on Dec. 21 as part of the Canadian Olympic women's hockey team for the 2010 Winter Games in Vancouver. She'll be joined on Team Canada by former Martlets goaltender Kim St. Pierre and Catherine Ward, a 22-year-old from Town of Mt. Royal, Que., who graduated last spring as the top-scoring defenceman in McGill history. The other McGillian on the squad is Peter Smith, currently on a one-year sabbatical from his duties as head coach of the Martlets to serve as an assistant coach with Team Canada, which is seeking its third consecutive Olympic gold medal.
With files from Earl Zukerman