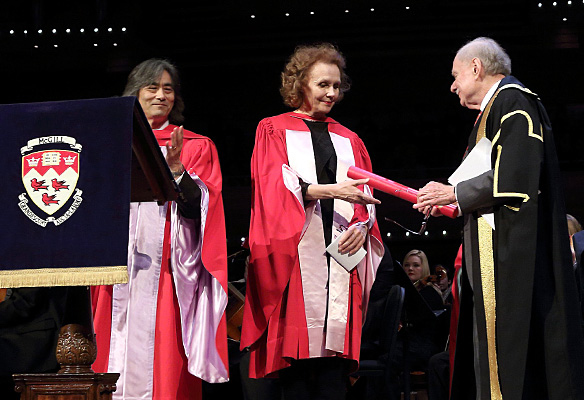 By Doug Sweet
The warm look and atmosphere of Montreal's new beechwood-clad symphony hall attached to Place des Arts was matched Sunday afternoon by the lush, warm sounds of the McGill Symphony Orchestra at a special concert in honour of Principal Suzanne Fortier's installation this week.
It marked the first time the orchestra, under the direction of Alexis Hauser, had played in the new venue, which seats 2,100 and was constructed to comply with tough international norms for acoustics, stage design and architecture. The hall opened a little more than two years ago, on Sept. 7, 2011.
The event, hosted by Schulich School of Music Dean Sean Ferguson, played to a nearly full house and was made more notable by the presence of Finnish composer Kaija Saariaho, who was presented to the audience by Orchestre Symphonique de Montréal conductor Kent Nagano so that she could receive an honorary degree. Nagano, who had himself been presented with an honorary Doctor of Music degree from McGill in October 2005, draped a hood over Saariaho's shoulders before Chancellor Arnold Steinberg handed her the degree.
Following the honorary degree ceremony, the McGill orchestra played Laterna Magica, one of Saariaho's intriguing compositions. The orchestra had opened with Verdi's lively Hymn, March, Dance from Act II Finale of Aïda, and followed that with the familiar Prelude to Act II of Wagner's Lohengrin. The second portion of the concert consisted of Ravel's Daphnis et Chloë, Suite No. 2.
After Nagano presented Saariaho with her degree, she spoke movingly about the need to continue fighting for the equality of men and women in the world of music.
"As a Finnish, left-handed woman composer, I represent several minorities, a subject that
I would like to briefly discuss here," she said. "After having gone through many battles during my early professional years I felt that the equality of women in music was advancing.
"Therefore I have not spoken about this publicly for many years. Recently, however, there have been polemics generated by statements coming from public persons and even the head of the highest music education institution in France, arguing that there are several natural reasons to explain why women are not suitable for conducting.
"This made me understand that today, 30 years after my own battles, young women still have to experience much the same everyday discrimination I went through.
"I have understood that the situation is not slowly getting better, but that the improvements seem to have stopped a while ago," Saariaho continued.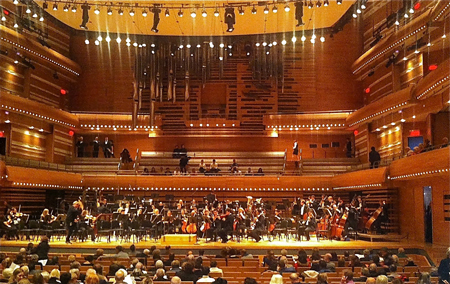 The silence in the room was not only a tribute to the acoustical isolation of the new concert hall from outside noise and vibration, but the attentiveness with which the audience was hanging on her every word.
"In politics, economy, research and culture in general, women still have to find their place. This is a matter of custom or habit and of familiarization, and in many fields we have been able to change these customs already."
Saariaho explained why she chose to speak out at the moment.
"I feel a strong necessity to act against the deeply commercial society and a world vision perhaps too univocal because predominantly controlled by men," she said. "We need more real, profound human culture, not only the popular mass consumer culture, which is invading the planet and which is mostly profit-driven. All over in the world, we need to pay more attention to how we educate our children, to teach them to grow up into empathetic and caring human beings. We need to incorporate more of the brainpower of women to create a diverse, multidimensional society."
The university has a role to play, she said. "Institutions such as McGill University are primary venues, well-equipped to strive for equal rights and possibilities in all the fields of study. Please continue this work by encouraging and supporting a rich human future, a future of diversity and equality."