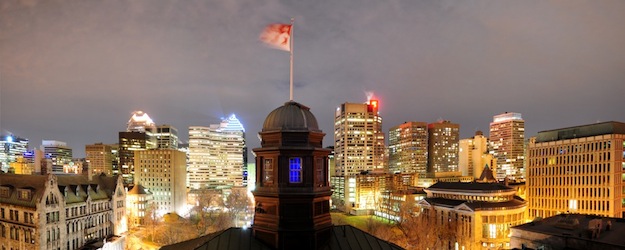 You asked, she answered
By McGill Reporter Staff
In an hour-long webcast on Thursday, April 19, McGill Principal Heather Munroe-Blum spoke about the ups and downs experienced during the often challenging last school year at McGill and replied to a series of questions posed to her by members of the University community. The event was hosted by professor Wendy Thomson, Director of the School of Social Work.
"It's been a bit of a rock 'n roll year," Munroe-Blum said in her openings remarks. "And with that has come an increased activism on our campuses and on other campuses and certainly in the city right now in the context of the tuition policy. It's also been a year of terrific academic and scholarly and research successes on our campuses and affiliated teaching hospitals, and with our students, who are making great strides in everything from volunteerism to athletics to scholarly awards."
The Principal saluted in particular the CIS men's hockey champion McGill Redmen and Killam Prize-winning professor Mark Wainberg for his work in AIDS research, awareness and proactive public health interventions.
Munroe-Blum also addressed the importance her administration placed on the theme of McGill in Quebec and returned a number of times to the subject of internal University communications.
"It's been a tremendous time of learning and I think we can never assume, and this is a very important lesson for me as Principal, you can never assume you're communicating enough, the extent to which you need to have many, many fora for communication in a university as large and as diverse as ours," she said.
The Principal answered a total of 17 questions on a broad range of topics. The majority of the questions were posted beforehand on a blog set up for that purpose. Those answered during the webcast were selected according to the frequency and scope of the theme and the number of positive votes they received from readers of the blog.
To a question on the subject of tuition fee hikes and the way the extra funds they are expected to generate will be used, Munroe-Blum spoke about her long commitment to student aid and the need to invest in other areas related to teaching, learning and student services.
"First of all we have a commitment to using increased tuition fees to support our students and for many years now under this administration we've had a practice of taking 30 cents of every net new dollar of tuition that comes into the University and allocating that to student aid. And we've increased by over 500 per cent the amount of student aid available from the operating fund. At the same time that, while the gap is closing between us being able to support every student in need who is qualified to come to McGill, there's still a gap there. And so this new injection of tuition fees will be helpful to us in bridging that further – the government itself takes 35 cents off of every dollar of new tuition that comes in for Quebec student aid, and that benefits our students from Quebec. And we will take between 50 per cent and 60 per cent of all new tuition to put towards student support, student services, teaching and learning quality. We look forward to it, and we need it."
Munroe-Blum also fielded questions about international student fees, the use of fees paid by undergraduate students to help fund graduate students, infrastructure projects and costs, the compressed exam schedule, course marking, student advising and more. Answers to many of the blog questions, including some that weren't posed during the webcast due to time constraints, will be posted on the blog in the coming weeks: http://blogs.mcgill.ca/principal/2012/04/webcast/. There, you can find a link to the entire webcast, which also contains her closing remarks on higher education in a global context and her own legacy at McGill as she prepares to enter the last year of her second and final term as Principal.