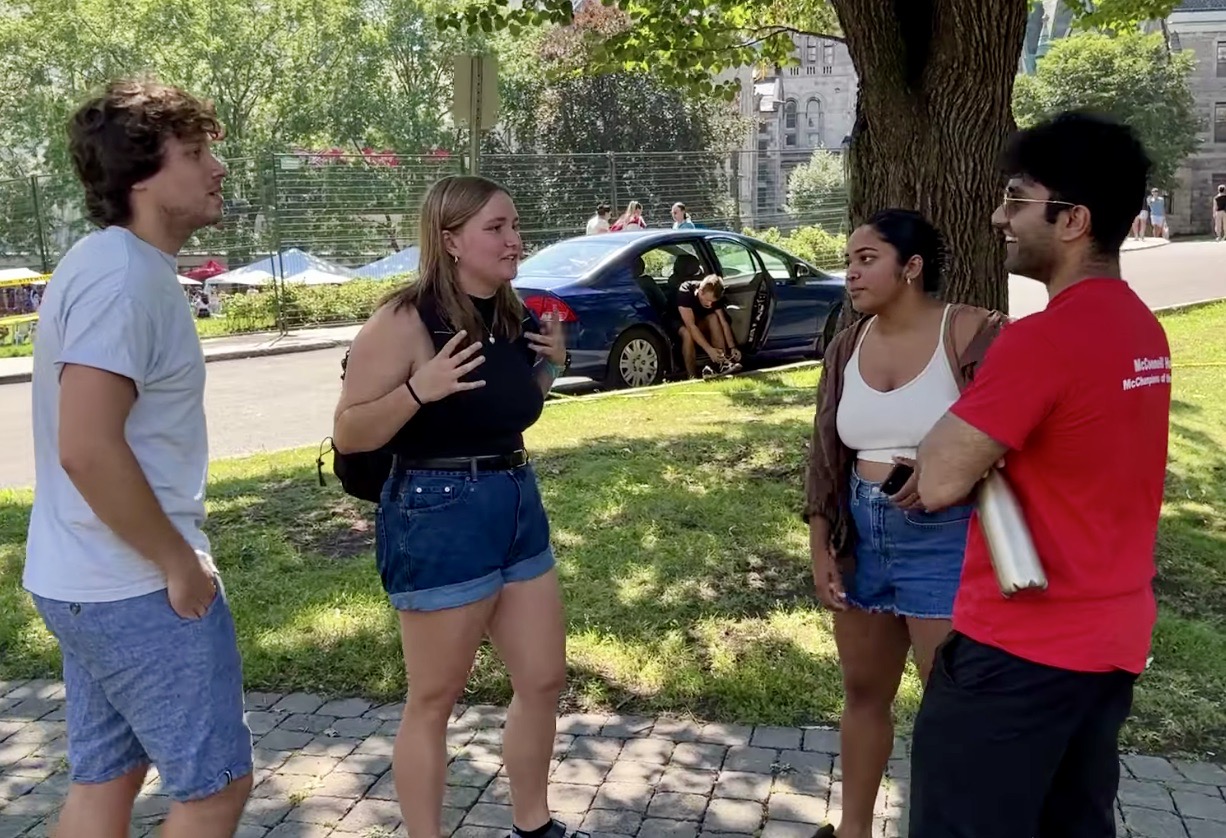 The start of every academic year is an exciting time at McGill. After the summer lull, our campuses come alive again, with people bustling to class, collaborating with colleagues, conducting research in labs, or catching up with friends under the sun on McGill beach.
Our return to in-person academic activity in Fall 2022 is supported and guided by the final report of the Ad Hoc Advisory Committee on COVID Academic Planning, the recommendations of which have been accepted and endorsed by Senate and University leadership.
The members of the McGill community are encouraged to read the Report and are invited to provide feedback on measures implemented and suggestions for further changes.
As part of an ongoing series, we spoke with members of the McGill community to find out what they are looking forward to with the start of the 2022-2023 academic year.
Residence Life Manager Umar Azmi and Floor Fellows Christina Rajkumar, Adam Bruder Wexler and Rachel Hornung
Christina Rajkumar
I work as a floor fellow in residence and, basically, I am a support person. I support the first-years living in residence – whether that is one-on-one support or referring them to other things on campus… Being a friendly face and someone they can talk to and rely on for pretty much anything in their first year.
I'm really excited to contribute to [first-year students] getting to experience an in-person first year. I think there is so much excitement. With COVID and high school being online, I think this is such a nice transition.
My job is pretty much being a community builder, being a relationship builder… just connecting students, getting them to McGill resources and McGill clubs so they can build their own community, whether that is in a club, a class or with each other in residence.
Umar Azmi
I am really excited for students returning to campus. It brings a really different vibe and atmosphere to the city. I think it's something really unique that can't be replicated anywhere else. Montreal has multiple universities and colleges and I'm definitely excited that students are returning to campus and bringing that liveliness back here.
We coordinate with a bunch of different campus partners to support students and provide them with resources, whether that is academics, mental health, or whatever [they might need in] transitioning to university life. If there are any concerns that arise throughout the year, we meet with them and make sure they learn from any mistakes they might make so that they can transition as well as they can to independent living. That is ultimately the goal to move out of residence and be sustainable and independent.
Adam Bruder Wexler
While most people will talk about academics, I actually love the student life – the club aspect the workshops, all the different programs, all the different initiatives. Nothing makes me happier than to tell a student 'There's a workshop happening in the Brown Building or SSMU offers these different mini courses.'
It's always such an exciting opportunity when students have the opportunity to learn beyond their classroom. It's something I'm really excited to contribute to and to support.
Rachel Hornung
I think the sense of belonging in residence starts on the very first day. So, it's really important that me and my whole Floor Fellow team – all 14 of us – were in the lobby greeting all the first years as they were coming in with their parents. [They were] so nervous, not even knowing where they get the key to their room. We are here to help you and are going to guide you along the way.
I think the community thing also starts on the first day when I'm in the hall talking to a student and another one is walking by and I say 'Hey come over here, I'm introducing you.' I think just trying to get everyone to know everyone else's name and be happy to see [each other] in the hall is the main thing.
Click on the video below to watch the interviews. (Interviews and video by Laurie Devine)