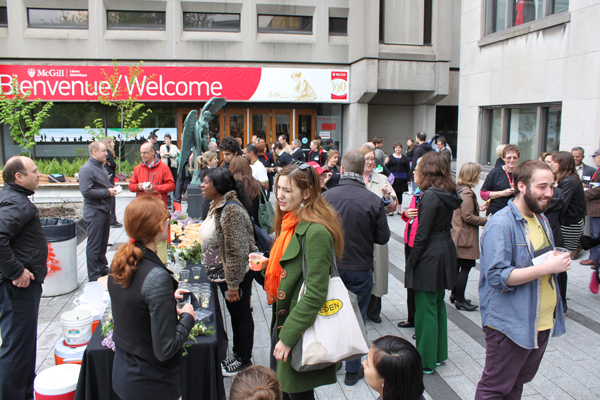 By McGill Reporter Staff
The refurbished McLennan-Redpath Terrace, completed in early 2014 after three years of work, has been nominated for an architectural prize by the Quebec Order of Architects.
And you can help it win.
From now until Nov. 18 (at noon), you can visit the Order's website and vote for the McGill project in the competition for the Prix d'excellence en architecture. Once on the site, scroll down to the Aménagement urbain category and look for the picture of the terrace. You can only vote once per Internet Service Provider address.
The winners will be announced Nov. 21 at the Montreal Science Centre in the Old Port.
The $6.8-million terrace project, led by EKM Architecture and Aménagement, began in June 2011, lasted three years and involved demolition of the old terrace, the installation of a water collection system and a new membrane to protect library surfaces below the terrace, such as the Cyberthèque.
Phase 1 of the project, in summer 2011, rebuilt the passageway connecting the McLennan and Redpath library buildings – notably eliminating a three-step dip in the walkway and flattening out the path. Phase 2, in summer 2012, saw the reconstruction of the southern half of the terrace (including the new waterproofing membrane, an underground storm-water retention tank, and new benches and guard rails). The northern half of the terrace got the same treatment in the latter part of 2013 and early 2014.
The old granite stones that had been used as railings in the previous version of the terrace, were recycled and polished to provide for sitting area throughout the terrace. Along with the glass guardrail that runs the length of the terrace, the area now provides students and staff with a beautiful reading garden, with plants native to Canada and an unobstructed view of the campus.
Related story
Smoke-free McLennan-Redpath terrace launch unveils a space for all to enjoy