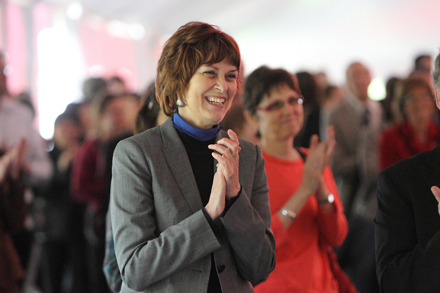 By McGill Reporter Staff
McGill Principal Emerita Heather Munroe-Blum will be honored Sunday, Nov. 3, by the University of Ottawa when it confers upon her an honorary degree.
Prof. Munroe-Blum, whose term as Principal came to an end in June 2013, will receive her degree during convocation ceremonies for the University's Telfer School of Management and its faculties of Engineering, Medicine, Science and Health Sciences. The ceremonies will be held at 2:30 p.m. at Southam Hall in the National Arts Centre, 53 Elgin Street.
Prof. Munroe-Blum, who served more than 10 years as McGill's Principal and Vice-Chancellor, has had a distinguished career in academic administration, including her eight-year tenure as Vice-President of Research and International Relations at the University of Toronto prior to her appointment at McGill.
Trained as an epidemiologist, she is a renowned scholar in the fields of psychiatric epidemiology and public policy and has authored or co-authored more than 60 scholarly publications, including four books. Prof. Munroe-Blum is Specially Elected Fellow of the Royal Society of Canada and an Officer of both the Order of Canada and l'Ordre national du Québec, and has also served on the boards and advisory committees of several Canadian and international not-for-profit and for-profit organizations and corporations.
In addition to the University of Ottawa, Prof. Munroe-Blum has been the recipient of honorary degrees from the Université de Montréal, University of Edinburgh, the University of Toronto, Wilfrid Laurier University, and École Normale Supérieure de Lyon.
She is currently on leave and will take up a post as a visiting research fellow at Stanford University early in 2014 before returning to McGill as a Professor in the Faculty of Medicine.