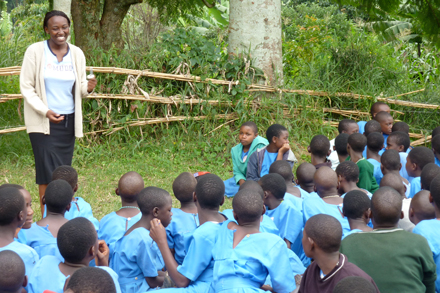 Uganda Mobile Health Clinic to serve 100,000+ people in remote communities
By Neale McDevitt
The numbers don't lie and they are shocking. With an average life expectancy of about 54 years for its citizens, Uganda is a hard place to live.
But Colin Chapman says the real tragedy is that mortality rates are unduly high. As with so many developing nations, one of the great challenges for many Ugandans, especially those living in rural areas, is they just don't have access to regular medical services.
"As a result of this lack of access, a disease like malaria – which is eminently treatable and preventable – is responsible for 30 per cent of the deaths of children under five years old," says Chapman, the Canada Research Chair in Primate Ecology and Conservation in the Dept. of Anthropology.
Chapman speaks from experience, having spent almost 25 years studying primates in and around the Kibale National Park in western Uganda. But while his field of study is monkeys, the ties that bind Chapman to the country are unmistakably human.
"It is such an honour to work with and among these people. They help me with my research. They welcome me into their homes," says Chapman, just days removed from his most recent trip to Uganda. "I feel indebted to them."
Wanting "to give something back" to the people of the region, Chapman asked what they needed. "The first choice was jobs, everyone wanted jobs. But obviously we couldn't do that," says Chapman. "Next on the list was medical services. These people wanted access to nurses and doctors. They wanted to know that when their children were sick, they could be treated in a timely manner."
A man of his word, Chapman helped spearhead the establishment of the Kibale Health and Conservation Clinic (KHCC) in 2007. With onsite medical personnel, the Clinic provides free consultation and at-cost medication to the local community. Each year, the Clinic serves some 6,000 people, offering everything from testing, counselling and anti-retroviral HIV therapy to monthly infant immunization clinics, mosquito net distribution and outreach education to some 4,500 school children per year on topics that include nutrition, sanitation, reproductive health and family planning, prevention of communicable diseases, and conservation. "We do a lot," says Chapman.
But as successful as the Clinic has been, it has its limitations. The most notable challenge is the huge distance many people must cover in order to get there. "The program worked well, but it was only serving people who could ride their bikes to the clinic," says Chapman. "It's an 800-square kilometre national park, so there were a lot of people left out in the cold without vaccinations or proper medical treatment. I have carried at least 30 sick people into the Clinic and then, a few days later, carried their bodies out. Sometimes they just get here too late.
One of the biggest reasons why the antiretroviral drugs for AIDS don't work in East Africa is because people take them when they are sick but once they start feeling better they stop taking them because the nearest clinic is a day's bike ride away," continues Chapman. "You see it all the time."
The solution was obvious; if the people couldn't get to the Clinic, the Clinic would go to them. "One day Colin and I were talking over coffee and we were trying to figure out how to get medical help for the people who couldn't get to the clinic," says Martine Dolmière, Internship & Field Studies Officer in the Faculty of Science. "And we realized what we needed was a vehicle to bring doctors and nurses to local villages."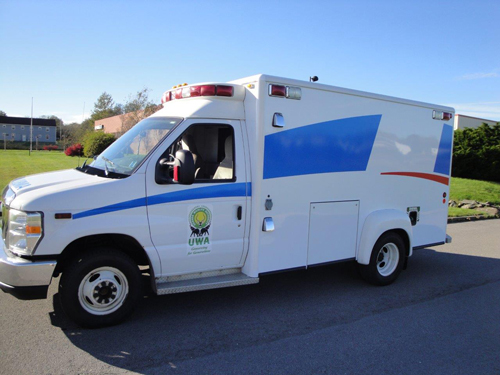 In 2012, Chapman applied for and secured a Grand Challenges Canada grant for the Uganda Mobile Health Clinic project to buy a secondhand ambulance and have it shipped to Uganda where it will serve the Kibale National Park Community. With the final touches being put on the ambulance (the vehicle is being fitted with Uganda Wildlife Authority decals), the delivery is just weeks away.
The ambulance will be used to transport medical personnel and supplies to outlying villages. Chapman estimates one vehicle will boost the Clinic's clientele from 6,000 to anywhere between 120,000 – 180,000 people.
Obvious health benefits aside, one of the most intriguing aspects of the project is the link being established between subsidized medical services for locals and conservation efforts at Kibale National Park, where, in the past, some locals have engaged in poaching and illegal logging. The name of the KHCC and it's location inside the Park's boundaries were chosen expressly to forge the link between health care and conservation in people's minds.
The hope is that people will feel a greater solidarity with the Park and its conservation efforts and understand that a healthy Park will go a long way in ensuring a healthy Clinic. "People are getting subsidized medical care, free vaccinations, family planning education and so on," says Chapman. "We're hoping that they will think twice about setting snares inside the National Park. The idea is if we're being good neighbours to them, they should be good neighbours to us."
And it seems to be working. "One of the biggest problems the Park faces is elephant poaching," says Chapman. "The poachers aren't local villagers, but those villagers know who these poachers are and they are turning them in. In the past, the villagers wouldn't normally do this because there is always the risk of repercussions or, at the very least, the inconvenience of having to spend the day in court. But now they are getting this medical care as a direct result of the National Park, so in their eyes it's worth it."
Chapman is especially excited because the Uganda Wildlife Authority has recently agreed to foot the bill for most of the operational costs of the Mobile Clinic, including fuel and salaries for the driver and the nurse. He also hopes to land a Phase 2 Grand Challenges grant that will allow the project to extend its reach and supply all national parks within Uganda with their own mobile health services. "We have complete buy-in from the Ugandan government, which is tremendous because it means even when our grant money runs out the project will continue," he says.
There will be a fundraising event for the Uganda Mobile Health Clinic project today from 11 a.m. – 2 p.m. in front of the Arts Building. Look for the ambulance. Goods from Uganda – including baked goods, drums, jewelry and other crafts will be on sale with all proceeds going to train nurses and educators. Chapman says he is also hoping that the event will raise awareness and interest among members of the McGill community. "I am on the conservation side of things, but I'd love to get more people involved on the medical/family planning side of things," he says. "It would be great to see more McGill students going over to help educate people about the importance of mosquito nets and things like that."
People who are interested in helping out should contact Colin Chapman.