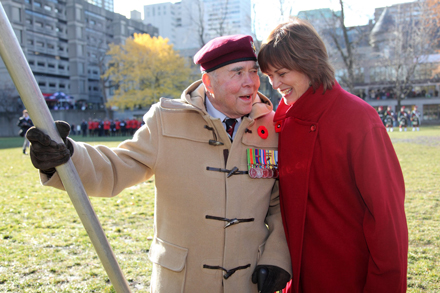 By Earl Zukerman
Harold "Shorty" Fairhead (BA, '51), former McGill football team captain, died in Cowansville, Que., on April 19, 2013. He was four days shy of his 87th birthday.
Once described as a small but aggressive and effective quarterback and defensive back for the Redmen, from 1947 to 1951, the 5-foot-9, 160-pound Fairhead served as team captain in his final campaign. He won the team's Vic Obeck Trophy as most improved player in 1949.
Born Harold George Foulsham Fairhead in Montreal on April 23, 1926, he was educated at Westmount high school and graduated from McGill with a bachelor of arts degree in 1951.
"I majored in sports and minored in chasing nurses," he once said of his time spent at McGill.
He enlisted as a 17-year-old and served as a tail-gunner with the Royal Canadian Air Force in the Second World War.
"I enlisted straight out of high school with a lot of other young Canadians, to fight in World War II," Fairhead told The McGill Reporter in a 2011 article about Remembrance Day. "War isn't fun, and we knew that, but we honestly couldn't wait to get out there and fight."
After returning to Canada, he earned an undergraduate degree at McGill, then joined the Royal Canadian Regiment to fight in the Korean War.
"Korea was a very different kind of conflict," said Fairhead, who was wounded while serving as a lieutenant both in 1952 and 1954. "It was essentially trench warfare. Our average day consisted of shelling the enemy, or being shelled. That was it."
A Montreal Gazette editorial, dated Jan. 21, 1953, reported that Fairhead was leading a Canadian patrol which was subjected to heavy mortar and grenade fire. An explosion fractured one of Fairhead's legs and injured the other. Ten members of his 21-man patrol were wounded but Fairhead continued to lead his detail, guiding them back to their front line after a withdrawal had been ordered.
Fairhead, who was active in the community, politics and many charities, was a driving force behind the establishment of the Quebec Juvenile Football League, which operated from 1959 to 1979 and served as a stepping stone between midget and junior football.
He is survived by his wife of 60 years, Eleanor, four children (Hunter, Terrence, Cynthia and Jill), nine grandchildren and five great-grandchildren. At his request, there will be no funeral service. A reception will be held at a later date. Donations may be made to the Brome Missisquoi Hospital Foundation.
Messages of condolence can be sent online, here.