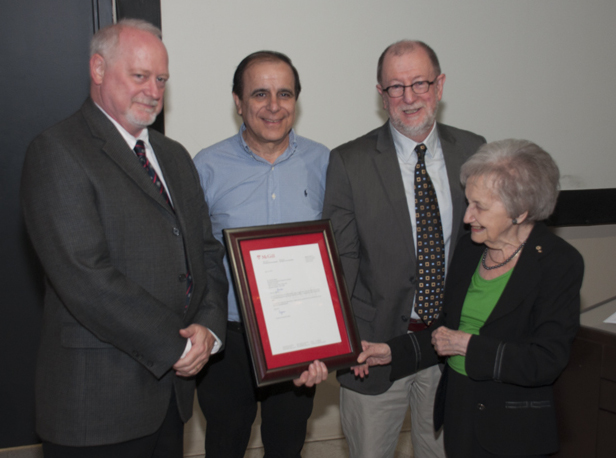 On Thursday, July 17th, some 200 people gathered in the Jeanne Timmins Amphitheatre at the Montreal Neurological Institute & Hospital to celebrate the 96th birthday of Professor Brenda Milner.
Still very much an active researcher, Professor Milner has long been considered one of the bright lights in neuroscience, especially with regard to how memory works, and is recognized as one of the founders of cognitive neuroscience. As Michael Petrides, who also studies memory function, told the crowd of well-wishers, "In the late 1970s, when I was at Cambridge and thinking about where to do my postdoctoral fellowship, my PhD advisor said, 'My dear, there's only one place in the world: Brenda Milner.'"
The Neuro's director, Guy Rouleau, noted that this year has been particularly special in terms of recognition for Milner's profound influence on the development of tests to treat people suffering from traumatic injury, degenerative diseases and psychiatric illness. "Brenda's had an illustrious career, but she did very well this year from the point of view of prizes. She won the prestigious Dan David Prize, and the prestigious Kavli Prize—and both in neuroscience, and those prizes aren't awarded in neuroscience every year—and I heard through the grapevine that she'll be going to New York soon to receive an honorary degree from Rockefeller University, which is exceptional." Rouleau also read out a congratulatory letter from Principal Suzanne Fortier, who was out of town and unable to attend.
Neuro researcher Gabriel Leonard then offered the audience his tongue-in-cheek tips for how they, too, might become vital, productive 96-year-olds—tips gleaned, naturally, from observing his longtime friend and colleague. His advice included:
Only sleep four hours per night. ("This gives you an extra three and a half hours per day," he noted, "which, over 96 years adds up to an extra 12 years. So today we're actually celebrating Brenda's 108th birthday.")
"Care passionately—even about trivial matters."
Do crossword puzzles.
Don't eat capers "or any other vinegar-tainted food."
Avoid yogurt.
Drink a double, or even triple, espresso each night before bed.
After blowing out the candles on her cake, Milner spoke about her early career, teaching psychology for seven years at the Université de Montréal before joining The Neuro. To the audience's great delight, she recalled when McGill neuroscience pioneer Donald Hebb agreed to hire her in the early 1950s: "But I'm warning you,' he told me, 'no psychologist can last for long at the Montreal Neurological Institute.'
"The Neuro is such a rich environment," she added. "It's been a wonderful journey. I'm so addicted to this place."
"She's here every day," agreed Guy Rouleau. "Just this morning, I saw Brenda walking up the hill—and I couldn't catch up with her!"