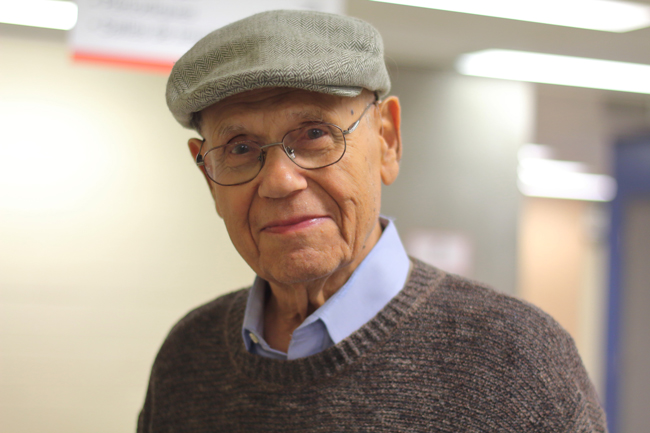 Gregory Baum was a legendary and iconoclastic figure in Catholic circles in Canada and internationally. A former priest, he was open to the ordination of women and gay marriage, and continued to develop his work on the intersection of society and theology until the very end of his life. Baum died of kidney failure on Oct. 18. He was 94.
"Gregory was working and giving public lectures almost to the end," says Daniel Cere, Associate Professor of Religion, Law, and Public Policy in the Faculty of Religious Studies, and founding Director of the Newman Institute of Catholic Studies. "When scheduling events in the last few years, he would casually remind me that he couldn't attend on certain days due to his regular hospital visits for dialysis. He was a dedicated scholar who challenged the establishment and attempted to advance new perspectives on the relationship of Catholicism and social theory."
Born in 1923, in Berlin to a Jewish mother and a Protestant father, he came to Canada at the age of 17 as a refugee, and was interned as a possible enemy alien.
Baum entered into Catholic Church in the 1940s and became an Augustinian priest in 1954. He studied theology at the University of Fribourg in Switzerland and published That They May Be One, an influential book about Catholic ecumenism in 1958. Over the course of his career he published 20 books, including his most recent published in 2016, a memoir entitled The Oil Has Not Run Dry about his ground breaking work with Vatican II, the Second Vatican Council (1962-65).
St. John XXIII's concern about the six million Jews killed in the heart of Europe during the Second World War helped to shape deliberations in the Second Vatican Council. Baum attended all three sessions of the Council as a peritus, or theological expert.
Breaking down barriers
"Gregory Baum was certainly the most important Roman Catholic ethicist/theologians in Canada. As one of the theological advisors to the bishops at the Second Vatican Council he became the principal interpreter of the Council to both Catholic and Protestant Christians in this country," says Douglas John HALL, C.M., Th.D., Emeritus Professor of Christian Theology at McGill.  "Baum came to McGill after his retirement from the University of Toronto, and was very active in both Anglo- and Franco-phone communities in Quebec until his death. His great gift was his openness to all serious attempts, religious and secular,  to preserve and advance the humanization of society – a humanization which he found exemplified supremely, though not exclusively, in the Christian gospel.
"When Gregory came to dinner at our place in Waterloo in 1963, my Protestant father-in-law from Nova Scotia was astonished to sit at table with a black-clad, clerical collared R.C. priest," continues Hall. "Gregory did more than anyone I know to break down the centuries-long barriers between Protestants and Catholics. He was my colleague and friend for more than half a century, and like many other Canadians I shall miss him profoundly."
Baum had a long association with the Jesuits in Quebec. Father Jacques Monet, S.J., says "Gregory Baum's presence will be missed. My personal memories of Gregory go back to the 1960s at St. Michael's College where he was known for his involvement in Vatican Two. More recently we caught up with each other with offices in the Jesuit offices at the Maison Bellarmin in Montreal, where we had cordial relations."
Targeted by conservatives
Baum left the priesthood in 1974, and married former nun Shirley Flynn in 1978. Flynn died in 2007. In his autobiography, Baum revealed that he had his first homosexual experience at the age of 40. "I did not profess my own homosexuality in public," he wrote, "because such an act of honesty would have reduced my influence as a critical theologian."
Fascinated by Quebec's francophone culture, and its Catholic character, Baum wrote extensively on the roots of Quebec nationalism and separatism for the rest of Canada.
An early and vocal advocate of cooperation with other religions, especially Judaism, he spoke out in support of peace and justice. Baum was also a proponent of Latin American liberation theology and became a leading thinker of the Catholic Left in Canada.
Baum held a high opinion of Pope Benedict XVI. "He is a great theologian. His book on Augustine, his book on Bonaventure, are unforgettable to me," said Baum. "He writes an unbelievably beautiful German, which is quite unusual for academics. Most German academics write dreadful German."
However, Baum was also a frequent target of conservative catholic campaigners in English Canada and the United States. Monseigneur Vincent Foy, the longest-serving priest in the Toronto Archdiocese, who died in March of this year, often published articles condemning Baum as a "marxist… ex-priest."
Baum said he was never worried by criticism.
In an interview with the Journal of Philosophy and Scripture Baum said "Religious experience is an experience of being challenged, but it is also an experience of being made fully alive in loving one's neighbor, in escaping resentment and becoming generous, in escaping arrogance and becoming humble, in escaping self-concern and becoming concerned about others. Personal transformations of this kind are not the work of flesh and blood; they are gifts of grace. God judges us, this is true; we are again and again challenged by God's word, but God is also the new life in us, the Spirit poured forth in our hearts, the divine empowerment to do good."