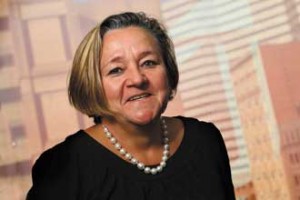 By Chris Chipello
McGill will join forces with the Bill and Melinda Gates Foundation next month to examine how business and communities can contribute to the growing global effort to ensure food and nutrition security worldwide.
On Nov. 8 and 9, McGill's annual Health Challenge Think Tank will host "Green Revolution 2.5: From Crisis to Convergence in Agriculture, Agri-Food and Health," an unprecedented collaboration among some of the world's most innovative thinkers to tackle issues of food price security, food safety, hunger and the obesity pandemic in a concerted way.
Sponsored by the Gates Foundation, the workshop will draw internationally respected voices from agriculture, food manufacturing and marketing, and finance, along with experts in health, nutrition, community development and cultural change in countries from North America to China and India. Participants represent academia, government, NGOs, health and community organizations, and multinational corporations including Cargill, Unilever, Nestlé and McDonald's.
Green Revolution 2.5 begins with the premise that the recent shocking increase in food prices represents only one of three crises that are symptoms of a greater systemic illness afflicting agriculture, agri-food and health worldwide.  Even as the world struggles to ensure adequate food supplies, an increasing number of countries confront a starkly different dilemma: how to stem an alarming increase in obesity, especially among children.  At the same time, breaches in global foodsafety systems have resulted in increasingly frequent international outbreaks of food contamination.
This workshop will stand on the shoulders of the original Green Revolution (which harnessed philanthropy, science and technology to preempt widespread famine between 1945 and 1970) and Green Revolution 2.0, unveiled in 2006 by the Alliance for a Green Revolution in Africa (AGRA), a group co-funded by the Bill and Melinda Gates Foundation and the Rockefeller Foundationto orchestrate radical change inAfrican agriculture.
Green Revolution 2.5 will build on the goals of both AGRA and the United Nations Comprehensive Framework for Action, produced in response to the recent global food crisis. It will also address the challenges and possibilities that food safety presents for small-holder farmers and anticipate the risk of over-consumption and its health consequences.
The workshop will be held at the Centre Mont Royal following the fifth annual McGill Health Challenge Think Tank conference, "Childhood Obesity: Active Living and Energy Balance," Nov. 5-7 and its satellite research workshop, Nov. 3-5.
Workshop co-chair Laurette Dubé said the effort to address the food supply, obesity and food safety crises is particularly timely given the turmoil sweeping global financial markets.  "We need new pathways for sustainable development in both developing and developed countries that factor in both the long-term shocks of economic growth and now the shorter-term shocks of shrinking investment, without having to pay the high toll of these three crises," she said.
Dubé is Founding Chair and Scientific Director of the McGill University Integrative Health Challenge Think Tank and the McGill World Platform for Health and Economic Convergence, a new global knowledge initiative to be launched in 2009 at McGill.