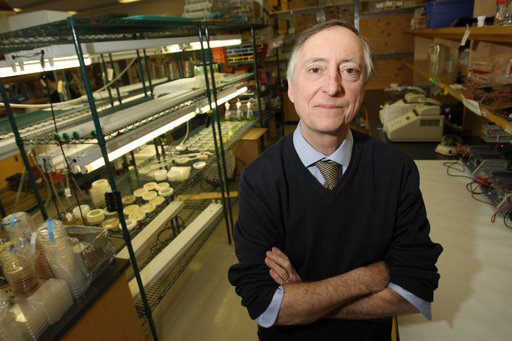 By McGill Reporter Staff
Graham Bell, James McGill Professor of Biology, was one of 50 new Fellows and 10 new Foreign Members, as announced by Venki Ramakrishnan, President of the Royal Society, on April 29.
"Science is a way of understanding both the world around us and ourselves. It is one of the great triumphs of human achievement and has contributed hugely to our prosperity and health," said Ramakrishnan. "Science will continue to play a crucial role as we tackle some of the great challenges of our time including food, energy, health and the environment. The scientists elected to the Fellowship are leaders who have advanced their fields through their ground-breaking work. We are delighted to welcome them to the Royal Society."
Founded in 1660, the Royal Society is the UK's national science academy and a Fellowship of some 1,600 of the world's most eminent scientists. Past Fellows and Foreign Members have included Isaac Newton, Charles Darwin, Albert Einstein and Stephen Hawking.
Bell is best known for his work on experimental evolution. He has used laboratory populations of microbes to investigate fundamental questions about how organisms adapt through natural selection to novel environments. His experiments have answered questions such as: what are the conditions that favour specialists over generalists? and, is the course of evolution predictable or idiosyncratic?
Bell's most recent experiments concern the process of evolutionary rescue. If its conditions of life continually deteriorate a population will sooner or later become extinct, unless it is rescued by the spread of resistant types. Bell has shown how rescue is affected by the size and diversity of the population, by immigration from neighbouring populations, and by previous exposure to similar stresses.
Bell has made other important contributions to evolution and ecology. He has written extensively on the evolution of the main features of life cycles, such as sex and senescence. He was also among the first proponents of the neutral theory of biodiversity, which provides a simple and consistent explanation for large-scale ecological patterns such as the increase of species diversity with area.
Read the Royal Society announcement