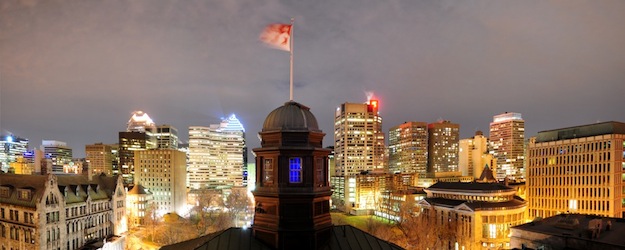 By Doug Sweet
The Quebec government's sudden announcement this week that the province's universities will have to chop about 5 per cent, or $140 million (later revealed to be $124 million), out of their current budgets over the next four months will have an impact of tens of millions of dollars on McGill's budget, Principal Heather Munroe-Blum told Senate Wednesday.
And there might be more to come, she said, indicating that Pierre Duchesne, Minister of Higher Education and Research, warned university leaders to expect other cuts in 2013-14. As well, she said, the government is reducing its investment in capital projects by about 10 per cent.
"Simply put," Munroe-Blum said, "something's got to give. This is not sustainable."
The news arrived just as Vice-Principal (Administration and Finance) Michael Di Grappa was scheduled to present a report on the state of McGill's finances, while Provost Anthony Masi was to present a general outline of the 2013-14 budget.
Both have been thrown for a loop by the unexpected demand for budget cuts from the Government.
"We're dealing with a very dramatic situation with regard to our forecasting," Masi told Senate. "We don't know, literally, what the government is going to do."
This is at least the third significant stick in the university's budget spokes since the Board of Governors approved the budget last spring. That budget was predicated on a tuition-fee increase of $325 per year over five years, but, the day the Board approved the budget, the former Liberal government reduced the proposed hike to $254 and stretched the period over which fees would rise to seven years.
Later, changes were promised to the student aid program that would further strain university resources, then the newly elected Parti Québécois government dropped the tuition hike altogether while maintaining the changes to the student aid program.
Now this.
"It looks like higher education is under attack," Masi said, an observation later echoed by a number of other Senators. The Provost noted that a 5.2-per-cent cut to be spread out only over four months is really more like a 10- to 12-per-cent cut for the remainder of the year.
"I can't tell you what we're going to do for the next four months," he said, indicating that it is too early to determine where cuts will be made or where the university's deficit – now forecast to be about $12 million, the result of this year's rollback of the tuition increase – will end up.
"I hope it's not a return to the 1990s" (when government cutbacks resulted in widespread cuts across all areas, including education and the health-care system).
Di Grappa said the new round of cuts means the deficit "is going to be significantly higher."
He raised a note of special concern with regard to McGill's deferred maintenance budget, where the costs associated with maintaining and repairing aging buildings and infrastructure is outpacing the growth in revenue to pay for them.
"Every year, we're falling behind," Di Grappa said, noting that the government has now said it will stall spending on infrastructure. "We may have to find a way to deal with that, perhaps independent of government."
But McGill will not itself move to be independent from government, Munroe-Blum made clear, after the discussion following Di Grappa's and Masi's presentations led to the perhaps inevitable question – which arose in the 1990s – of taking McGill "private."
"One of the notions I reject is so-called privatization of the University," Munroe-Blum said. "We've always had a strong public purpose."
That doesn't preclude asking questions about what McGill's relationship with government should be, she said, noting that the University needs autonomy to raise revenues.