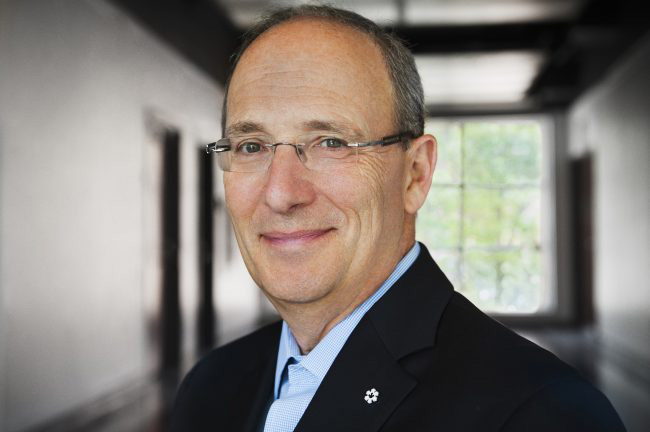 Michael Goldbloom (LLB'78, BCL'79), current Principal of Bishop's University and Co-Chair of the Board of Directors of the McGill Institute for the Study of Canada (MISC), has been named Chair of the Board of the Canadian Broadcasting Corporation/Radio-Canada, Canadian Heritage Minister Mélanie Joly announced on Tuesday.
Goldbloom, who served as McGill's Vice-Principal (Inter-Institutional Relations) from 2007 until his appointment at Bishop's in 2008, has also served as a Senior Fellow in Media and Public Policy with MISC.
Joly also announced the appointment of Catherine Tait as the first female president of the network, along with three new members of the CBC's Board.
"These new directors and chairperson bring with them the varied experience necessary to ensure that CBC/Radio-Canada's Board of Directors can provide the highest quality advice and leadership for our national broadcaster," Joly said in a statement. "Thanks to the invaluable advice provided on the appointment of these candidates by the Independent Advisory Committee, I am confident that CBC/Radio-Canada is in good hands."
Goldbloom, who began his career as a journalist at The Gazette in Montreal, has extensive media experience at high levels. After working as a lawyer and as President and CEO of the Montreal YMCA, he returned to The Gazette as its publisher, from 1994 to 2001. He also served as publisher of the Toronto Star from 2004 to 2006.
Goldbloom's ties to McGill run deep. Four generations of his family have attended the University. In addition to his two McGill law degrees, he earned a degree in Modern European History and Literature from Harvard University, and studied at the Institut d'Études Politiques de Paris.
Goldbloom has a distinguished record of community leadership. He was President of Alliance Quebec and Chairman of the Board of Directors of the Ville Marie Social Services Centre, the Fondation du YMCA du Grand Montréal, and Selwyn House School in Montreal. He served on the founding Board of Directors of the Batshaw Youth and Family Centres and as a member of the Quebec selection committee for the Rhodes Scholarship.
This is not the first time a McGillian has served at the highest levels of the CBC/Radio Canada: Both the outgoing President, Hubert Lacroix (BCL'76, MBA'81), and his predecessor, Robert Rabinovitch (BComm'64), are McGill grads. Rabinovitch also served as Chair of McGill's Board of Governors from 1999 to 2009.