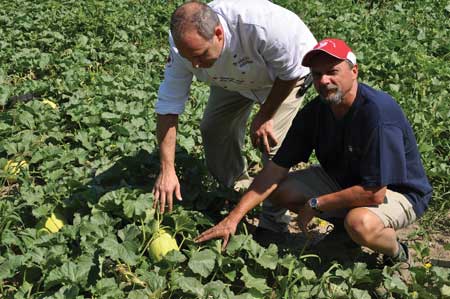 By Carol Sharpe
Do you sometimes long for a home-cooked meal on campus? Are you trying to develop healthy eating habits to boost your energy? Then you should check out McGill's Royal Victoria College and Carrefour Sherbrooke dining halls. Both residences have undergone major renovations and developed a new approach to campus food that puts fresh emphasis on locally grown products. All five McGill dining halls now offer students and staff appetizing, nutritious meals often featuring homegrown organic foods food produced at McGill itself.
"Students are pushing for more sustainable practices in personal, community, and ecosystem health and nutrition. This prompted us to reconsider our sourcing strategy, aiming at high quality, sustainable food items," explained Laura Rhodes, Food Systems Administrator in the McGill Food and Dining Services unit (MFDS). Reporting to Oliver DeVolpi, Executive Chef, Residence Dining Halls, Rhodes is responsible for sustainable and local purchasing for some of the locations managed by McGill. She works in close collaboration with students, MFDS chefs, managers and nutritionists.
DeVolpi realized that something had to be done about the fact that the McGill downtown campus had never purchased goods from the Macdonald campus to feed its population. "Why not put money back into McGill by sourcing from the Macdonald campus as a first resort?" he said. This year, approximately $15,000 is being reinvested into McGill through downtown purchases from the Macdonald campus, which has among other things its own dairy farm, an orchard and a sugar shack. Some beef cattle have just been added to its herd of dairy cows.
Rethinking the sourcing strategy
The MFDS unit was created last year to rethink the entire concept of food services on both campuses. Deputy Provost (Student Life and Learning) Morton Mendelson oversees this new unit, which includes self-sustaining operations, contract agreements with food providers, vending machines, food suppliers and catering.
The idea of partnering with local farmers was a natural solution that required having someone develop and manage the relationship. But in order to rethink the sourcing strategy, different purchasing guidelines were needed. The journey toward sustainability requires new collaboration across departments and groups on campus. Rhodes's main focus is to develop a sustainable food system at McGill that should gradually generate enough savings to finance itself.
With Rhodes's arrival into a new job co-designed by students and supported by partial funding from the Sustainability Projects Fund, McGill intensified its search for local farmers who are involved in sustainable practices.
"Recently, we have started partnering with Local Food Plus, a non-profit organization that launched an award-winning program in 2006, which had the University of Toronto involved in a pilot project to purchase local sustainable food for cafeterias and residences across campus," Rhodes said. Local Food Plus is committed to creating local sustainable food systems that foster the preservation of farmland and the livelihood of farmers. Along with U of T, McGill will soon be considered a leader in Canada in adopting the concept of sustainable foods throughout McGill Residence Dining Halls.
McGill's Macdonald campus, with its local farmers' on-site market, is now the main supplier of fruit and vegetables throughout the summer and fall seasons. Certified organic grains and flours are purchased from a local Quebec milling operation. Students, staff and visitors enjoy seafood recommended by SeaChoice, free-run whole eggs and organic fair-trade coffee. Every month, all five dining halls feature Local Food Days with themes like Quebec cheeses and pumpkin pie for Halloween.
Rhodes is a McGill undergraduate in political science and economics, but she also studied the basics of applying sustainable practices when completing her Masters in Sustainable Development in Sweden. She has worked on food and sustainable purchasing issues with the Municipality of Whistler, B.C., and the Nova Scotia Atlantic Canada Organic Regional Network. She moved back to Montreal this year to apply for her current position, a posting she learned about through a community food listserve.
Reinvesting in McGill's food chain
McGill is well aware that students, faculty and staff want to reconnect to a food system that is a source of pride in terms of its sustainable methods. DeVolpi is a strong believer in the concept of self-sustainability.
"In addition to healthier eating, savings can be achieved through direct purchases from local farms, by cutting distributor costs and by regrouping purchases from different units," he said. "The principle of sourcing within a 500-km radius lowers transportation costs and cuts greenhouse gas emissions. The Macdonald campus supplying all McGill food outlets makes perfect sense."
Earlier this year, Aramark Canada was selected as McGill's food-service provider and manager of two of its dining halls and several retail locations on the downtown campus. Rhodes is now working with them to develop environmentally sustainable practices, offer more locally produced items and provide better service through a wider range of healthy choices.
With this new approach to sustainability, MFDS has the potential to generate significant savings through self-financing of McGill's food chain while benefiting the local economy. Rhodes characterizes her role as a "groundbreaking position." She is already fielding calls from other universities across Canada on best practices. Based
on the steady flow of traffic through McGill's dining halls, the concept of eating fresh and sustainably-produced food is getting a thumbs up, especially from those with a green thumb on the Macdonald campus.