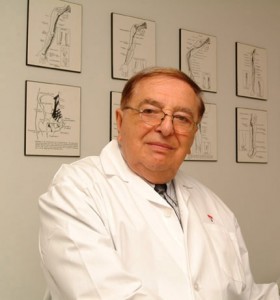 By McGill Reporter Staff
McGill has lost one of its giants. On Feb. 6, Dr. George Karpati passed away suddenly in Montreal, leaving behind Shira, his wife of 42 years, his sons Adam and Joshua, and a host of loving friends and admiring colleagues.
Born in Debrecen, Hungary, Karpati was a Professor of Neurology and Neurosurgery at McGill and held the Isaac Walton Killam Chair in Neurology at the Montreal Neurological Institute and Hospital. He was a distinguished clinician scientist and the Coordinator of the Neuromuscular Group at the MNI for many years. Karpati obtained his M.D. from Dalhousie University in 1960 and conducted his post-graduate training at the Montreal Neurological Institute and Hospital, the Henry Ford Hospital in Detroit, MI and the National Institutes of Health in Bethesda, MD. He joined the faculty at the MNI in 1967.
Karpati was recognized internationally as one of the leading experts on the diagnosis and treatment of neuromuscular disorders. He made seminal contributions in the area of muscular dystrophy. His greatest achievements were in Duchenne muscular dystrophy, a lethal genetic disorder due to a deficiency of the protein dystrophin. He was the first to show the localization of dystrophin to the muscle fibre surface and to demonstrate a lack of dystrophin in the fibres of Duchenne patients. Karpati's research covered a broad range of basic and clinical studies on neuromuscular and neurological disorders, utilizing a broad spectrum of technologies including clinical science, histology, cytochemistry, molecular biology and genetics.
Karpati's research over the years has resulted in approximately 250 original research papers and review articles published in major respected biomedical journals and numerous invited lectures and visiting professorships. In addition, during the past four years, Karpati edited or co-authored five major books pertaining to the neuromuscular field including the first modern text on neuromuscular diseases written in Hungarian.
Throughout his career, Karpati was honoured with many awards including the Order of Canada, the Order of Quebec (Knight), membership in the Royal Society of Canada as well as the Hungary's Academy of Sciences, a Lifetime Achievement Award in Neuromuscular Research and Clinics from the Muscular Dystrophy Association of Canada, and a Lifetime Achievement Award from the World Federation of Neurology. In 2005 he was elected to the Canadian Academy of Health Sciences and in 2006 he was awarded the Prix Wilder Penfield (Prix du Québec). He was awarded an Honorary Doctorate from the University of Debrecen in Hungary, his birthplace, and in 2008 was honoured with a Lifetime Achievement Award from the MNI.
"George was a giant figure – a master clinician and scientist, and a true champion of the Penfield spirit. He was one of those to whom was entrusted the conscience of The Neuro," said Dr. David Colman, Director
The Montreal Neurological Institute and Hospital. "But above all, George was a mensch, always there to help, and give his blessing. He will be missed."