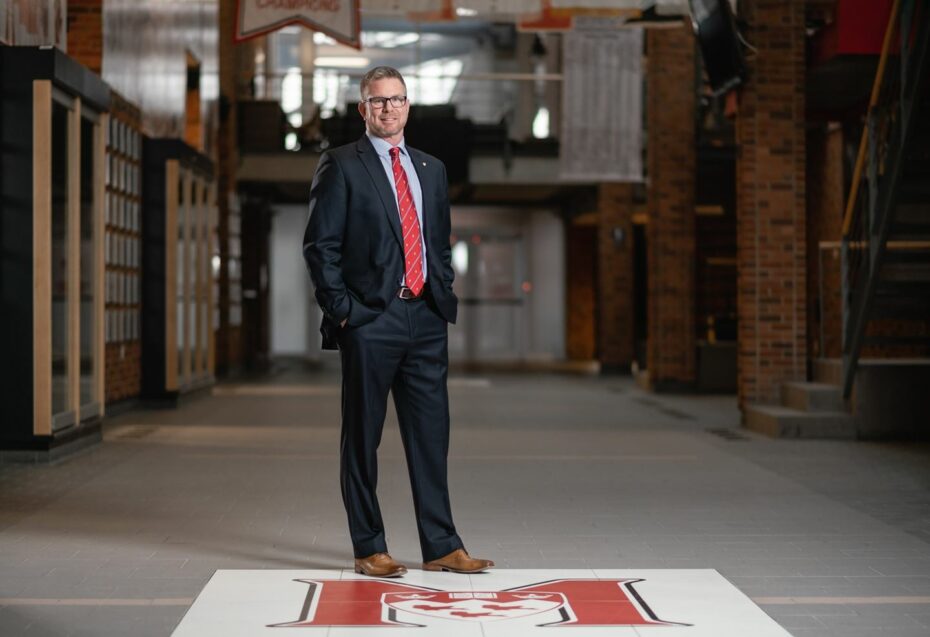 Geoffrey Phillips has been appointed Senior Director of Athletics & Recreation (A&R) at McGill University.
"I am confident that [Phillips] is the ideal choice to lead A&R into McGill's third century," said Fabrice Labeau, Deputy Provost (Student Life & Learning), in a message to the McGill community.
Phillips replaces Philip Quintal, who has served as Interim Senior Director since Marc Gélinas retired in December 2019. Quintal, a McGill employee for almost four decades, returns to his previous position as associate director of athletics and recreation.
Long-standing ties to Athletics & Recreation
Fluently bilingual, Phillips is a native of Gaspé, Que. Most recently serving as the Director of Sport Programs for Athletics and Recreation, Phillips is a McGill alumnus twice over, having earned both a bachelor's degree in physical education and a master's degree in sports psychology at the University.
"This is a well-earned appointment for Geoff and a position in which he will undoubtedly accomplish great things," said Labeau.
Phillips began his career in A&R as an Assistant Manager in the Campus Recreation and Varsity Sports offices, before rising to the position of Assistant Director, where he remained until taking on his current role in 2016.
Having played varsity hockey for McGill during his undergraduate studies, Phillips also served as head coach of the women's hockey program between 1990 and 1994. He was named the Quebec conference coach of the year in 1992.
Technical manager for FISU world university summer games
In addition to sitting on numerous advisory committees at McGill, the Réseau du sport étudiant du Québec (RSEQ) and U SPORTS, Phillips served as technical manager for the U SPORTS mission staff at the 2015 Fédération Internationale du Sport Universitaire (FISU) world university summer games in Gwangju, South Korea.
"I have had the good fortune to work with some of the top talents in varsity sport and recreation over my thirty years at McGill. I am excited and humbled at the opportunity to now lead this group and expand on the University's rich history of providing quality programming for students, staff and the McGill community at large."
Phillips begins his new appointment on Monday, December 14, 2020.