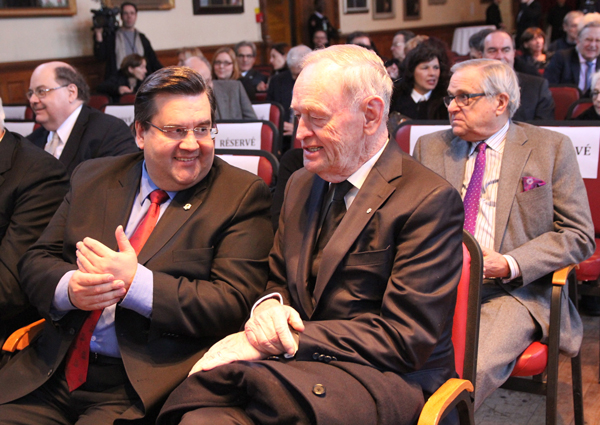 By Neale McDevitt
On Friday, Jan. 16, friends, family and fans said goodbye to legendary Quebec broadcaster, Michelle Tisseyre, in an intimate memorial service held at Redpath Hall. Tisseyre passed away on Dec. 21 at the age of 96. Included among the people who came to pay their respects were former Prime Minster Jean Chrétien; Montreal Mayor, Denis Coderre; Quebec Superior Court Judge François Rolland; McGill Chancellor Emerita, Gretta Chambers; actress Janine Sutto; and broadcast journalists Jean-François Lépine and Bernard Derome.
Speakers paid tribute to Tisseyre for being a loving mother, a devoted wife and a pioneer who blazed a trail for women broadcast journalists in the 1940s and 1950s – a time when the airwaves were almost exclusively the domain of men.
When her husband went overseas to fight in World War II, the perfectly bilingual Tisseyre applied for a job at CBC-Radio-Canada. Before long, she become the first female to anchor the "Grand Journal" newscast.
No mere talking head, Tisseyre's on-air flair made her one of Quebec's most popular television personalities, as host of both Rendez-vous avec Michelle, Canada's first-ever talk show, and Music-Hall, the province's first large-scale variety show.
Addressing the crowd in Redpath Hall, Principal Suzanne Fortier reminded people that even before Tisseyre became a household name on television, she was breaking down the barriers faced by women. "This remarkable woman has left her mark on McGill several times," said Fortier. "Her father, John G. Ahern, a lawyer and McGill graduate, encouraged her to pursue a university education – something women of that era just didn't do. In 1936, Michelle Tisseyre became one of the first French Canadian women to enrol at McGill."
Although she left McGill following her first year of studies to get married and move to the Laurentians to start a family, Tisseyre's natural curiosity and insatiable thirst for knowledge served her well throughout her career.
"Her whole professional life – be it as a journalist, editor or translator – was driven by the pursuit of knowledge," said Fortier. "With her powerful desire to learn, it isn't surprising then that she would return to McGill later in her life – much later, as a matter of fact."
In 2001, almost 50 years after she left McGill to start her family, Tisseyre applied to finish her degree. "I can only imagine the look on the clerk's face at the Registrar's office when Michelle Tisseyre showed up and asked if he could reopen her file," said Fortier with a laugh. "Once again, she entered McGill's history books by becoming the University's oldest graduating student.
"People here still talk about that wonderful day in 2006. Salle Wilfred Pelletier was full and everyone in the room was on their feet giving an ovation as Michelle Tisseyre walked across the stage with her cane to receive her degree, Honours Italian with a minor in Art History. Bravissima!"
Read a profile on Michelle Tisseyre written in 2006 on the occasion of her graduation.