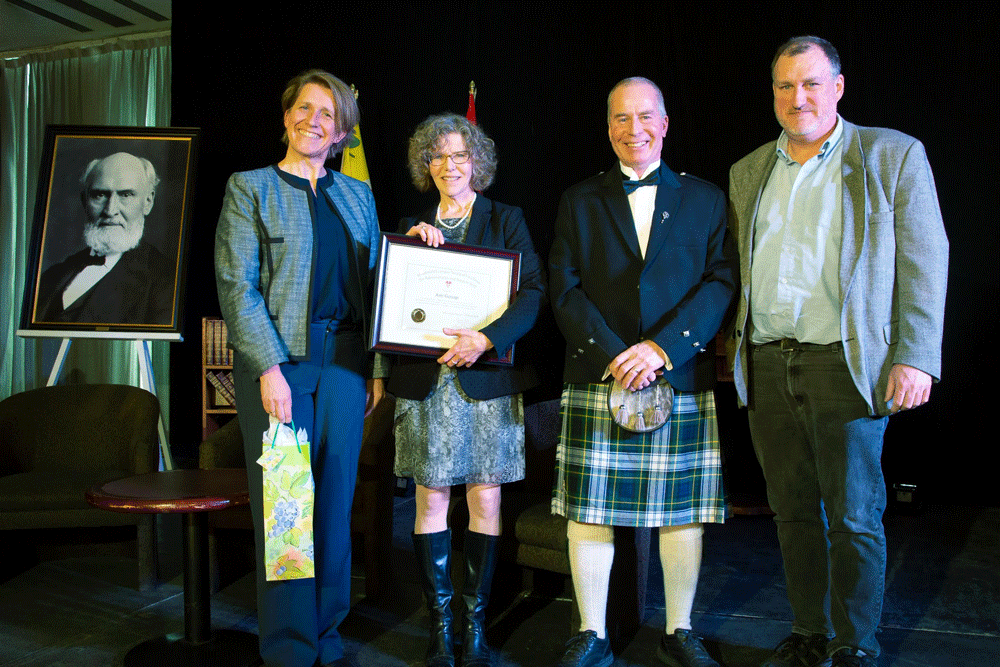 On Thursday, Feb. 7, the annual Founder's Day celebrations were held at Macdonald Campus. In typical Mac fashion, the two-hour event was decidedly low on pomp and understandably high on pride. "Family" and "service" were two words frequently uttered over the course of the event, with speakers referring to the Mac family and the importance of serving the community. Well-appointed alumni mingled with staff, faculty and students, some sporting John Deere hats and Macdonald Woodsmen jackets.
Farm Manager, Paul Meldrum continued his longstanding gig as MC for Founder's Day event. The affable Meldrum kicked-off the proceedings by asking audience members to turn off their cellphones. "This may be tough for some for some of you," he joked. "For those of you who may be going through withdrawal, we do have counsellors standing by in the foyer."
Following the traditional singing of O Canada, Anja Geitmann, Dean of the Faculty of Agricultural and Environmental Sciences addressed the audience. "What a pleasure it is to see all of you here today – many of whom are regulars," the Dean said. "But I'm pretty sure some of you are here for the first time. And especially for those, I'm going to tell you what Founder's Day is actually about."
Sir William Macdonald: Great industrialist, leading philanthropist
Geitmann spoke of Sir William Christopher Macdonald, father of the Canadian tobacco industry and one of the country's foremost educational supporters. "He was a great industrialist and a leading philanthropist – which is a great combination because he made the money with the former and he used it for the latter."
Sir William's great cause was education, said the Dean, and his incredible generosity helped make McGill one of the world's leading Universities. "We call him the second founder of McGill," said Geitmann.
Showing "great vision," Sir William lent his financial support to, among other disciplines, law, engineering, architecture and physics. Most famously, he financed the research that led to Ernest Rutherford's Nobel Prize and to the start of the atomic age.
"Macdonald College, however, was his big dream," said Geitmann. "He moved heaven and earth to make this happen. Eventually, after he acquired the land upon which we stand and sit, he built this campus… which opened in 1907.
"Macdonald Campus is a monument to the vision of Sir William Macdonald," continued Geitmann, before inviting the room to raise a toast to the founder. "While much has changed over the past 110 or so years, the Faculty remains committed to excellence in education, research, innovation, outreach and service."
Superior staff celebrated
That commitment wouldn't be possible without the concerted efforts of Mac's support staff. Each year, one such vital staff member is celebrated during Founder's Day with the Macdonald Campus Award of Excellence for Administrative and Support Staff ceremony.
This year, the Award went to Ann Gossage, Administrative Assistant in both the Department of Natural Resources Sciences and the Department of Animal Science.
"At McGill, we are privileged to have such a wonderful, dedicated and talented staff. Thus, it is a challenge to narrow it down who to nominate for awards like this," said Brian Driscoll, Chair of the Department of Natural Resource Sciences. "Regardless, the one person I felt most deserving was Ann Gossage… The reason why things work so smoothly [in the Departments of Natural Resources Sciences and Animal Science] is because they are both administered by Ann.
"The Chair of Animal Science, Raj Duggavathi, heartily agreed with me when I told him I intended to nominate Ann," continued Driscoll. "I can attest, with much gratitude, that our jobs as Departmental Chairs are much easier than most because we rely on Ann so much."
Driscoll noted that in recent years, Gossage has been instrumental in helping "establish a hub that is an efficient administrative centre despite staff reductions and reorganization… She is an incredibly dedicated member of the McGill community," he said before presenting Gossage with her award. The audience responded with a rousing standing ovation.
And the Gold Key goes to…
The spotlight also shined upon some outstanding Mac students with the presentation of the 2019 Gold Key Awards. The Gold Key Award is given by the Macdonald Branch of the McGill Alumni Association to students in recognition of their outstanding contribution to extra-curricular activities at the Macdonald Campus. "This is perhaps the most gratifying part of Founder's Day," said Meldrum, "where we recognize the accomplishments of a few – just a few – of a host of amazing students who come to Mac."
This year marked the last year that Serge Lussier, long-time Chair of the Gold Key Award Committee, would hand out the prestigious awards. "As is always the case, it is a great honour to present the 2019 Gold Key Award to six students who apply on a daily basis the Macdonald motto 'Mastery for Service' and always to the benefit for us all." This year's winners included:
Nancy He, joint Nutritional Science and Food Science program;
Mandy Jian, joint Nutritional Science and Food Science program;
Alice Lefebvre, Bioresource Engineering;
Emma Rollins, Natural Resource Sciences;
Behrouz Tilyayev, Food Science; and
Pragya Tiwary, MSc Food Science
"[We are] very proud of these Gold Key recipients and the many, many other students on this campus who make this place such an excellent place," said Lussier.