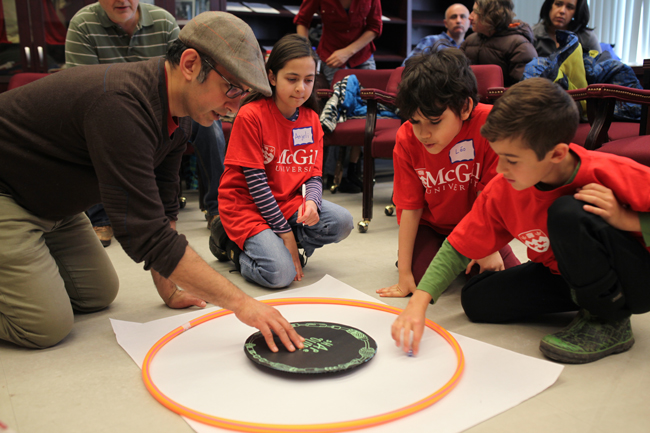 Young students get a taste of McGill
By Jean Murray
A line of eager students formed outside SNAX – the student-run cafe in the Arts building – expectantly waiting to grab a cookie in between classes.
But these were no ordinary McGill students; they were 6 to 12 year olds, some so small that their red McGill shirts looked like dresses. They came from Verdun and Lasalle for the day to experience a day in the life of a McGill student.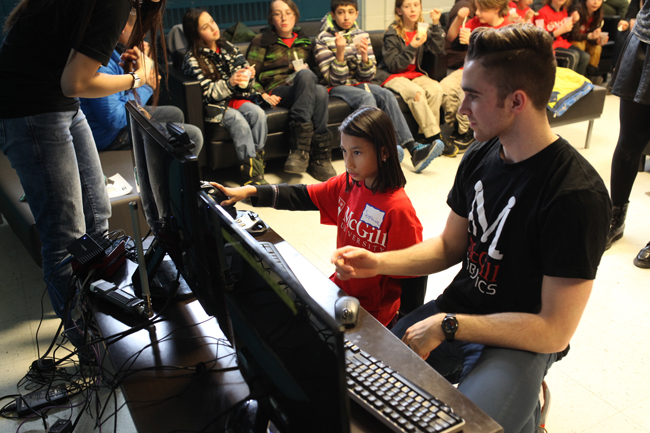 As part of a program developed through a partnership between the University's Social Equity and Diversity Education (SEDE) Office, the Lester B. Pearson School Board, and McGill Enrolment Services – with generous funding from the T.R. Meighen Family Foundation – these students participated in an event called My Day @ McGill. Now in its fourth year, My Day @ McGill brought over 100 elementary school students to the University over two days on April 9-10.
Also on hand were McGill students from the SEDE Office's Homework Zone: a school-based mentoring program that pairs University volunteers with elementary students for homework help and pyscho-social support. My Day @ McGill offers the young mentees the chance to come to their mentors' school for the day – and to get excited about post-secondary education.
Of course, the focus of the day was as much on fun as it was on learning. As Chris Kusuhara, a Homework Zone volunteer and My Day @ McGill tour guide, noted, "The best part was seeing friendship between the kids. They help one another and learn from each other and I hope they stay friends for a long time."
The day consisted of workshops and tours, all designed to balance education with fun. Spanning a variety of disciplines, the workshops were given by a wide range of presenters including people from the Department of Chemistry; the Astrophysics and Cosmology Group; students from Medicine and Engineering; McGill Robotics; First Peoples' House; and Midnight Kitchen.
My Day @ McGill not only presented these young students with a slice of McGill student life, it also embodied the spirit of community. With multiple departments represented, as well as student groups – both academic and non-academic – the day showcased a variety of McGill's offerings.
Every Verdun student was supplied with a t-shirt, courtesy of the McGill bookstore and a free snack provided by SNAX. And what better way to end the day than with ice cream courtesy of Frostbite in McConnell.
As the organizers noted, the day was more than just a tour. It was a chance to bring together a variety of diverse McGill groups with a shared goal to open the eyes and minds of young students, and help them to discover and to nurture a passion for lifelong learning.
Learn more about My Day @ McGill.