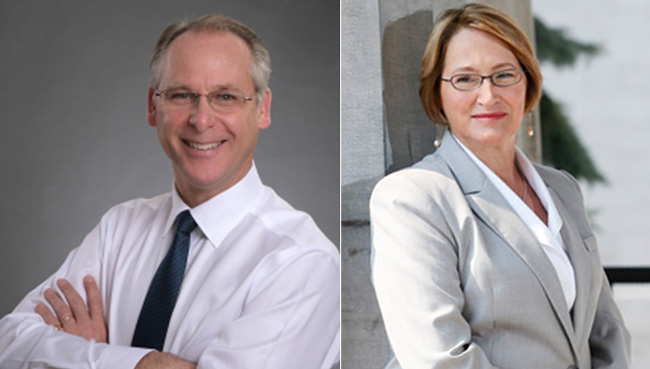 By McGill Reporter Staff
Principal Suzanne Fortier showed up late for the Board of Governors meeting Monday afternoon, but she had a good excuse. She had just raced from Meech Lake to Montreal, after participating in the inaugural meeting of federal Finance Minister Bill Morneau's Advisory Council on Economic Growth, of which she is a newly minted member.
Prof. Fortier is one of two McGillians on the prestigious 14-member panel of business and academic leaders, who will be paid $1 a year to advise the government on long-term economic strategy. The other is Economics Professor Christopher Ragan, who is also Chair of Canada's Ecofiscal Commission.
Morneau announced the council's creation last December and named its members in March. "The Advisory Council will guide the Minister of Finance in the development of this strategy. As its first order of business, it will be tasked with finding ways to overcome the challenges posed by an aging population as Canada seeks to achieve sustainable, long-term growth," a Ministry of Finance statement said when the members were announced.
On Monday, the council met with five federal cabinet ministers (including Morneau) as it began its work toward helping the Liberal government sketch a long-term economic growth strategy the government hopes to have in place by the end of the year. The other ministers were Economic Development Minister Navdeep Bains, International Trade Minister Chrystia Freeland, Infrastructure Minister Amarjeet Sohi and Labour Minister MaryAnn Mihychuk.
Prof. Fortier apologized for her late arrival and the fact that she was munching a sandwich just before she delivered her remarks to the Board meeting, after which she presented the administration's response, as requested by the Board, on McGill's continuing efforts on sustainability.
"I am very honoured to be part of this group," she told the Board, adding that she is particularly pleased to see McGill have such a presence on it.
Other members of the panel are:
Dominic Barton (Chair), Global Managing Director of McKinsey and Company
Mark Wiseman, president and CEO of the Canada Pension Plan Investment Board
Michael Sabia, CEO of the Caisse de dépôt et placement du Québec
Elyse Allen, president and CEO, General Electric Canada
Katherine Barr, general partner, Mohr Davidow Ventures
Jennifer Blanke, chief economist, World Economic Forum
Kenneth Courtis, chairman, Starfort Investment Holdings
Brian Ferguson, president and CEO, Cenovus Energy Inc.
Carol Anne Hilton, CEO, Transformation
Carol Lee, CEO and co-founder, Linacare Cosmotherapy Inc.
Angela Strange, partner, Andreessen Horowitz
Ilse Treurnicht, CEO, MaRS Discovery District.
"I look forward to working with the council members, whose diverse backgrounds and impressive expertise will inform our work as we develop and implement a strategy that will build on the foundation we will lay with budget 2016," Morneau said in a statement.
Various media reports have remarked upon the fact that eight of the 14 members are women.
One area to which the council will turn its attention is how to help more graduates find jobs after their university studies are complete, as well as examining how Canada can better take advantage of its skilled workforce.
Prof. Fortier was also recently invited to join the Global University Leaders Forum (GULF). This forum acts as an intellectual community within the World Economic Forum to advise its leadership on matters relating to higher education and research, and also serves as a resource for the Forum's members and constituents.
GULF is made up of 26 of the world's top universities, including such illustrious institutions as Yale, Princeton, Cambridge, Oxford, the National University of Singapore and Harvard, whose leaders gather on a regular basis for high-level dialogue. The discussions that took place when GULF members met in Davos earlier this year were focused on two topics that are at the heart of the Fourth Industrial Revolution: the future of higher education, and the role of science in research, development and innovation.
"As the only Canadian university member of GULF, McGill has the unique opportunity to engage a larger and more diverse pool of stakeholders in discussions and initiatives that advance the contributions of Montreal, Quebec and Canada to society at a global level," Prof. Fortier said. "We are very pleased and proud to be invited to join in these discussions that are important for the future of higher education and research."