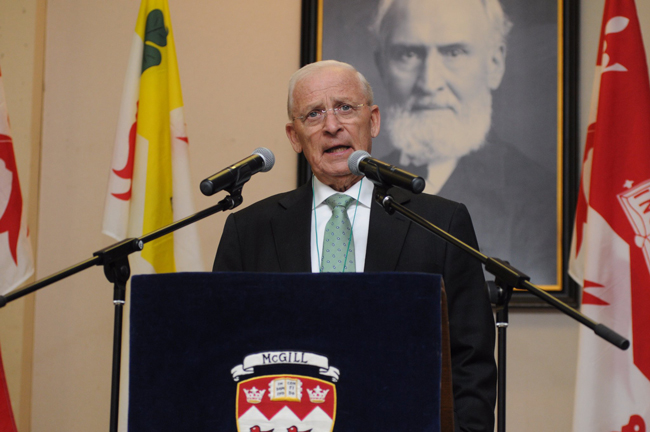 Bryan Murray, a longtime National Hockey League coach and executive, passed away in Ottawa on Aug. 12. He was 74.
Born Bryan Clarence Murray on Dec. 5, 1942 to parents Rhonda and Clarence Murray in Shawville, Que., he went on to play senior hockey as a teenager with the Shawville Pontiacs. A football and hockey player at McGill University's Macdonald College campus in the 1960s, he earned all-star status in 1963 with the football Aggies, who were playing in the Ottawa – St. Lawrence Athletics Association.
After graduating with a diploma in physical education in 1964, Murray taught physical education at Pontiac Protestant high school in Shawville, while owning and operating a local motel.
Murray returned to Macdonald College in the early 1970s, developing his coaching and administrative skills by guiding the school's football and hockey squads while serving four years as director of athletics.
In 1972-73, Murray guided the hockey Clansmen to a stellar 10-1-1 first-place finish in the OSLAA. The team advanced to the league final, where they defeated Chicoutimi (UQAC) in overtime to capture their first conference championship in four decades.
From 1973 to 1978, Murray coached for five years in the Central Junior Hockey League with the Pembroke Lumber Kings and Rockland Nationals, winning the league's Centennial Cup championship in 1976. Three years later, he was appointed head coach of the Regina Pats of the Western Hockey League. In 1979-80, his first year with the Pats, he led them to the WHL championship. Murray then took over as coach of the American Hockey League's Hershey Bears the following season before moving on to the Washington Capitals in 1981.
He spent the next 35 years in the National Hockey League, including 18 seasons and 1,239 games behind the bench as head coach (he ranks 12th in all-time wins, with 620) and 22 seasons as a general manager. He coached the Capitals (1981-90), Red Wings (1990-93), Panthers (1997-98), Ducks (2001-02) and Senators (2005-08). Murray also served as GM of the Red Wings (1990-94), Panthers (1994-98), Ducks (2001-04) and Senators (2007-16).
Under Murray's watch, four McGill Redmen hockey grads were appointed to coaching posts in the NHL, including George Burnett (BEd '85) and Mike Babcock (BEd '86) while Murray was serving as GM in Anaheim. Last year, Guy Boucher (BA '95, BSc (AgrEng) '96) and Martin Raymond(BEd '90, MEd '96) were appointed as head coach and assistant coach, respectively, with the Ottawa Senators, where Murray was serving as a senior hockey advisor.
Over his decorated career, Murray won the NHL's Jack Adams Award in 1983-84, which is annually presented to the head coach deemed to have contributed the most to his team's success. He also garnered a number of personal awards and was an inaugural inductee to the Ottawa Senators Ring of Honour in 2017. He was joined by his brother, Terry and his nephew, Tim, as an inaugural inductee on Shawville's Hockey Wall of Fame in 2012. He was recognized with the United Way's prestigious Community Builder of the Year award in 2015 and was inducted into the Ottawa Sports Hall of Fame on June 5, 2015. Additionally, Murray was one of 13 honourees in the 2015 class of the Washington D.C. Sports Hall of Fame and was named winner of McGill's Macdonald campus Distinguished Alumni Award in 2016.
After being diagnosed with cancer in the summer of 2014, Murray unselfishly confirmed his own medical situation with the public along with the powerful message of "get checked", hoping to help others with the early detection of colon cancer. He continued lending his time to the support cancer of research, both standardized and non-traditional in the years to follow.
Murray is survived by his wife, Geri (née Sutton), daughters Heide (Don Browning) and Brittany (Joe Grubb), and granddaughters Emma and Addie, all of Colorado. Also survived by brothers Laird (Ellen), Barrie (Sandra), Bill (Ann) and Terry (Linda), sisters Darleen (Bert), Lorraine (Basil), Laurie (Jerry), Karen (Terry) and Kim (Mike), brothers-in-law Don Sutton (Patricia).
A funeral service for family and friends will be held in Shawville United Church, 410 Main St., Shawville, Que., on Tuesday, August 22, 2017 at 1 p.m. A Celebration of Life will be held in Ottawa on Thursday, August 24, 2017 at 1 p.m. at Canadian Tire Centre. Family, friends, colleagues and the public are invited to attend via the Gate 2 entrance. In lieu of flowers, donations to Make a Wish Foundation, Shawville Recreation Association, DEBRA Canada (in honour of Jonathan Pitre), Jardins Éducatif du Pontiac or the charity of your choice would be appreciated.
Messages of condolence can be posted online.