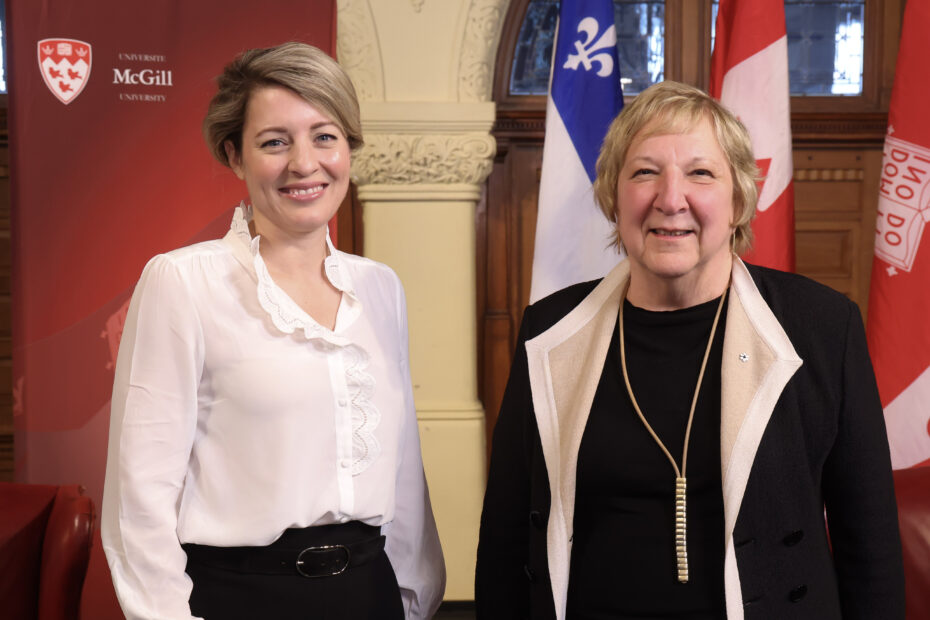 On March 16, the Honourable Mélanie Joly, Canada's Minister of Foreign Affairs, visited the Downtown campus to discuss Canada's engagement with current global challenges.
Around 150 McGill students came to Redpath Hall to listen to Minister Joly, who was joined in conversation by Martha Crago, Vice-Principal (Research and Innovation), before responding to questions submitted by students.
Testing times
The war in Ukraine and Canada's recently launched Indo-Pacific strategy were top of the agenda in a discussion that traversed the globe.
Joly recounted her recent visit to Ukraine, affirming the government of Canada's commitment to both the ongoing war effort against Russia and post-war reconstruction. Removing landmines, providing psychological support for survivors of sexual violence, and assisting with efforts to prosecute war crimes were three areas in which Canada was contributing resources and expertise, the Minister indicated.
"Even after Ukraine's victory, after the war is over, Ukraine will still find itself living next door to an extremely dangerous neighbour in Russia," Joly said. "The objective of my visit was to talk about Ukraine's long-term security goals and needs, and what Canada can do to bring that discussion forward."
Affirming Canada as a Pacific nation
Turning from Europe to Asia, Vice-Principal Crago asked Minister Joly to talk about the government of Canada's recently launched $2.3 billion Indo-Pacific strategy, and the opportunities it might entail for a research-intensive university like McGill.
Noting Canada's historic ties to Europe and strong relationship with the United States, Joly said it was time to recognize the importance of building links with Asia and for Canada to affirm itself as a Pacific nation. The Minister went on to outline key components of the Indo-Pacific strategy in the areas of security, trade, climate change, and higher education.
"We believe in making sure we have stronger ties between people," she said, noting that the strategy included 1,000 new scholarships and fellowships for students in Canada to pursue study in the region, as well as corresponding opportunities for students in the region to come to Canada.
Returning to an old battleground
When asked if she thought there was anything Ottawa could learn from municipal politics, Joly, who ran for mayor of Montreal in 2013, took the opportunity to reminisce about a previous occasion she had taken to the stage in Redpath Hall, scene of her first-ever televised political debate.
It was some three months into her campaign, Joly recalled, when as a relative newcomer to politics – and as a young woman competing against three older men – she had finally been deemed worthy of an invitation to participate in a broadcast debate with the other mayoral candidates. While her opponents had had two weeks to prepare, Joly said she found out only the day before.
"I was so motivated. Some commentators said I won the debate. But I think just the fact I was there was a win," she said, noting that her run for mayor, although unsuccessful, was the starting point of a career in politics that has changed her life.
"It's worth getting involved in politics. It's worth taking risks," Joly told the audience. "It's worth investing in democracy – it's very important, especially at a time when democracy is being tested or taken for granted. You just have to put your hand up."
Making time to talk to students
After leaving the stage, the Minister chatted and posed for photographs with McGill faculty members in attendance, including Juliet Johnson (Professor of Political Science), Daniel Béland (Director of the McGill Institute for the Study of Canada and James McGill Professor of Political Science), and Nate Fuks (Director of The Virginia I. Douglas Centre for Clinical Psychology and Assistant Professor of Psychology). Also present was Sergii Glebov, a visiting scholar from Odesa I. I. Mechnikov National University in Ukraine.
As the cameras clicked, students in the room formed a long line, hoping to meet with Joly one on one. Notwithstanding the patient efforts of her advisers to persuade the Minister to leave for her next engagement, Joly took the time to answer questions and pose for photographs with every one of them, fielding questions that ranged from the effectiveness of sanctions imposed on Russia, to advice on starting a career in foreign affairs, to pinning the Minister down on her favourite Montreal neighbourhood. (It's Ahuntsic-Cartierville, of course, the riding Joly represents—although, when pressed, the Minister admitted she also liked the Plateau.)