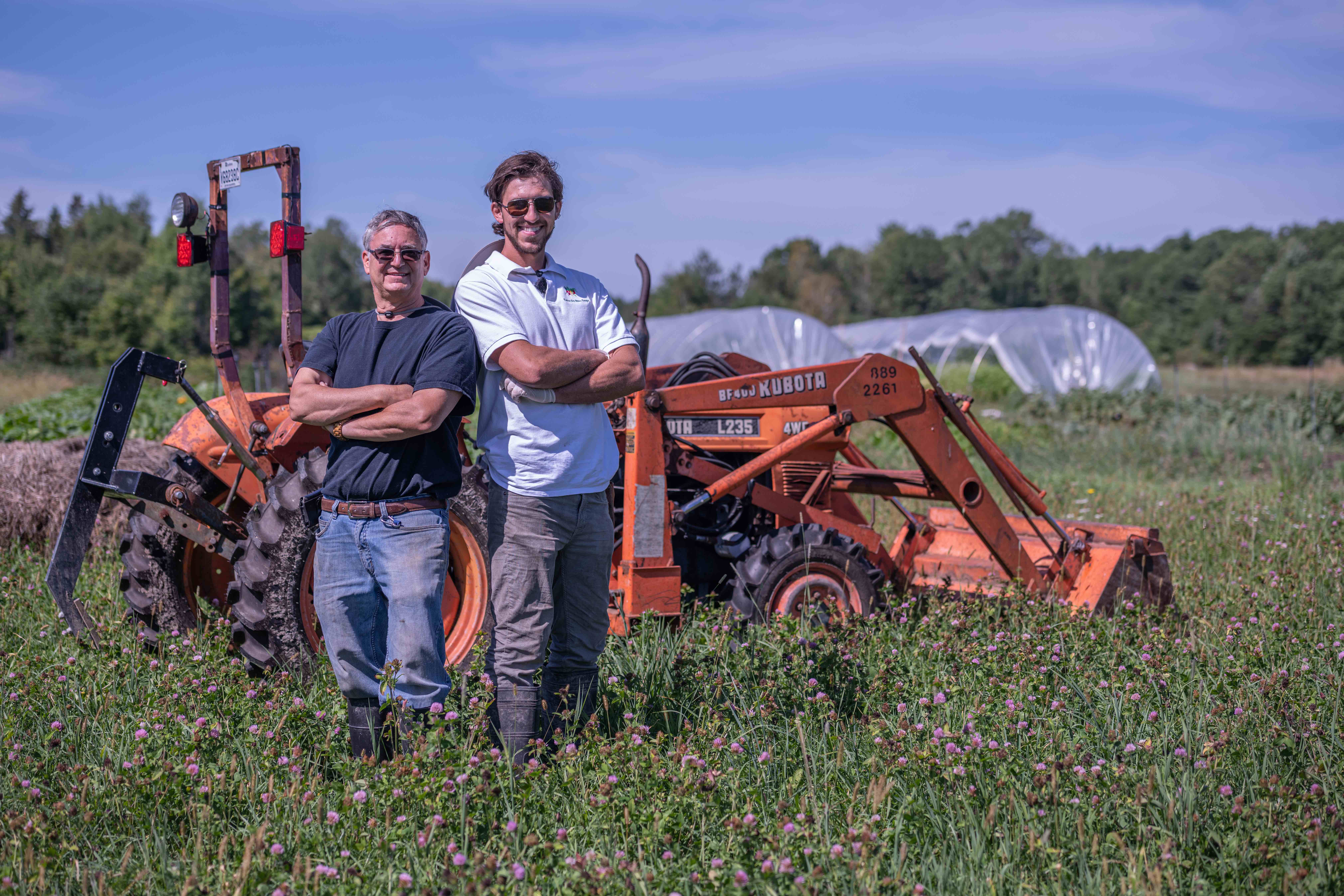 On Friday, June 3, Joe Harrel will accept his Farm Management and Technology (FMT) diploma during Spring 2022 Convocation ceremonies for the Faculty of Agricultural and Environmental Sciences. Unlike many members of the Class of 2022, however, Harrel will not be seeking employment upon graduation. Truth of the matter is, he is already gainfully employed.
"I own the Speedy Auto Service and the Novus Glass in Kirkland with my partner Andy Arbuckle, and I own and operate Optimum Business Brokers as well," says Harrel, who was also selected valedictorian by his classmates [see Q&A below].
So, why does an established businessman go back to university full time in a field in which he has no experience with classmates young enough to be his children?
It goes back to Harrel's weekend gig. On the farm. His son's farm.
Family farm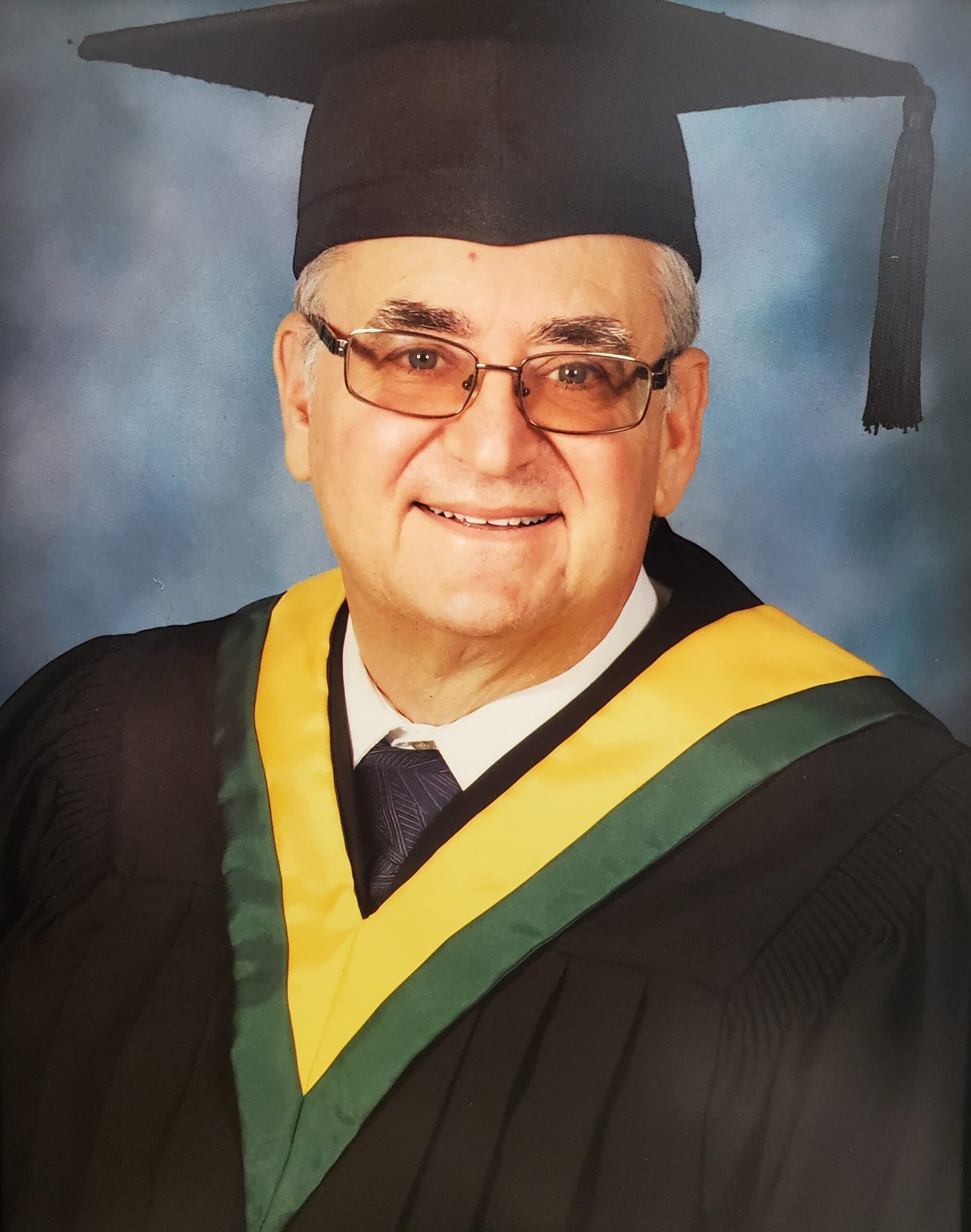 In 2017, Joe's son Andrew graduated from the FMT program with the goal of establishing a small-scale organic farm in Papineau, Que. Today, Fairweather Farm grows over 40 different vegetable and fine herb crops; blueberries; and has an orchard of uncommon fruit trees like Asian pears.
"I knew if [Andrew] was to establish a farm he would need help not only in operations but as a backup in case of an emergency," said Joe. "Understanding that this is a very complex field where you are taking care of living plants, and possibly eventually animals, is a big responsibility and decisions need to be made daily. So, I knew if I were ever to have to replace him – even for a day – I would need to know not only what to do but why to do it. That is why I decided to enrol in FMT."
"My dad was always involved in the farm right from the beginning, but after the year I spent growing vegetables for Restaurant Chef-Owner Constant Mentzas of Ikanos in Old Montreal on land rented in Hemmingford; is when I think he got a real taste for it," says Andrew. "I was a bit surprised [when he enrolled in the FMT program], but I thought it was awesome and it gave us a lot in common and to talk about – to the point where my mom rolls her eyes and leaves the room when the boys are getting into farm talk."
"He clearly loves working on the farm since he lights up when he's behind the wheel of a tractor, but, more importantly, it means our family gets to continue to spend lots of quality time together," says Andrew. "My mom has been getting more involved on the farm this year and has also been up to help out on weekends."
Back to the classroom
With a BSc in Administration, Joe is no stranger to higher education. Still, FMT was a horse – or cow – of a different colour.
"The biggest challenges were really remembering some of my algebra and learning farm terminology," says Joe. "I knew that cows, steers, bulls and heifers were all the same kind of animal but I had no idea of the real difference between them other than bulls were males."
"I don't know how many times in year one a lecturer would say to the class 'You should know this. You learned it in high school.' And I would think to myself, yeah, but that was 40 years ago," says Joe. "There was a learning curve for sure."
Stellar experience
Joe praises faculty members for making FMT such a memorable, and valuable, experience.
"The faculty in FMT are amazing. They surprise you all the time. I was lucky enough to experience the teachings of Serge Lussier and Chris Molgat before they retired," says Joe. "David Wees, Caroline Begg, Peter Enright, Pascal Theriault, Paul Meldrum, Marc Andre Isabelle, Yasmine Schuermann, everyone was great!
"FMT is a great education and a broad set of life skills that anyone could benefit from," he says. "I learned so much."
Role reversal
On the farm, the roles of Joe and Andrew have been reversed somewhat.
"He doesn't have to call me boss, but it is sometimes difficult for us since, historically, he has always been the shot caller," says Andrew. "Now sometimes he has no choice but to sit back, bite his lip and watch me make the mistake he warned me not to do and be patient when I complain afterwards how it didn't work. He somehow never says I told you so."
"He is now playfully known in the family as Super Joe, since he does his Clark Kent during the week and then whips out the cape for the weekend on the farm," says Andrew. "My dad is my hero and he inspires me every day. Without him, the farm would just be a plot of land. The family together is what makes it a paradise."
_______
As s part of our Spring 2022 Convocation coverage, the Reporter is conducting a series of Q&A interviews with some of our valedictorians. The following Q&A features Joe Harrel, valedictorian for the Faculty of Agricultural and Environmental Sciences.
 What is your hometown?
I was born in Toronto but grew up in the West Island.
Why did you choose McGill?
Because that is where my son graduated, and I found the program to be very interesting.
What is your degree?
I have earned a diploma in Farm Management and Technology.
Three favourite places on McGill/Mac campus?
R3011 where it all began, the greenhouse and the Mac Farm.
What's next for you, both short and long term?
In the short term I will use the knowledge I have gained to help my son Andrew on his farm. We bounce ideas of each other all the time. We both went through the same program but as Andrew will tell you we both retained different knowledge sets as we have different interest. As it turns out two complementary sets of knowledge is advantageous.
How important have your classmates been to your overall experience?
What a great group we had. It is thinking of my classmates and all they have done for me, that motivated me to want to speak at the convocation. I wanted to be able to publicly thank them and tell them what they mean to me. My classmates include a very diverse group of young, hardworking, highly intelligent, and deeply committed individuals who are absolutely passionate about their occupations. They are amazing!
Who or what will you miss most?
I miss the camaraderie; the change of pace as I left work to go attend class and then rush back to work. I miss listening to the out loud musings in class of my friend Jeremy Chevalier, the banter around the classroom, the heated discussions on tractor brands, and hearing all the stories from the home farm from Stacey Godin. Nathan, the Caitlin's, The Olivier's, Mark, Ben, Josh, Sara, Lydia, Julie… I made so many friends amongst the students and the staff. I would list them all but I am sure you don't have room.
What advice do you have for new students to McGill?
Enjoy your experience. Relish every moment in class and out. Party to enjoy, but not so much it hurts the next day. Treat assignments like a video game. Hit them out of the park the minute you get them, that way they won't stack up behind you and stress you for no reason.
What are your plans for convocation? 
To say au revoir to all of my classmates, faculty and staff. Au revoir is so much better than goodbye.
What was your experience with the pandemic?
Online classes were the most disappointing part of the experience. An unfortunate necessity. As a class we simply didn't see everyone for a very long time and missed out on some of the best parts of going to McGill. Watching a hockey game on TV is nothing like sitting in the stands and feeling the emotions of the crowd around you. Hopefully this will be the end of the pandemic, once and for all, and that all those who will follow will benefit from the fulltime live thrill of the game!
What are some of the biggest challenges facing the world today? How confident are you that we can address these challenges and make a difference?
The world faces many challenges. War, inflation, health and hunger! As graduates in the agricultural sector we collectively need to work to find better ways to feed everyone. The scientists will discover new tools, and the farmers will find new and better techniques to use these tools.
If we continue to focus on stewardship of the lands, building and improving the available soils, reducing waste and becoming more efficient it will definitely make a difference. If we continue to focus on what we do and how we do, and also take the time to educate consumers many of whom are completely detached from understanding where their food comes from, we will have a pretty good chance of making enough of a difference that in the end we will feed more people.
Do you have anything to add?
I really wish to thank everyone. It was a privilege and a great opportunity to attend McGill and study on the Macdonald Campus.