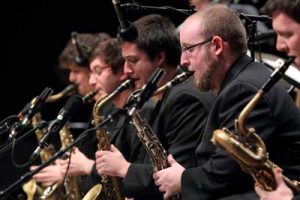 By Chris Chipello
It's the Year of Jazz at the Schulich School of Music – a year-long celebration of the improvisational musical genre that developed in North America a century ago.
Fittingly enough, the school's recently installed Interim Dean, Gordon Foote is the first person from the School's Jazz program to lead the school.
Foote has been a pioneer in developing jazz studies in Canada since 1980, when he was hired to help develop a program at St. Francis-Xavier University in Nova Scotia. In 1986, he moved to McGill, which had developed a jazz-degree program during roughly the same period. "We continued to expand the program, rework the curriculum … and diminish skepticism" about jazz studies in a School with a "very established classical program," he said.
A big part of Foote's contribution to McGill's program has been his leadership of the flagship student Jazz Orchestra I, which over the years has performed in cities across North America, including Mexico, and in Europe.
McGill also developed 20 years ago the first graduate jazz program in Canada. All told, there are now about 100 students in the three jazz programs (Licentiate, Bachelor's and Master's.)
Foote developed his passion for big-band jazz while growing up as a child in Regina, where his parents played their collection of 78 rpm records by the likes of Count Basie, Duke Ellington and Woody Herman.
"I always had a desire to play drums," he recalled. "My mother still reminds me how I ruined her pot lids." His parents eventually did give him a drum set – but first got him started on the clarinet, which eventually led him to take up the saxophone.
"I don't play drums, anymore," he said. "But it really comes in handy when I'm directing a big band, because drums are sort of the heart for the time for a big band. And when you can tell a drummer what you want – exactly, because you've done that – it really makes a difference. And I think probably some of the absolute best big-band drummers in Canada, at this point, have gone through the McGill jazz program."
To listen to Foote demonstrate "this thing called jazz," visit: http://podcasts.mcgill.ca/music/2009/04/22/what-is-this-thing-called-jazz/
Some of Jazz Orchestra I's recordings are available here: www.music.mcgill.ca/jazz