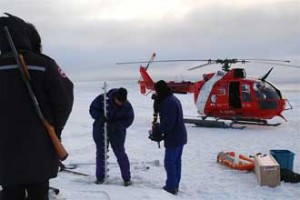 Biopharma company's gift to support Arctic ice program, Medicine fellowships, science research
By Patrick McDonagh
Despite reports of open seas where once there was solid ice, the Canadian archipelago has been largely unexplored by researchers.
We know that the sea ice in the Arctic Ocean is whirling clockwise, traveling up to five kilometres daily. And we know that much of that ice moves against the northern edge of the Canadian archipelago and into its narrow straights. What happens next is unclear – but Bruno Tremblay, Assistant Professor of Atmospheric and Oceanic Sciences, is working on that.
In October 2007, Professor Tremblay travelled from Resolute Bay to Melville Sound, distributing research buoys that track ice thickness, as well as temperature, compression and movement. Using the data generated by this Canadian Arctic Ice Buoy Program, Tremblay can calibrate models to predict future ice conditions within the Canadian Arctic archipelago. However, the Arctic is a hostile environment and the buoys need replacing each year or two.
Thanks to Ferring Pharmaceuticals, these ice-tracking buoys will continue to send their information. As one of the beneficiaries of Ferring's recent $1-million commitment to McGill, Tremblay's project will receive $150,000 for the Arctic Research Program Support Fund. "This gift means we will be able to extend our research from two years to five," said Tremblay. "It will make a big difference to our ability to monitor sea ice and its inter-annual variability, and ultimately to our abilities to model the future of the Canadian archipelago."
"McGill is one of the world's best research-based universities and will be an excellent partner for Ferring going forward," said Michel Pettigrew, BCom'76, Ferring's President and Chief Operating Officer. "We have always believed in the importance of investing in scientific education and research, and the program we have developed with McGill will make a telling contribution across a wide range of different areas." Ferring Pharmaceuticals is an international, research-driven biopharmaceutical company based in Switzerland.
Another $400,000 will endow new Ferring Pharmaceuticals Fellowships to support top Faculty of Medicine students pursuing research in urology, gastroenterology or fertility. "These fellowships support crucial areas of medical research and will enhance our efforts to bring the world's best graduate students to McGill," said Dr. Richard I. Levin, Vice-Principal (Health Affairs) and Dean of the Faculty of Medicine. The remainder of Ferring's $1-million pledge will support scientific research over the next three years. McGill graduate students will be invited to submit proposals to Ferring's R&D team, and funds will be allocated based on merit.