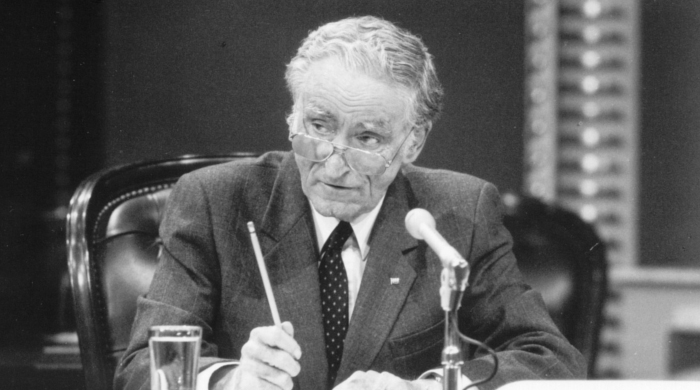 By Daniel Cere
McGill's Newman Centre, in collaboration with other partners, is hosting a major symposium on the Legacy of Claude Ryan (Feb. 13-14). This initiative commemorating the 10th anniversary of Ryan's passing will bring together an array of major political figures, public intellectuals and academics. Participants include, among others: Thomas Mulcair, Brian Mulroney, Jean Charest, André Pratte (chief editorial writer, La Presse) and Bernard Descôteaux (Director, Le Devoir).
Ryan's longstanding relationship to the Newman Centre dates back to early 1960s, the heydays of the Quiet Revolution. After his retirement, Ryan reconnected with the Centre. During the last seven years of his life he offered seminars, weekly discussion groups with students, published in The Newman Rambler and became a founding member of the Newman Institute of Catholic Studies. Ryan was one of the first instructors in the newly established Catholic Studies program at McGill.
The Claude Ryan Room in the Newman Centre is now home to Ryan's personal library. The Centre has also launched an annual lecture series in Ryan's name, as well as the clauderyan.ca website that will serve as a resource for ongoing research into Ryan's life and work.
Ryan's immense corpus of writing poses a serious challenge to scholarship. His wide-ranging contributions to debates on federalism, nationalism, language and education have shaped the history of Quebec and Canadian political culture. Less well known, though equally important, is his life-long intellectual and personal engagement with the relationship of faith to public life. Ryan was profoundly shaped by his career in Catholic Action and his life-long exploration of the thought and spirituality of John Henry Newman, a 19th century Anglican theologian who found his way into the 'Roman' church. Ryan shared Newman's conviction that faith must find a home within the secular sphere. His life of public service was shaped by this distinctive vision.
The symposium brings together political colleagues, journalists, friends, family, and scholars to discuss the remarkably complex legacy of one of the most intriguing and influential public intellectuals in modern Quebec and Canadian culture.
For more information and to register, go here.
Daniel Cere is a professor of Religious Studies. He teaches and researches on subjects at the intersection of religion, law and ethics.