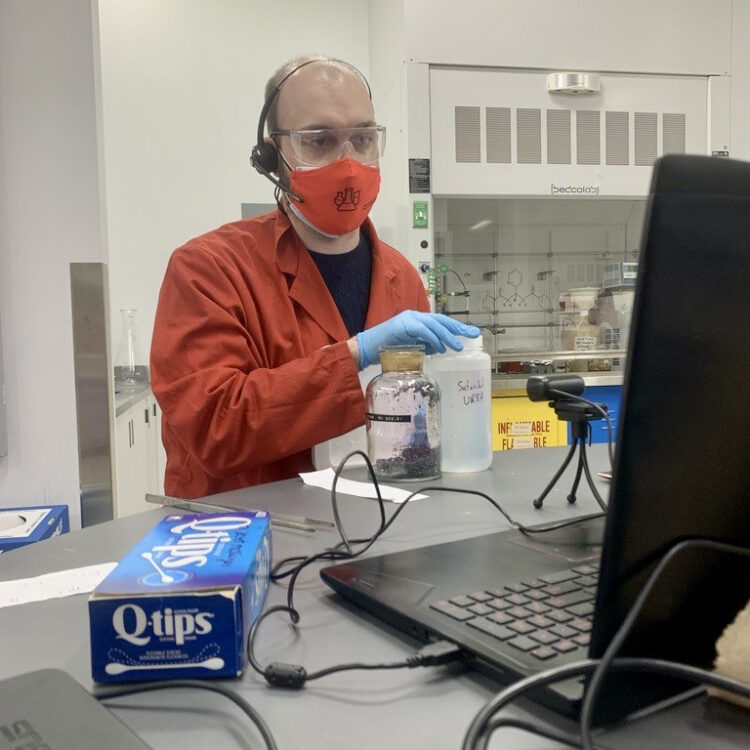 McGill students' passion for sharing science with the public was on full display at the McGill Bicentennial Family Science Day, an all-day community outreach event that drew an audience of over 200 and featured a total of 16 individual activities and talks on topics ranging from the moon's craters to the physics of buoyancy.
The May 8 event, which formed part of both the 24 heures de science festival and McGill's 200th anniversary celebrations, saw multiple outreach groups from the Faculty of Science come together around a shared aim of fostering a love of science and an appreciation for how entwined it is in our everyday lives.
"Our goal isn't to make sure the participants know exactly what research we do, but that they leave with a positive experience with science, knowing that it is something they can understand," said Jessica Ford, the Chair of STEMM Diversity @ McGill and a PhD candidate in Biology at the Redpath Museum.
Science for all
In a similar vein, presenters from other participating groups spoke of their desire to create "a scientific mindset at a young age" and "showcasing that a diversity of people thrive and belong in STEM" — goals that were reflected in the inclusive range of demographics the event catered for. Most activities were offered in both French and English, with one group even connecting with their audience in Spanish. Similarly, while many presentations like, "Ask McGill Scientists!" by Let's Talk Science at McGill were aimed at people of all ages, certain events like "What is Neuroscience, anyway?" by BrainReach were designed specifically for young kids aged 8 to 11.
For the McGill students delivering the presentations, learning how to gear scientific content towards children is one of the more rewarding aspects of science communication. Victoria Marie Glynn, a PhD student in the Redpath Museum and Department of Biology who presented her research in a talk entitled, "Corals – how they live and connect," shared that she attempted to "meet participants at their level of understanding," even if their level of understanding was not even knowing what a coral was.
Learning goes both ways
Glynn explained the Office of Science Outreach in the Faculty of Science has offered tailored workshops to help students like her learn new ways of presenting information and appealing to a wide audience.
"Through these training sessions, we have been motivated to make our activities as inquiry-driven as possible," she added, referring to a presentation method designed to help mirror the process of scientific discovery with participants, rather than just presenting them with the answer. Glynn describes an example from her presentation on coral in which she asked children in the audience "a series of open-ended and guided questions", enabling them to work with her to determine why corals were animals, not rocks or plants.
Other activities, like the virtual field trips put on by Metro@Monteregie and the Department of Earth and Planetary Sciences (EPS), aimed to encourage interest in specific subjects. Kristyn Rodzinyak, the Outreach Administrator for EPS, explains that although many children find dinosaurs, volcanos and fossils exciting, that doesn't necessarily translate into a desire to pursue geosciences when those same children enter university as young adults. EPS and Metro@Monteregie are hoping to help reinstill a love of earth sciences in older students by offering free and accessible tools, like the virtual field trips, for teachers to use in their own classrooms.
Remote delivery: Challenges and opportunities
Throughout the COVID-19 pandemic, outreach presenters have grappled with the challenge of not being able to connect with their audiences in person. But one major benefit from the wholesale switch to online is that it has allowed people from all over the world to participate. A Montreal family, unable to return home from Colombia due to the pandemic, attended several of the Family Science Day activities and were especially excited that their child could experience Montreal through virtual field trips.
The online format is opening up new possibilities for presenters, too. Often scattered across the globe doing field research, the graduate student members of STEMM Diversity @ McGill were able to come together in the online space to deliver their presentation, "The diversity of science and scientists". No longer impeded by distance, volunteers were able to show off their research equipment and tools from the actual places their research is being done.
While acknowledging the difficulties faced in adapting outreach material for remote delivery, other groups also noted the new opportunities offered by online presentation technologies.
"One of the young participants took advantage of the chat's "direct messaging" option to ask me a bunch of questions during the presentation," writes Alice Bruneau, a PhD student in Experimental Medicine and co-president of BrainReach Elementary. In their virtual event, BrainReach was able to showcase optical and auditory illusions, as well as videos of neurons growing — forms of media that may not work as well in person.
The unprecedented challenges students in the science outreach groups had to overcome to put on the Family Science Day speak to their commitment to promoting science literacy and helping the public — especially children — engage with science that is accessible, inclusive, fun, and a part of all of our lives. Science Outreach Program Adviser Jacky Farrell says, "The past year has seen the science outreach groups develop new skills, foster a sense of connection and try out innovative programming to meet the needs of the communities we serve. The results have been inspiring."
Learn more about McGill's Bicentennial events and Science Outreach.