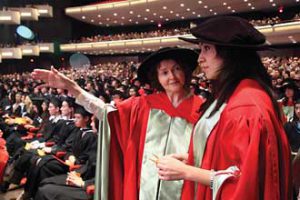 By McGill Reporter Staff
"Today," said former McGill Board of Governors Chair Robert Rabinovitch, paraphrasing French prime minister Georges Clemanceau, "is the beginning of a beginning."
Rabinovitch, who was awarded an honorary degree at Monday's Fall Convocation ceremonies, along with Faculty of Medicine alumn John Cohen, told graduates at the morning session that they face "unprecedented political and social change, both within Canada and from outside our borders.
"Your reactions will be shaped by your education," he said, exhorting them to be receptive to change and the taking of risks. Using his own journey as a business student with an eye on a career on Wall Street who ended up in high-powered corridors of power in Ottawa and the presidency of the CBC, Rabinovitch also urged the assembled graduates and their proud parents to devote themselves both to their careers and personal advancement as well as to the world around them.
"Act according to the values you know so well," he said.
About 1,500 students graduated at Monday's ceremonies.
Newly installed Vice-Principal (Administration and Finance) Michael Di Grappa performed his first ceremonial function at the University in introducing the winners of the Principal's prizes for administrative and support staff.
Cohen, a renowned physician and educator, earned his medical degree at McGill in 1968. Today he is Professor of Immunology and Medicine at the University of Colorado Medical School. Known not only for his research work that revealed how cells have a genetic "suicide program" (apoptosis) by which they can be eliminated from the body, he is also renowned for creating "Mini Meds," which help take medical teaching to the public at large.