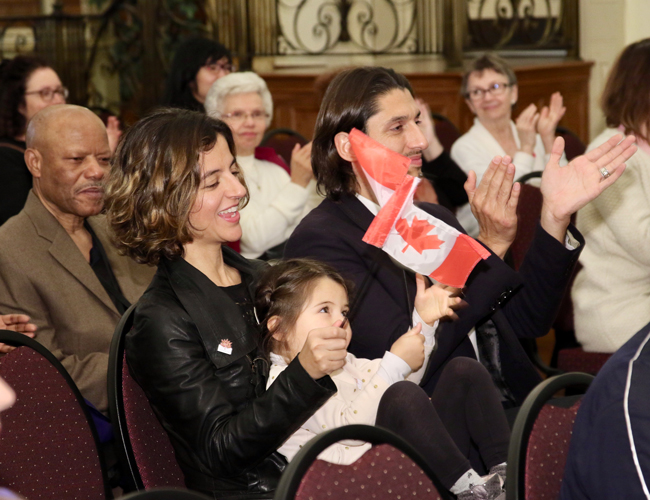 Monday's dreary, wet day couldn't dampen the buoyant spirit that infused the Faculty Club as some 40 people became our newest Canadians in a special Citizenship Ceremony.
The special ceremony was organized by McGill and with Immigration, Refugees and Citizenship Canada to commemorate the 150th anniversary of Canadian Confederation. It was presided over by Veronica Johnson, Citizenship Judge for Montreal. Principal Suzanne Fortier took part in the ceremony, welcoming each new citizen. Louis Arseneault, Vice-Principal (Communications and External Relations), served as master of ceremonies.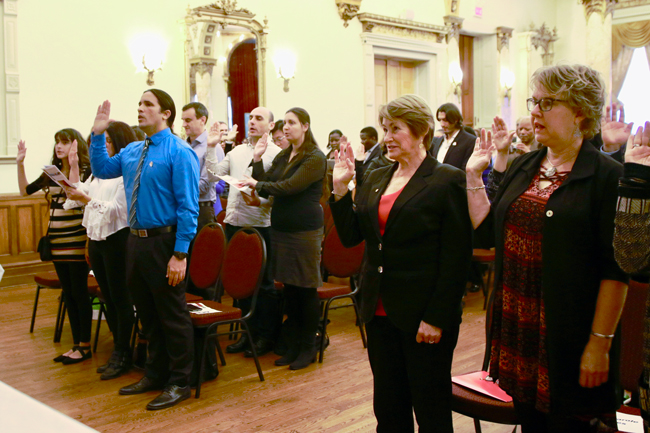 "It is a special day for everyone, especially those who are about to become Canadian citizens," said Judge Johnson in her opening remarks. "May all your hopes and dreams come true. I encourage you to make plans, set goals and then work hard to achieve them."
Judge Johnson gave a brief history lesson of women's rights in Canada. "Equality between women and men is enshrined in our Canadian Charter of Rights and Freedoms. This month, when we celebrate women's history, is an important opportunity for all Canadians to learn about the contributions of woman and girls in our society," she said, highlighting the lives of Mary Two-Axe Earley, Mary Ann Shadd, Idola Saint-Jean and Thérèse Casgrain.
"As citizens you also accept that women and men are equal before the law; and women can contribute, just like men, to the creation of a better society. This is why you will see women in positions of power – like the Principal of McGill, Suzanne Fortier," said Judge Johnson.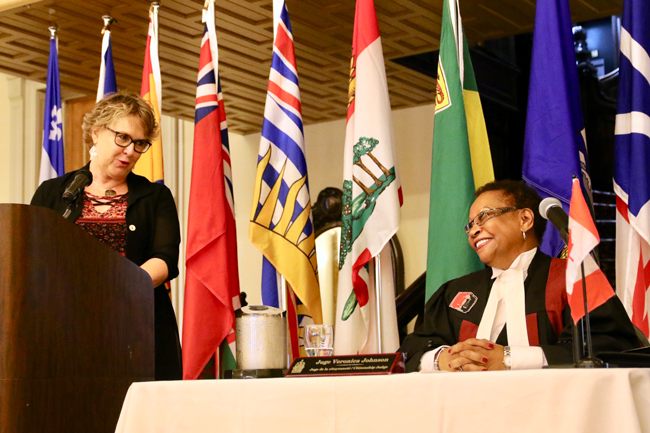 The ceremony is the final step in the process of becoming a Canadian citizen. In all, 40 people from 13 different countries swore the Oath of Citizenship – along with audience members who were encouraged to reaffirm their commitment to Canada by repeating the oath along with the new citizens.
Prior to signing their Certificate of Canadian Citizenship, participants received a small Canadian flag and a pass that gains them free admittance to over 1,000 museums and art galleries across the country.
"You are now members of the Canadian family, a family that is both large and diverse," Principal Fortier said. "Canada has a very long history of welcoming newcomers. We have made it the strong, rich and diverse community that we celebrate this year [the 150th anniversary of Canada] … As stated by our Prime Minister, the Right Honorable Justin Trudeau – a McGill alumnus – Canadians understand that diversity is our strength. We know that Canada has succeeded culturally, politically, economically and socially because of our diversity, not in spite of it."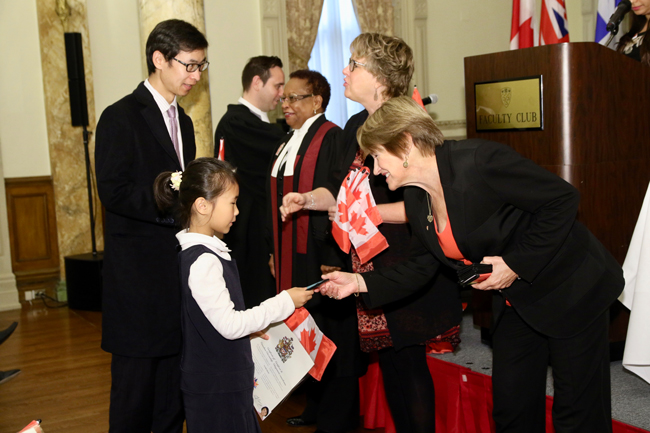 The ceremony was the last for Judge Johnson, who will retire after being a Citizenship judge since 2011. During that time, she presided over more than 250 ceremonies across the nation and helped some 11,000 people become Canadian citizens.
"I, too, am an immigrant," she told the audience. "So many different people from so many different countries… but here in Canada we have found a way for all of us to live together in peace and with respect for each other.
"Life will not always be easy, but you must persevere," said Johnson. "Each of you has a lot to offer and Canada will only be better because of your efforts."
The ceremony ended with the roomful of people standing to sing a rousing rendition of O Canada, with Judge Johnson leading an impromptu choir of children at the front of the ballroom.