In a message to the McGill community, Provost and Vice-Principal (Academic) Christopher Manfredi announced the appointment of Prof. Fabrice Labeau as Interim Deputy Provost, Student Life and Learning (SLL). The one-year appointment begins on June 18, 2018.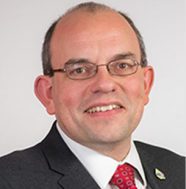 Labeau is an 18-year veteran of the Department of Electrical and Computer Engineering. He currently serves as Engineering's Associate Dean (Faculty Affairs), and has previously served as Associate Dean (Graduate and Postdoctoral Studies).
As Interim Deputy Provost, Labeau will oversee a team of more than 650 full-time staff members across Student Services, Enrolment Services, Teaching and Learning Services, Student Housing and Hospitality Services, Athletics and Recreation, and the Office of the Dean of Students.
In his message, Provost Manfredi thanked Prof. Labeau "for his willingness to take on this important role during a critical transitional period and [I] look forward to working closely with him in the coming year." The Provost plans to appoint a new Deputy Provost for the SLL portfolio by summer 2019.
In order to "ensure that McGill University has the best possible organizational structure with respect to our suite of student support services", the Provost is currently undertaking a comprehensive review of the scope and orientation of the SLL portfolio. A committee comprised of faculty, staff and students is supporting him in this review. As part of the review process, the committee is hosting two open discussion sessions this month:
Thursday, April 5 (3:00pm-4:00pm) in Raymond 3-048 on the Macdonald campus
Thursday, April 12 (9:00am-10:00am) in Room 101 of New Chancellor Day Hall (downtown)
The current Deputy Provost, Prof. Ollivier Dyens, begins a research leave at the end of this academic year. In 2019, he will start a new mandate as Director of Building 21, a new hub for creative students, faculty and staff to explore and experiment outside the boundaries of their chosen disciplines.