Convocation is a big day for students, and rightly so: They worked hard for that moment in the sun. But, as Principal Suzanne Fortier reminded the audience gathered in Salle Wilfrid Pelletier at Place des Arts for the October 29 convocation ceremonies, there are a whole lot of support players in the wings. Parents and family, for sure. Professors. Friends. And also McGill staff. "Today," she said, "is a special day for them as well." And it was an extra special day for the four outstanding individuals and one team who received this year's Principal's Awards for Administrative and Support Staff. "McGill's tradition of excellence is a direct reflection not only of the outstanding quality and dedication of its students and professors, but also of its staff," said Michael Di Grappa, Vice-Principal (Administration and Finance), who introduced each of this year's winners:
Team Project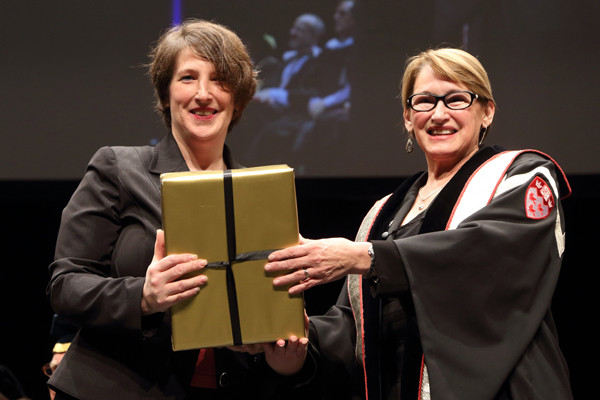 "The tireless efforts of the Undergraduate Medical Education team of the Faculty of Medicine ensure that students will become tomorrow's best clinicians, researchers and leaders in the field of medicine," says Di Grappa, who characterized the 21-person team as "energetic and resourceful." The team serves over 750 medical students in practically every aspect of their education, plus 400 visiting elective students from across Canada and around the world. "We really get to know the students," says Melissa Knock, manager of educational services in the Faculty of Medicine. "But, because it's a four-year programme, different people get to know the students in different ways at different stages. We have people who deal with the curriculum. We have people who deal with student records, with career advising, with more administrative matters — really anything to do with courses until it's time to graduate." Knock accepted the award on behalf of the 21-person team: Kate Allan, Anne Briggs, Mary Cecere, Heidi Cheung, Carolyn Cichon, John Cloutier, Silvana Di Lollo, Jean-Francois Gravel, Maryse Grignon, Nicole Guedon, Tim Johns, Shie Kasai, Anna Lee, Elizabeth Lefebvre, Carole Lemieux, Tamara Lutz, Sunita Mathew, Danielle Moronval, Farhad Saboohi and Alessandra Tedeschi. "It's not unusual for someone to get an e-mail from a student after hours or on the weekend," says Knock of the team's dedication, "and they'll put in that extra time to make sure they do whatever's necessary so that nothing falls through the cracks." She adds that the Principal's Award is particularly meaningful because the team is coming off an "exceptionally challenging" year: "Everyone has worked even harder to make sure our new MDCM curriculum has gone well and that our students feel well supported. When everything has to be redone from top to bottom, it takes a lot of extra effort. People have been stretched this past year or two, so they were just thrilled to receive this recognition."
Trades and Services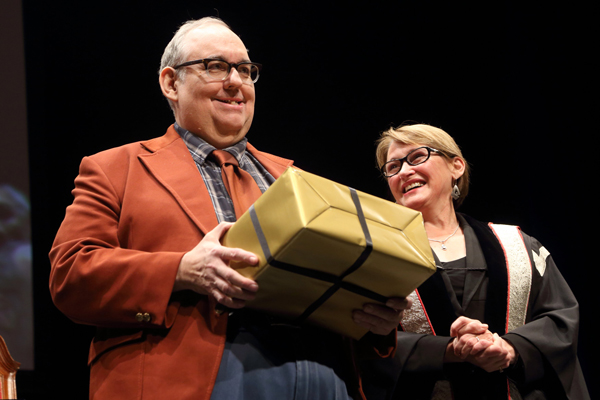 "I felt like I was on the TV show Undercover Boss," says James Petrie, remembering when his supervisor called him into his office to tell him he'd won a Principal's Award. "And the first thing I thought was: I don't deserve this, because everybody in our department works very hard and deserves that award." Petrie started in McGill's Mail Services as a casual worker "on Monday, June 28, 1976. But I only became full-time on Monday, May 3, 1982." He chuckles. "I have a good memory for dates!" But his prodigious memory doesn't just apply to dates. "James' colleagues are continuously amazed at his encyclopedic knowledge of how mail systems worked before adopting new equipment," said Di Grappa during Convocation. "His understanding of these processes was instrumental in transitioning to new technology." Petrie sorts internal and external mail, and prides himself on making sure that every piece goes out the same day it comes in: "That's the best service that we can give."
Technical and Library Assistants
Ebrahim Noroozi has two major passions. One is McGill. He came here from his native Iran as a student in 1975, graduated with an MSc in 1978, and has been on staff at the Faculty of Agricultural and Environmental Sciences since 1987. "McGill, and particularly the Macdonald Campus, is like a family," says the Senior Technician in the Department of Food Science, who manages various teaching laboratories and resources. His other passion: food safety. "Eby is a well-known expert in hazards reduction within the food processing industry," said Di Grappa during Convocation, "and has been a key voice in the development of McGill's health and safety training materials, protocols and processes." Noroozi doesn't spend every single second at McGill — he spent the early part of the 1980s working as a food engineer for the province of Quebec and, more recently, has lectured extensively on food safety at universities and institutes in his Iran — but it's fair to say McGill is never too far from his mind. "Once you get involved and get a part of the University's history, you can make a bond with the past and the future," says the man who received the McGill Safety Ambassador Award in 2012. "For me, as a student, alumni and staff, I really have that feeling."
Clerical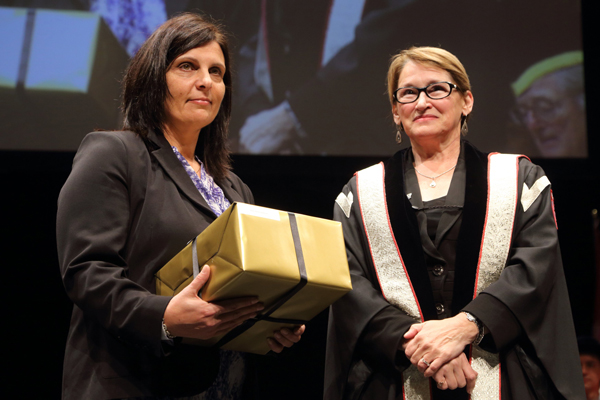 A comment, a question, a joke — Anna Ballarano always has something to say. Except when she found out she'd won a Principal's Award. "Many of my colleagues can attest that normally I am not at a loss for words," says the program administrator, "but I was literally speechless." Ballarano has worked at McGill for 26 years, 20 of which she's spent as what Di Grappa called "the backbone of the Cardiology Residency Training Program," assisting the residents in completing their rotations, electives, and training — as well as dispensing motherly advice. "The residents are like my kids," says the mother of two teenagers, who has played "mom" over the years to hundreds of cardiologists. "It's like I get to watch them growing up and evolving, starting with their interview, through their cardiology residency program, then the study periods for the qualifying exams and finally seeing many of them return to our Division as members of the cardiology staff. We build a bond — I'm even good friends with a doctor who was one of my very first residents 20 years ago."
Managerial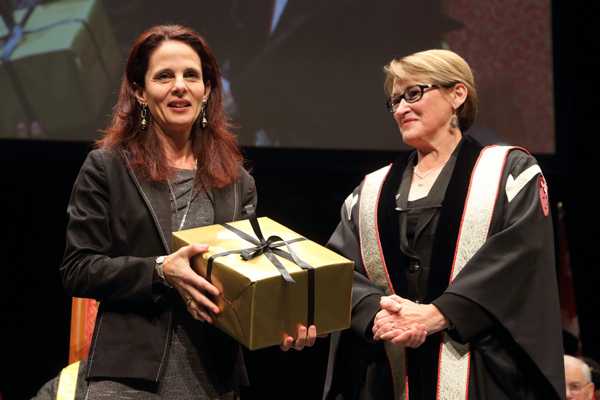 "I wouldn't trade my job for anything," says Pina Sorrini, Student Affairs Officer in the Department of Biomedical Engineering. "I love it! I love helping students in any way I can. Even if sometimes it's just as someone to listen to them when they need to talk." Sorrini has worked at McGill for 28 years, and in Biomedical Engineering for 21. She works closely with the Graduate Student Tracking System, a milestone-marking tool that her department developed and is now used by three other departments in the Faculty of Medicine. She is also a key player in the uApply online application system for graduate students. Di Grappa praised her "talents and commitment" in "in bringing McGill's graduate application process into the 21st century." Sorrini herself is quick to credit her team. "It helps that I work with amazing people," she says. "That support makes a big difference. I was ecstatic to win the award, but just the fact that my department thought to nominate me — I was so touched by that."
The annual Principal's Awards for Administrative and Support Staff is a university-wide program that recognizes outstanding contributions to the McGill community. The individual recipients, or team, each receive $5,000. Nominations for the 2015 awards, to be handed out at next fall's convocation, will open in June. If you would like to acknowledge the exceptional performance of a peer by nominating them for a 2014 Principal's Award, the application guidelines can be found here.
To see who won this year's Principal's Prize for Excellence in Teaching, go here.