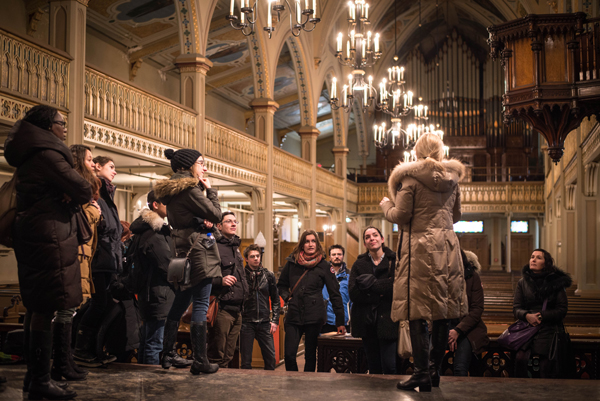 By Shelby Levesque
University campuses across Canada are recognizing the power of social innovation to create impactful change within and beyond their campus borders, and McGill is striving to lead the pack with the Quartier de l'innovation (QI). The QI district is composed of four distinct neighborhoods – Pointe-St-Charles, St-Henri, Griffintown and Little Burgundy – each possessing its own unique characteristics and challenges. This sector is also home to a dynamic social economy as well as numerous non-profit organizations. Since McGill and ÉTS launched the QI in 2013, McGill has initiated several social innovation projects.
Social innovation is a term that has become much more prevalent as communities globally work to solve social problems including education, healthcare, and community development. Those working in social innovation may have different definitions of exactly what social innovation is, but they all share the common goal of working towards a sustainable society.
In April 2014, McGill released a report titled An Assessment of Opportunities for McGill University to catalyze Social Innovation within the Quartier de l'innovation in order to best understand the social needs of Southwest communities in Montreal. The report details examples of current social innovation projects within the QI, as well as areas of improvement and recommendations for McGill moving forward.
One of the recommendations made by Jonathan Glencross, the author of the report, was to "implement structures and processes internal to McGill that enable a relationship-first approach in all engagements with QI stakeholders." In such a culturally, demographically and linguistically diverse city as Montreal, McGill is provided with an unparalleled opportunity to connect its community to local actors and organizations in social innovation. In order to take full advantage of the talent available, there must be a focus on relationship building. McGill Professor Steve Maguire, Director of the Marcel Desautels Institute for Integrated Management (MDIIM) and leader in social innovation, explains, "typically, broad, systemic change occurs when multiple actors from the private, public, and plural sectors seek to address a complex societal challenge together. Taking [a] relationship-first approaches helps establish respectful and fruitful environments for co-learning and co-creation." The QI and its university-based teams work to facilitate multi-disciplinary connections and partnerships with the community in order, for example, to improve the quality of life in the district.
It seems the key to any successful social innovation initiative is connecting with a network of passionate people, and reaching out to the broader community to best learn about and serve their needs. McGill is the perfect place for these types of systemic changes to take root; with almost 40 000 students pursuing a wide array of academic programs, as well as world-renowned faculty and staff members to guide and propel initiatives in social innovation, it is crucial that those wishing to participate in and encourage such projects be able to create relationships and connect with the greater Montreal community. Professor William Straw, Director of the McGill Institute for the Study of Canada and leader of the QI's Laboratory of Urban Culture, to be housed in Salon 1861, adds "the innovation scene is fluid, with people operating in different roles, firms, and organizations shifting their size and focus – people are the one stable element, so it's important to get to know them."
This is one of the reasons why (MDIIM), under the direction of Professor Emmanuelle Vaast, is collaborating with the QI, Gestion Immobilière Quo Vadis and Regroupement économique du Sud-Ouest (RÉSO) to launch and animate a Social Innovators' Integration Lab (SIIL) – to be housed in Salon 1861 – that will bring together community and business leaders, civil servants, academics and students to share knowledge and best practices to develop initiatives that leverage positive social impact for social change. MDIIM Director Steve Maguire explains that "the Lab will act as a catalyst for a wide range of social initiatives as well as for greater connections between the McGill community and the greater Montreal community."
Social innovation across Canada will only increase in volume as more people begin to see the value in working together to create positive solutions to economic, societal and social problems. The QI is a perfect example of this as it is a collaborative platform between universities, students, researchers and non-profit organizations that enhances the South West's local social economy.
As McGill begins to harness the power of its community members and the opportunities available within Montreal, making relationship-building a strong objective of the QI mandate will result in a much stronger, broader, and deeper impact for all.