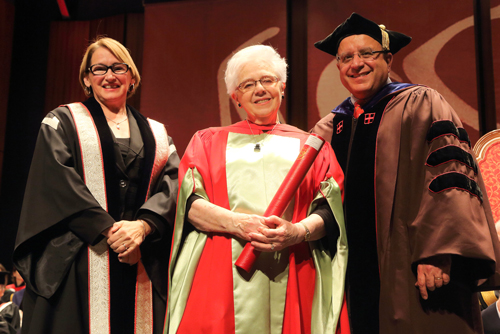 While the stars of yesterday's Convocation ceremonies were the 1,800 graduating students, McGill also took the time to celebrate some of its most dedicated educators.
The Principal's Prize for Excellence in Teaching, established in 2000 to recognize teachers and their importance to the academic experience of students at McGill, was awarded to one recipient in each of four categories: Faculty Lecturer, Assistant Professor, Associate Professor and Full Professor.
The University also honoured professor Ann Wechsler, who was presented with the McGill University Lifetime Achievement Award for Leadership in Learning.
Ann Wechsler: Wrong turn leads to right road 
Sometimes taking a wrong turn will lead you exactly where you need to go, just ask Ann Wechsler. "The teacher who played the major role in my academic life was the late Professor Hank MacIntosh, who was Chairman of the Department of Physiology when I first came to McGill [as a graduate student in 1957].
"I met him by accident – my plans had been to pursue studies in a different discipline – but on my way to the pre-admission interview in that department, I got lost and stumbled into Professor McIntosh's office to get directions. I never left," said Wechsler, a longtime professor in the Dept. of Physiology specializing in Gastro-Intestinal Physiology. "His kindness, the warmth of his smile, the immediate interest that he took in me as a student, the incredible depth of his knowledge and the obvious enthusiasm that he had for Physiology (a subject that I had not even studied as an undergraduate), and his capacity to make it sound exciting – all of these have led to my being where I am today."
Today Wechsler is the most recent member of a very exclusive club, having received McGill's Lifetime Achievement Award for Leadership in Learning during Monday's Convocation ceremonies. Wechsler is only the fourth person to receive the University's highest teaching honour, established to recognize "sustained excellence in leadership and innovation, as well as the active integration of teaching and learning with inquiry, scholarship and research."
Even though she has been teaching for more than half a century, Wechsler says the thrill of discovery is still one of her main motivators. "I am so delighted that the title of this award emphasizes primarily 'Achievement in Learning,' rather than teaching," said Wechsler. "I have, indeed, learned so very much by teaching at McGill.
"To a large extent, it's the opportunity to interact with young people, to be repeatedly struck by the curiosity and fresh outlook that they bring to those subjects that I love to teach," continued Wechsler. "Even after all these years, I am constantly surprised to get questions about which I had never thought, and which renew my own sense of wonder, and appreciation for the intrinsically fascinating field of physiology."
Raphaël Fischler: Learning and teaching go hand in hand
As with Wechsler, Raphaël Fischler feels like teaching is a two-way street. "All teaching involves learning. Having to teach something means having to learn it really, really well," said the Director of the School of Urban Planning and the winner of the Principal's Prize for Excellence in Teaching for Associate Professors. "I must confess, one of the things I enjoy most about teaching is the pleasure of being able to share things I've learned, the incredible privilege of being able to create and direct a conversation about things that matter."
While Fischler loves to be part of a student's "'aha' moment that accompanies discovery or insight," he also enjoys being part of "the evolution of students over the course of their degree program, which for us is either the Master's or the PhD. It is amazing to see what growth there can be in just a couple of years, both in professional development (knowledge, skills) and in personal maturity (e.g., leadership)."
When asked about the teachers who most influenced him, Fischler spreads the credit around.
"I was fortunate to have good teachers throughout my life, from elementary school to PhD. The ones I remember most were encouraging, took their mandate seriously, knew their subject matter well and were passionate about it, and, above all, had high standards," he said. "In addition, I've had the great fortune of sharing my life with a woman who is a great teacher; much of what I know about teaching today, I owe to her."
Ariel Fenster: Enthusiasm above all else
As a lab teaching assistant in the early 1970s, Ariel Fenster helped supervise a young McGill student named Suzanne Fortier. "I discovered this in 2005 when I received the Michel Smith Award for the Promotion of Science. It was presented by Suzanne Fortier who was NSERC president at the time," said Fenster, Associate Director of the
Office for Science and Society, and winner of the Principal's Prize for Excellence in Teaching for Faculty Lecturers.
Fenster is one of the people, along with David Harpp and Joe Schwarcz who developed the popular World of Chemistry courses, and a co-founder of the Office for Science and Society.
Fenster's long-standing love affair with teaching is based on two key components; "the interaction with the students… and [my] enthusiasm for the matter taught," he said, noting that good teaching can transform even the most ambivalent student. "I had a math teacher when I was in grade 11. I had no interest in the material but he managed to show me the beauty behind it," said Fenster.
Michael Rabbat: Learning how to teach from great teachers
As with Raphaël Fischler, Michael Rabbat counts himself lucky to have had great teachers throughout his life – beginning at home. "I've been extremely fortunate to have many excellent teachers, including my parents," said the professor in the Dept. of Electrical and Computer Engineering and the winner of the Principal's Prize for Excellence in Teaching for Assistant Professors. "Two teachers that especially come to mind right now are Mrs. Charman Brennan and Mrs. Jeanne Doherty. They were the mathematics and literature teachers at the elementary school in the suburb of Chicago where I grew up. They both provided great examples of how to create a fun and engaging learning environment where students also have freedom to explore topics on their own."
Rabbat has taken those lessons and applied them to his work at McGill. "One important message I've received from many of the teachers that influenced me, and one which I hope the students in my classes also take away, is that obtaining an education from a top-ranked institution like McGill isn't just about learning the material in the courses of your chosen discipline; it's about learning how to learn, so that throughout your career and your life you can seek out and obtain whatever skills are necessary to address the next challenge that comes your way," says Rabbat.
When asked for the formula to create a dynamic classroom setting that benefits everyone, Rabbat lists a number of key components. "You have to maintain an organized classroom and establish clear expectations to eliminate unnecessary uncertainty and distractions," said Rabbat. "You should respond honestly to questions, especially when you don't know the answer, because this helps establish a level of mutual respect between students and the instructor. It's also important to follow up promptly with more information after digging a little deeper to find the answer. These factors all combine to create an interactive classroom where students ask questions and participate in discussions, and this makes learning more fun for everyone involved."
Ken Ragan: Good teachers = good listeners
If you were playing a word association game and you got the word "professor," chances are your first thought would not be "attentive listener." But for Ken Ragan of the Dept. of Physics  and winner of the Principal's Prize for Excellence in Teaching for Full Professors, it is an essential attribute. "Patience, enthusiasm, empathy are the first qualities that come to mind when it comes to important qualities for teachers," said Ragan, "But I've also learned that it's important to be a good listener – students who are asking questions are giving the instructor all sorts of subtle clues about what's working (and what isn't) in the classroom, and about misconceptions that may be hampering their understanding."
While Ragan says that some of the most gratifying moments in the classroom are "those 'ah-ha!' moments you experience where a student sees something in a new light for the first time," he also understands that students aren't the only ones benefiting from good classroom dynamics. "Without a doubt [the most rewarding aspect of teaching] is the contact with the students. It's invigorating, and they often have probing questions that force you to step back and look at a subject in a new way –  even if it's 300-year-old Newtonian physics," said Ragan. "Students who've been in my freshman classes know that I do a lot of demos – and some of them are quite fun to perform. But it's the continual contact with the students that keeps us lively and on our toes."