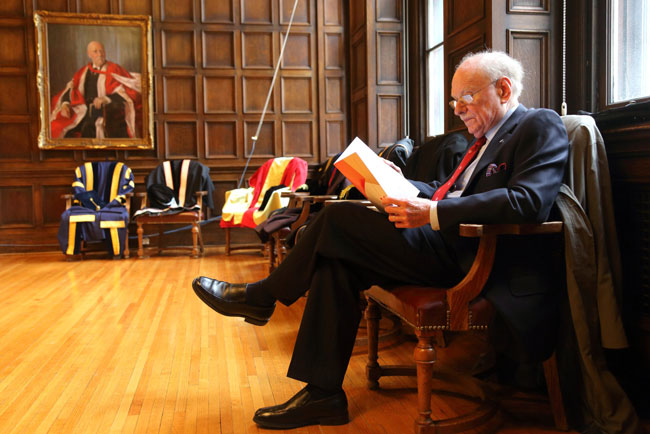 By McGill Reporter Staff
H. Arnold Steinberg, businessman, philanthropist, tireless volunteer and Chancellor Emeritus, died suddenly on Friday, Dec. 11, at the age of 82. With his passing, McGill, the McGill University Health Centre (MUHC) and the Montreal community lost one of their greatest servants, and a man who was happiest when he was giving back.
"Arnold Steinberg believed in the transformative power of education. So, too, was he a tireless champion for improving the quality of health care. For more than half a century, Canadians of all stations benefited enormously from his dedication and vision," said Principal Suzanne Fortier in a statement to the McGill community on Friday. "Although it is impossible to single out one achievement during such a long lifetime of dedication and service, Arnold's five-year tenure as Chancellor of McGill University was extraordinary. As he did throughout his life, he brought to the job a boundless curiosity and focused intelligence. He was decisive when he needed to be, kind and humble always."
Never was Steinberg's decisiveness more clearly on display than when he spearheaded the movement to have Vitamin D added to Quebec's milk in the 1960s.
As a board member of the Montreal Children's Hospital Research Institute at the time, Steinberg was concerned when he learned that rickets, a condition that weakens children's bones, had reached near epidemic proportions in Quebec. It was especially galling because, by then, it was understood that milk enriched with Vitamin D would all but eliminate the problem. Unfortunately, there was a major supplier who simply refused to add the supplement.
As Chief Financial Officer of the Steinberg's grocery store chain popular throughout the province at the time, Steinberg issued an ultimatum to the stubborn supplier – start adding Vitamin D to the milk or lose a lucrative contract. In a very short time, rickets was all but eliminated in Quebec.
Transformative days at McGill
In a 2009 interview with The Reporter, Steinberg admitted to having developed these leaderships skills after enrolling at McGill, where he would graduate with a Bachelors of Commerce in 1954. "I had always lived at home, even during my days at McGill and never really traveled until I graduated," he said. "But coming to McGill was a real eye-opener for me. I was exposed to so many subjects I had never studied before: political science, psychology, economic history. I read Shakespeare and captained the varsity water polo team. It was a real awakening for me and it gave me the confidence to move forward in a way that I couldn't have had before entering the University."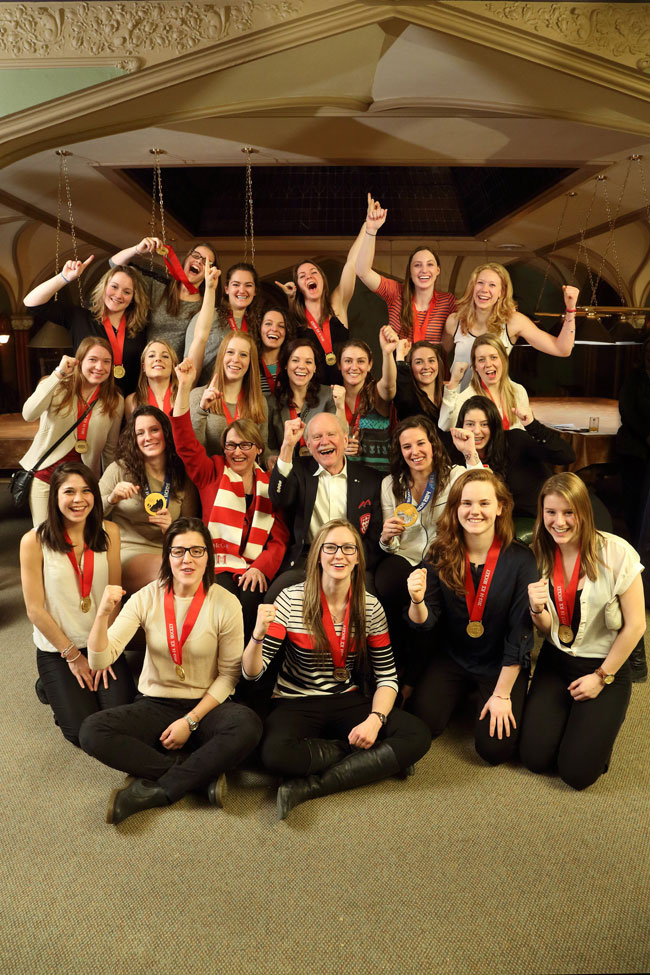 That newfound confidence stood Steinberg in good stead. Over the course of his successful career, he served as both a member of the Board of Directors and its Executive Committee of Steinberg Inc., and held a number of senior management positions including Executive Vice-President, Chief Financial Officer, Chief Administrative Officer and Chairman of Ivanhoé Inc. He also served on the boards of various public companies, including Bell Canada International, Teleglobe Inc., Provigo Inc. and Banque nationale du Canada.
"There are no words to express the sadness we all feel around McGill," said Vice-Principal (University Advancement) Marc Weinstein. "Arnold touched so many people and so many different projects and programs. He will be missed forever. We grieve alongside his family and Blema and hope they find comfort in their memories of this remarkable man, who changed so many lives, including those of many of us at McGill."
Despite his many successes, Steinberg was humble and possessed a self-deprecating sense of humour. "My very first class happened to be at Moyse Hall. On one side of the face of the wall as you go it are the names of all the Principals and Vice-Chancellors. On the other side are the names of all the Chancellors," he told the Reporter in 2009. "I remember looking at the impressive names on that list: Lord Strathcona, Sir Edward Beatty, Ray Edwin Powell – I just felt so honoured to be attending a university where all these prestigious people had served. I never, never thought that one day my name would be included there.
"I was just happy to get through that first year," he said with a chuckle.
Happiest when giving back
Steinberg was a tireless fundraiser and volunteer who, among other duties, spent 10 years on the University's Board of Governors and 19 years as Chairman of the Board of Governors of the McGill University-Montreal Children's Hospital Research Institute. He also served as a co-chair of the Capital Campaign for the Montreal Children's Hospital and was the founding president of the National Food Distribution Centre for the Treatment of Metabolic Diseases.
He was the Founding Chairman of the MUHC Board, member of the MUHC Research Institute, and had served as Chairman of the Advisory Board of the Faculty of Medicine of McGill. In 2005, Steinberg was appointed by Order-in-Council to the Governing Council of the Canadian Institutes of Health Research where he served as Vice-Chair.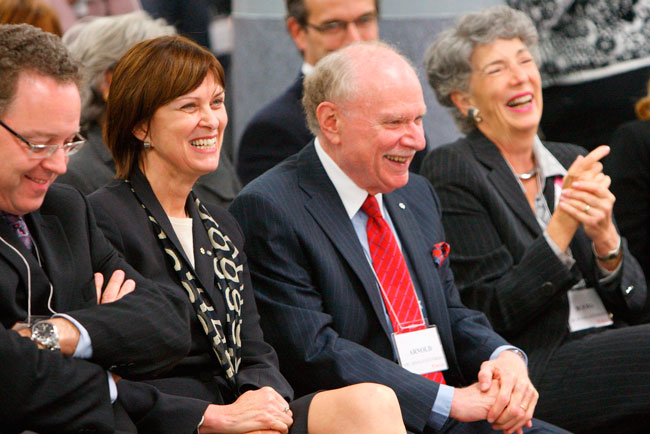 "Arnold was a prince of a man," said former Principal and Vice-Chancellor, Heather Munroe-Blum. "He shaped McGill, Montréal and Canada in deeply progressive and positive ways – uniquely, indelibly. He influenced everyone he met through his gracious warmth, joyous optimism and incisive intelligence. We will long remember him, and the example he has set. Our hearts go out to Blema and the Steinberg family."
In 2006, he deepened his commitment to patient care with the creation of the Arnold and Blema Steinberg Medical Simulation Centre, recently renamed the Steinberg Centre for Simulation and Interactive Learning. This past October, Steinberg and his wife, Blema, donated $7.5 million to the Centre to expand its facilities, enhance its technologies and broaden its scope of activities. "I consider it a privilege to be able to help the Centre take this exciting new step in its evolution, and to realize a vision that will have far-reaching benefits for health care professionals, patients and communities in Canada and around the world," Steinberg said at the time.
"It was a pleasure and real honour to have known Arnold," said Rajesh Aggarwal, the Centre's Director. "His enormous contributions to medical simulation have already been appreciated by many tens of thousands of learners, and continue to be reaped, daily. His vision, enthusiasm and above all, curiosity, is what made him so unique. Though, it was above all his humility and infectious smile, that will be sorely missed at McGill, and beyond."
"Arnold Steinberg was a listener, a partner, an advocate, a visionary, and a real gentleman," said Normand Rinfret, CRIA President and Executive Director of the MUHC in a statement issued on Friday. "He believed that a leader should be selfless, not selfish. In other words, the larger picture should always come before a leader's personal goals. Arnold was the epitome of selfless."
But Steinberg admitted that he got as much out of his various duties and volunteer roles as the people he served. Never was this more apparent than during his time as Chancellor.
As his five-year mandate was coming to a close in 2014, Steinberg told the Montreal Gazette that he couldn't believe his good fortune at being chosen for the office. "It is such a rare honour that I still kind of pinch myself that I was given that opportunity," he said.
Current Board Chair Stuart "Kip" Cobbett said he had tremendous respect for Steinberg.
"I admired and respected Arnold enormously," he said. "He was a very wise man with unparalleled good judgement who always made time to listen."
In one of his final interviews with The Reporter, Steinberg reflected on how, 60 years after graduating from McGill, the University was still affecting his life. "For me, being Chancellor of McGill has been a whole new life," he said. "To be able to work virtually full-time in exciting new frontiers – it's something I couldn't anticipate. It's invaluable. Other than family, it's the thing that's given me the most pride in my entire life. And I've had a very exciting life and very active business career. But nothing compares to this."
H. Arnold Steinberg is survived by his wife, Dr. Blema Steinberg, Professor Emeritus at McGill, and children Margot, Donna and Adam.
Each of his children, along with grandson Joshua, delivered moving , eloquent eulogies at Steinberg's jam-packed funeral service on Monday. They spoke of his relentless curiosity, extraordinary generosity and zest for living life to its fullest.
Learn more about the tribute project honouring H. Arnold Steinberg.
Read Principal Suzanne Fortier's statement on the passing of H. Arnold Steinberg