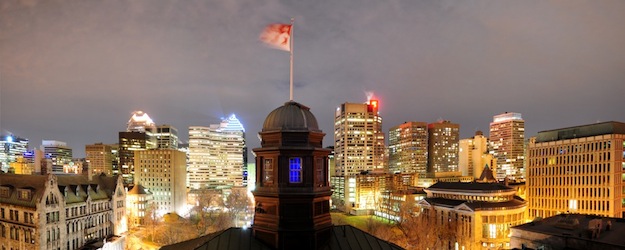 It was incorrectly reported last week in this story about the first Board of Governors meeting this year that McGill's enrolment had gone up 9 per cent this fall. In fact, the story should have said enrolment had risen 0.9 per cent. (More recent and complete data, provided in the updated story below, peg the increase at 2.6 per cent.) In addition, the story's reference to 25 per cent of McGill students being at the PhD level should have said that McGill is approaching 25 per cent of its student body at the graduate – i.e., both Master's and PhD – level. The Reporter regrets the errors.
By McGill Reporter Staff
McGill is experiencing 2.6 per-cent increase in enrolment this fall, Principal Heather Munroe-Blum said Thursday, at the first meeting of the Board of Governors in the current academic year.
The total number of students has reached 38,826, compared with 37,835 at this time last year, she said, noting that the University continues, through the development of a Strategic Enrolment Management Plan, to tweak student growth in some areas, notably to add students in programs at Macdonald Campus, and in some programs where more students are required, while perhaps trimming in some areas where resources are being stretched. She did not name specific programs.
The Principal also noted that McGill continues to have a high proportion of graduate students (close to 25 per cent) relative to the undergraduate population and that while we fall short of most research-intensive universities in the United States, which boast rates of 40 to 60 per cent, the University leads in Canada, where the average is 15 per cent.
Munroe-Blum also expressed satisfaction at what she described as "a great start to the year," including a number of successful events such as Frosh, the world-record-breaking fruit salad and the installation of Governor General David Johnston as McGill's Official Visitor.
She also noted that the front door of the James Administration Building is once again open after being on card-access only for much of the winter, spring and summer, following two student occupations last year. The University is developing a "professional reception area" that will assure access for the community and security for those who work in the building, she said.
Those occupations and other demonstrations prompted the Principal to ask Dean of Arts Christopher Manfredi to prepare a report on peaceful assembly and protest at McGill and his report will be delivered to Munroe-Blum early in October. The Principal said it will be shared with the McGill community and will prompt a re-examination of the provisional protocols governing demonstrations and protests that were hastily developed last winter. Munroe-Blum expressed the hope that a permanent protocol, arising from the Manfredi report, can be in place by the end of the calendar year.
She also noted that a number of questions concerning the Code of Student Conduct need to be addressed as part of a cyclical review that was already under way last year.
The Principal reviewed her top priorities for the coming year, her last as Principal after 10 years in the post, and they include ensuring that McGill's large cohort of new tenured professors (1,100 out of 1,700 have been hired in the last decade) are well landed and comfortable with their work and surroundings. Research and innovation, bringing Campaign McGill to a successful conclusion next spring and the University's several strategic plans also figured in the list of priorities.