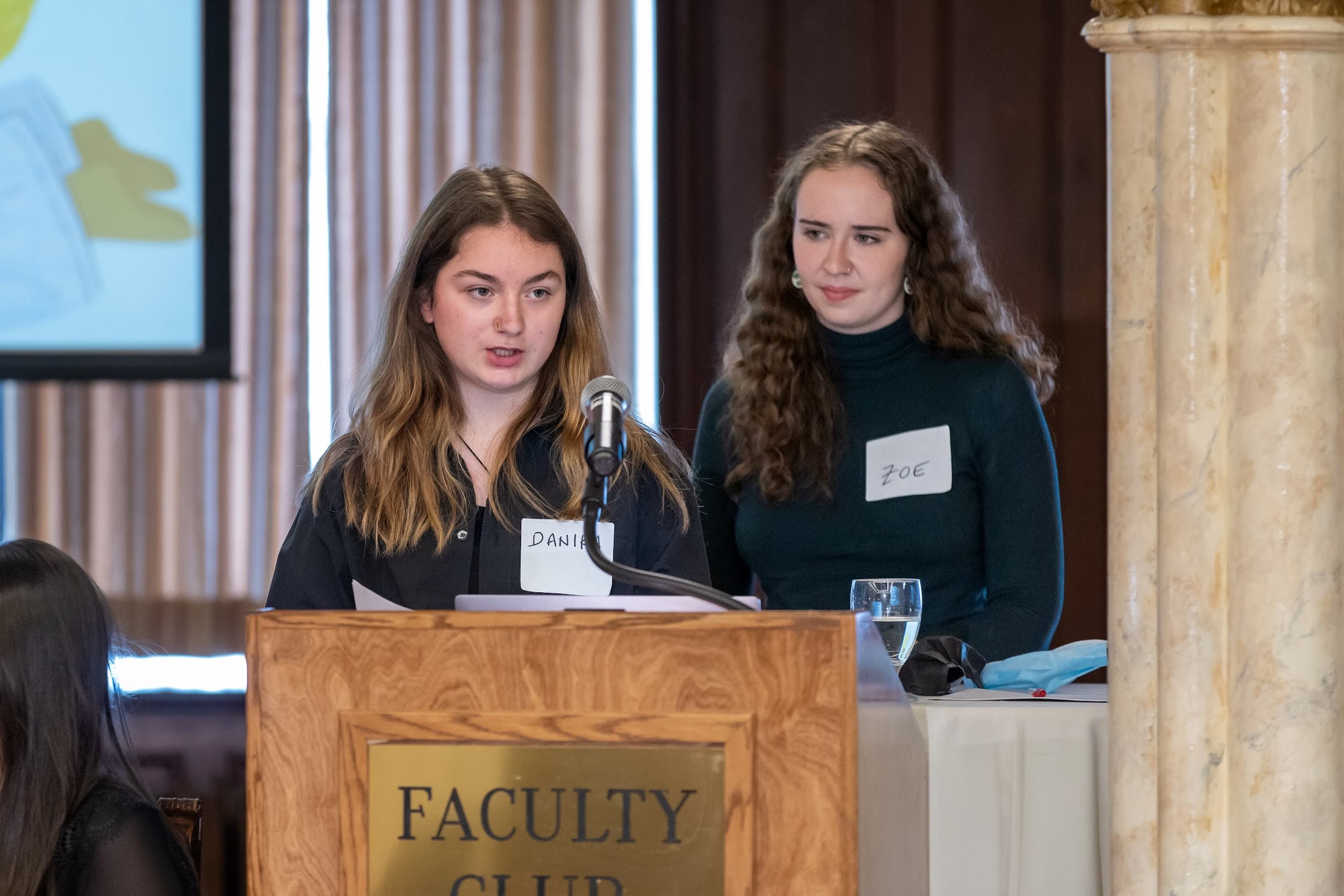 How are young people preparing to tackle the greatest challenge of our future – the climate crisis? Let's Talk Science – a Canadian non-profit organization dedicated to improving youth education and engagement in science, technology, engineering and math (STEM) all the way from pre-school to high school and university – has launched Climate Action Lab, an initiative for engaging thousands of high school students across Canada to participate in climate action.
The program places university students, such as Faculty of Agricultural and Environmental Science / Bieler School of Environment undergraduate Zoë Deskin, in the role of "coaches" in charge of teams of 6-10 high school students. Over the course of 12 weeks in 2022, 100 high schoolers across Canada trained as "youth researchers," then conducted qualitative research by interviewing peers on their thoughts and feelings about different approaches to climate action.
"I was research coach for Team Quebec, and I mentored a group of six high school researchers," says Deskin, who has researched environmental and sustainability education at McGill, working in the lab of Professor Blane Harvey.
"My role involved training the high schoolers on how to conduct qualitative research, including respecting research ethics. It also involved analyzing and synthesizing the data that my team was collecting, and sharing back with them the conclusions that were coming out of the data collected through interviews."
Learning how to conduct research
After two weeks of training, each youth researcher interviewed two peers per week – ten students total. Dannica Davies, who lives in Knowlton, Quebec, applied for the program through her high school.
"I heard about this project through my science teacher, Ms. Kathryn Skinner. She mentioned it one day in class, and no one else really seemed interested, but it caught my attention. So I applied and then heard that I got accepted to be a junior researcher in the program under Quebec's Team, and that I would be helping with their aim of trying to generate a better understanding of how youth felt about climate action."
Over the course of three months Dannica and her teenage teammates learned about – and put into practice – multiple aspects of conducting research, and explored questions such as how mental health goes hand in hand with climate action and solutions, and how their friends and classmates thought they could best learn about climate change at school.
"There was a wide range of people that I got to interview," says Davies. "Some were more in tune to climate solutions, and already had an interest in climate action. Others just didn't really care that much. It was a very broad spectrum."
Reflecting on their research
Every week the youth researchers had to do a reflection on their work: an act of "research hygiene practice." One outcome of these reflections was learning that by talking about climate with their peers, they were not only researching climate action, but actually doing it.
"When we asked what surprised you this week most, people said 'I'm surprised by the opinions of my friends: I feel like I actually know them really well, and their opinion surprised me,'" says Ruth Silver, founder of generative design firm Groundswell, who oversees the Climate Action Lab project. "The only finding I can confidently take from that is that you're not talking about climate on a regular basis, otherwise you wouldn't be surprised by your friends' opinions. For me, as a researcher that speaks to the need for us to really unpack that word 'action.' We thought we were asking about climate action, but even the act of talking about it can be action."
Building climate hope in young people
On May 2, Deskin and Davies presented their work with at McGill's Symposium for Science Engagement: Communicating the Urgency of Planetary Health at McGill's Faculty Club. The symposium was organized by the Science Writers and Communicators of Canada (SWCC) and Falling Walls Engage Hub Canada, which, housed at McGill's office of Research and Innovation, is the Canadian branch of the global science platform Falling Walls, dedicated to international connectivity and sharing knowledge across boundaries.
By all accounts Climate Action Lab has been an enriching experience for everyone involved, especially when it comes to showing young people that they do have agency when it comes to climate change.
"Students feel that curricular learning can be limiting and often stressful, describing a lack of choice and control," explains Silver. "They're looking for transdisciplinary opportunities to learn outside of the curriculum. Climate action isn't just for science. If you're great at communication or you create music, there's a room for you to bring your passion to this problem, which is frankly bigger than all of us. The only way we're going to get through it is to transcend these boundaries that we have."
"A finding that came out of the project was that one thing young people need, in order to contribute to climate action and climate research, is hope," concludes Deskin. "So much climate education is very issues-focused: that debilitates students, makes them feel upset and overwhelmed, and that they can't contribute to tackling such a complex problem. But more solutions-based learning, and hands-on work, like we did, is the first step in even motivating students to then go on to learn the tools necessary to more concretely work towards climate solutions."