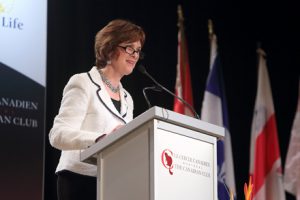 To see the McGill video that was shown before the Principal spoke, click here.
To view a podcast of the Principal's speech, click here.
By Doug Sweet
Facing reality is generally a good thing to do, Principal Heather Munroe-Blum told a luncheon meeting of the Canadian Club of Montreal on Monday, and it is time for Quebec to embrace change, especially as it relates to post-secondary education.
"We need to keep our grandparents' values, while moving out of their house," she said, referring to an "uneasy tension" running through Quebec society today between the preservation of past values and practices and the need to adapt to a rapidly changing world.
"Something needs to change."
As she nears the end of her 10-plus years at the head of McGill, Prof. Munroe-Blum offered a summation of lessons learned during that period and she spoke of the major challenges facing McGill and other Quebec universities at the moment.
One of those lessons, she noted, was "if the sky is blue and its sunny, bring an umbrella."
Education policy in Quebec has been erratic over the past decade, Prof. Munroe-Blum said, making it difficult for universities to plan effectively and compete with their peers.
She described the provincial government's recent decision to index tuition fees by 3 per cent per year as "a small step at a time when we should be racing, not walking."
It's time to question whether we really value our youth when we deprive universities of the resources they need to make post-secondary education more accessible, she said.
In a progressive society, the rich should pay more than the poor, she said, but Quebec's insistence on maintaining uniform tuition rates that are less than half the Canadian average "is a flat tax – there's no other way to look at it."
The poor, she said, end up subsidizing the rich because universities don't have enough resources to ensure that any student who meets admission standards can go to university regardless of their economic circumstances.
At the same time, she pointed out that the low-tuition policy isn't doing what it is intended to do, as Quebec's participation rates for university education remain below those in the rest of Canada and in countries participating in the Organization for Economic Co-operation and Development around the world.
The Principal also point out that in the rest of the world, universities were being measured on their results, not on how many government forms they fill out. "A focus on results instead of paperwork and bureaucracy changes the institution into something more nimble and entrepreneurial," she said.
Prof. Munroe-Blum kicked off the speech by noting that after a period of leave at Stanford University, she and her husband, Len Blum, intend to come back to Montreal. "I'm very happy that Quebec will remain our home," she said.
And she had words of welcome for her successor, Suzanne Fortier, outgoing President of the Natural Sciences and Engineering Research Council, who will assume the Principalship in September.
Dr. Fortier, Prof. Munroe-Blum said, "is an extraordinary President of NSERC and a great academic leader. We'll be blessed to have her coming to McGill and Quebec."
In tracing her decade at McGill, Prof. Munroe-Blum noted, as an example of how dramatic change can occur over a short time, that when she arrived, there was no such thing as Facebook and Montreal had a baseball team.
That's especially true when it comes to people's mobility today, she noted.
"Today, talent talks – and moves," she said. While some argue that Quebec universities don't need more money in order to attract and keep top professors because Quebec's cost of living is lower than that in, for example, Vancouver or Toronto, Prof. Munroe-Blum pointed out that Montreal's cost of living is generally higher than in many other university towns and cities across Canada and in the United States.
And, she said, don't forget the extra $5,000 a year a typical professor will pay in taxes in Quebec, compared to those in Ontario or British Columbia.
McGill has hired more than 1,000 new professors since 2000, she said, but reminded the audience of several hundred that the provincial government's recent unexpected cuts to university budgets cast a shadow over that bright promise.
"How long will Quebec keep its best professors, whether they were born here or are from abroad?" she said.
Read the full text of the Principal's speech here.