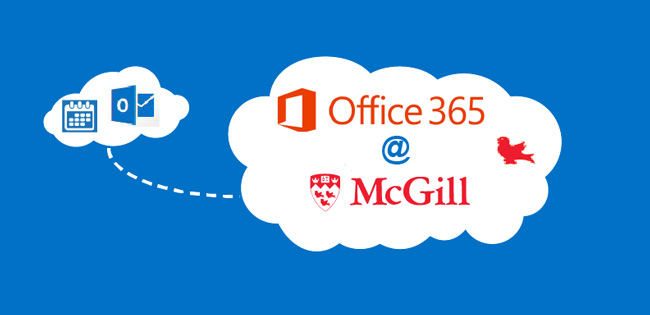 By Gabrielle Krim
Starting in May 2016, McGill will be moving all active and retired faculty and staff mailboxes currently hosted on our central Exchange servers (@mcgill.ca) to the Microsoft Office 365 Exchange Online service. This cloud-based email service was rolled out to all students and alumni last summer, and by all accounts people are very pleased with the service.
Email on Office 365 provides a 50 GB mailbox, and can be accessed from desktop applications, such as Outlook, as well as mobile devices and web browsers. Outlook on the web for Office 365 offers a superior user experience over the current Outlook Web App, with a consistent experience and full set of features on all modern web browsers. It is also integrated with the Office 365 web portal, so users can seamlessly switch between Email, OneDrive, and Yammer, and open attachments directly in the online versions of their favorite Office 365 apps (Word, Excel, PowerPoint, etc.).
"The integration of Email and other Office 365 collaborative tools (OneDrive, Yammer and Video) will enable McGill to become a more connected, dynamic and flexible learning organization, helping to advance the goals of the Principal's My Workplace priority, launched in 2014," said Michael Di Grappa, Vice Principal, Administration and Finance. Mr. Di Grappa was instrumental in presenting the Email on Office 365 project to McGill's P7.
Limited mailbox size has long been the bane of McGill's on premises email service – in surveys conducted in 2014 and 2015, faculty and staff complaints about insufficient email storage space topped the list of improvements needed over all IT services. With 50 GB of space, faculty and staff will no longer have to worry about managing their quotas or retrieving archived messages from Evault.
"I love that we are now able to satisfy our faculty and staff members' needs for increased storage, while continuing to deliver a top rate email service. And at the same time we're saving the institution money.", said Ghilaine Roquet, Chief Information Officer of McGill University.
The move represents a huge cost savings to McGill – roughly $ 1.1 M over 5 years — because central IT Services will no longer have to maintain the hardware and software associated with our current on-premises Exchange server. With Office 365, Microsoft manages their own cloud-enabled infrastructure and they push out new versions of the software and features as they are tested and ready to deploy. Microsoft also manages security on incoming email messages, including antivirus and anti-spam filtering, and full encryption of all Office 365 content. The service also provides complete disaster recovery measures, three datacenter locations with internationally recognized security certifications.
Some may be concerned that storing University data in the cloud is "not secure," or believe it is illegal to host Canadian Personal Information in the U.S. The fact is that the Microsoft cloud operates at the highest standard of security among cloud service providers, with three-key encryption and a policy where no administrator can have access to user data, unless authorized by their customer. Before implementing the Office 365 offerings, McGill IT Services and McGill Legal Services negotiated a customized contract with Microsoft, ensuring compliance with Privacy Laws of both Quebec and Canada. The contract also provides full recognition and protection of McGill Intellectual Property for all data hosted on Microsoft infrastructures. Other industries hosted by Microsoft on the same platform include: government, healthcare, public sector, banking, and universities, both in Canada as well as the US. McGill's contract has been made available to institutions across Quebec as a model for ensuring compliance with Quebec laws.
In bringing Office 365 to McGill, we join the company of a long list of Canadian universities, including names such as University of Toronto, Queen's U., Dalhousie, Concordia, HEC, Carleton and many more.
Watch for emails from IT Services over the coming weeks to find out when your mailbox will be moved to Office 365. To learn more now, visit the FAQs for Email migration to Office 365.