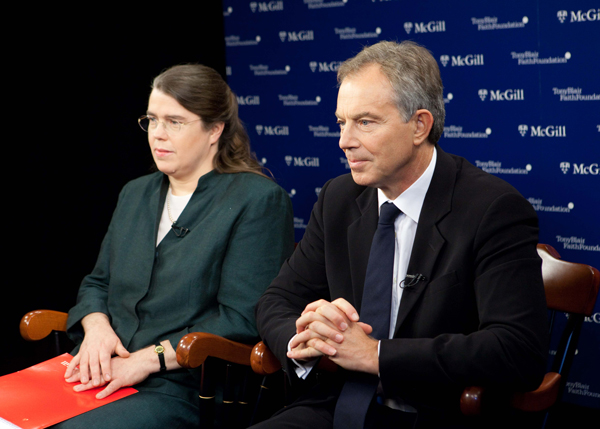 By Doug Sweet
The Tony Blair Faith Foundation has added its own tribute to the late Ellen Aitken, McGill's Dean of the Faculty of Religious Studies, who died early Saturday morning following a short battle with what turned out to be a very aggressive form of cancer.
Her death had come as a shock, given that only about a month ago she had confided to colleagues, in a brave and optimistic note, that she would have to take some leave because of her illness.
Prof. Aitken had been instrumental in having McGill join former British prime minister Tony Blair's Faith Foundation and Globalization Network, a worldwide organization dedicated to research into the importance and impact of religion in public events and discourse.
"Ellen was an outstanding academic but also a lovely, warm and generous spirited person with a huge heart as well as an exceptional mind," Blair said. "We enjoyed immensely our collaboration together. I am very sad."
The online tribute, which can be read here, noted that Prof. Aitken "ensured that McGill became a leading international university in this field both through the pursuit of the academic course, as well using her enormous entrepreneurial spirit to reach beyond the academy into the public policy realm."
Funeral services will be held Wednesday, June 18, at 10:30 a.m. at St. John the Evangelist Anglican Church, 137 President Kennedy Ave. (the red-roofed church near Place des Arts). A reception will follow in the church hall.
Prof. Aitken, who was only 53, had been a member of the Faculty since 2004, teaching Early Christian History and Literature. Before coming to McGill, she was at Harvard University, where she served on the faculty of the Divinity School and won an award for teaching. She held degrees from Harvard and the University of the South.
She spoke Ancient Greek and was proficient in Latin, Hebrew, Coptic and German. She also had a reading knowledge of French, Spanish and Italian.
At McGill, where she also was honoured for teaching excellence, Prof. Aitken was a member of McGill's Centre for Research on Religion (CREOR). She had been appointed Dean of the Faculty in 2007.
Prof. Aitken is survived by her husband, renowned organist William Porter, who teaches at McGill and the Eastman School of Music in Rochester, N.Y.
An ordained Anglican Church/Episcopalian Minister, Prof. Aitken was an active participant in University life and in trying to involve the broader community in discussions about a wide variety of subjects touching on faith and religion.
Unsurprisingly, heartfelt tributes from colleagues were plentiful, and many noted the grace with which she faced her recent ordeal.
"Ellen was a valued colleague, a world renowned scholar, a great ambassador for McGill, and a wonderful human being," said Provost Anthony C. Masi. "I feel fortunate to have worked with her and to have benefitted from her wise counsel. Her eloquence, her commitment, and her kind manner and cheerful smile made a real difference at our University and she will be sincerely missed."
Prof. Douglas Farrow of the Faculty of Religious Studies said, "Dean Aitken's sudden illness and death has left our community in deep sorrow. Her husband, Bill, is very much in our thoughts and prayers also.
"The two of them were amazingly gracious in allowing us to share in their final weeks together, and there was a tremendous outpouring of love and concern for Ellen from at home and abroad. She was marked by faith and peace and good courage throughout the entire ordeal. What she was when she was with us – a person of great integrity, patience, wisdom, and compassion – she remained to the end. We have lost a good friend as well as one of the Faculty's, and indeed the University's, finest and most dedicated leaders. We all feel very much in her debt, and our shock and sorrow are mixed with gratitude for all she did for us."
Rev. Phillip Joudrey, Principal of the United Theological College wrote to colleagues Saturday that during her illness, "Ellen maintained a blog to keep friends in many parts of the world up to date. Through it she communicated incredible strength and a deep capacity for embracing faith. Her gracious response to the outpouring of love that she received will long remain with us.
"At the United Theological College and the Montreal School of Theology we are saddened beyond words."
Added Dean of Arts Christopher Manfredi: "Ellen was a wonderful decanal colleague, profoundly committed to the university and serious scholarship. She was also a woman of deep and inspiring faith. Her students and colleagues will miss her tremendously."
A close colleague, Daniel Cere, Associate Professor of Religion, Ethics and Law, also lamented Prof. Aitken's passing.
"The news of Ellen Aitken's death is heartbreaking. She has been a friend, teacher, and leader for many students, faculty, and staff," Prof. Cere said. "I had the privilege of working closely with Dean Aitken in the ambitious Religion and Globalization initiative that she spearheaded. She brought to her tenure as Dean a dedicated, caring and visionary leadership that has transformed the Faculty, and personally touched many lives.
"When it was revealed that Ellen was facing a shockingly aggressive form of cancer, she encountered this trauma with the grace, friendship, and faith that characterized her life and work. Her academic and faith journey brought together a remarkably diverse community of friends and colleagues across so many religious and disciplinary divides. She continued to draw us together and care for us even in her dying, welcoming us into her struggle, sharing her heart with us. May we find pathways to honour the grace-filled life, dedication and service that Ellen shared so freely with us."
Finally, an anonymous poster to the Rate My Prof website had this to say about Prof. Aitken in 2007:
"If I ever become a professor, this is the kind I want to be. Professional, brilliant, humble, helpful, kind, challenging … this is the perfect prof."