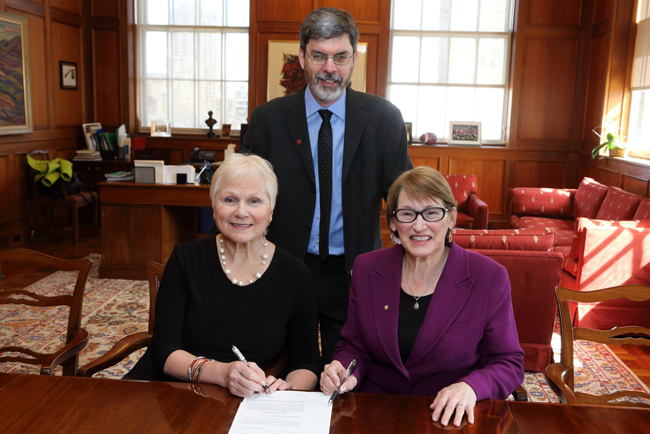 University names New Music Building in her honour
By Linda Sutherland
Music has been a longtime passion of McGill alumna Elizabeth Wirth, BA'64. Inspired by her two Viennese grandmothers, she became an opera fan at a young age. During her teenage years, when the songs of Elvis Presley were all the rage, Wirth was captivated by the arias of Maria Callas. A self-described "opera groupie", she subscribed to the Metropolitan Opera News and regularly attended opera performances.
Although Wirth went on to pursue a successful career in business – and today is President and CEO of Wirth-Brand Inc. and Wirth Trading Inc. – her enthusiasm for music continued to flourish. For well over a decade, she has been actively involved with the Schulich School of Music of McGill University, providing both financial support and serving as an enthusiastic volunteer and advocate for the School, most notably as a valued member, and now Chair, of the Faculty Advisory Board.
Underlying Wirth's commitment to the School is her keen interest in its students. "The most wonderful thing about Elizabeth Wirth is that she is not a faceless donor," said Michaela Dickey, MMus'13, ADip'15. "She regularly attends performances at the School and has a genuine interest in the work we are doing. And she is always keen on hearing about our future plans. McGill and the Schulich School are so fortunate to have such a special friend."
As a philanthropist, Wirth has generously supported and championed an array of initiatives, including scholarships and fellowships, and the Schulich School's renowned opera program, which benefits from the exceptional rehearsal and performance environment of the Wirth Opera Studio, renovated several years ago thanks to a gift from Wirth and her late father, Manfred.
In 2013, she spearheaded a highly-successful $1.3-million fundraising campaign to transform the facilities adjacent to the School's state-of-the-art Music Multimedia Room, allowing students to produce outstanding recordings and conduct cutting-edge research into sound. She has since matched contributions to the project from more than 50 donors.
And now comes news of Wirth's latest, and largest, gift to the School: a $7.5 million donation – one of the most generous gifts to culture and music in Quebec, and one of the largest gifts ever to McGill from a female donor. The gift was announced at a special event celebrating philanthropy and featuring some of the School's talented students and young alumni.
Wirth's landmark donation will fund three new initiatives. The first, a suite of student excellence awards, will strengthen the School's ability to attract and retain top talent. A new student initiatives fund will support internships, travel and other activities that benefit students. And finally, a prize in vocal performance will be awarded annually to a voice student who demonstrates exceptional skill. The first of these awards will be presented during the 2015-16 academic year.
In recognition of her outstanding support, through this and previous gifts, McGill is naming the New Music Building on Sherbrooke St. the Elizabeth Wirth Music Building / le Pavillon de musique Elizabeth Wirth.
"I am grateful to Elizabeth Wirth for her years of impassioned and generous support of the Schulich School of Music," said McGill Principal and Vice-Chancellor, Suzanne Fortier. "These extraordinary gifts reflect her profound dedication to McGill and to its talented students."
This significant donation comes at an exciting moment for McGill as it prepares to launch a series of events to mark the 10th anniversary of the re-birth of its Faculty of Music as the Schulich School of Music.
"It is thanks to the unwavering support of generous donors, including Elizabeth Wirth, that the Schulich School has achieved new levels of excellence over the past decade, offering our students top-notch music training and research programs, along with state-of-the-art equipment and facilities," said Sean Ferguson, Dean of the Schulich School of Music.