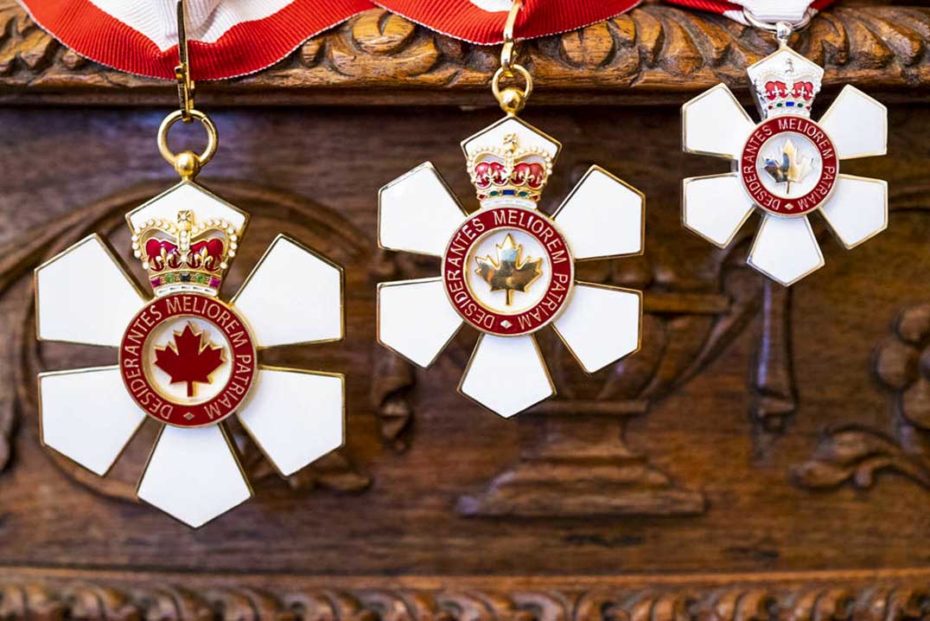 Filmmakers, lawyers, doctors – even a former television Dragon – were among the 11 members of the McGill community who were appointed to the Order of Canada, as announced on June 27, by Her Excellency the Right Honourable Julie Payette (BEng'86, DSc'03), Governor General of Canada.
In total, 83 new appointments were announced.
Since its founding in 1967, close to 7,000 people from across the country have been named to the Order, which recognizes Canadians who have distinguished themselves in their fields or contributed to making Canada a better country. The Governor General's webpage says the Order "honours people whose service shapes our society; whose innovations ignite our imaginations; and whose compassion unites our communities."
Appointments are made for sustained achievement at three levels: Companion, which recognizes national pre-eminence or international service or achievement; Officer which recognizes national service or achievement; and Member which recognizes outstanding contributions at the local or regional level or in a special field of activity. Officers and Members may be elevated within the Order in recognition of further achievement, based on continued exceptional or extraordinary service to Canada.
Two McGill honorary degree recipients, were named Companions of the Order of Canada:
Robert Phelan Langlands, a Canadian mathematician best known for creating the Langlands Program, which predicts unexpected connections between different fields. Langlands is being honoured for "his revolutionary contributions to the field of mathematics, notably as the founder of the Langlands Program, which has pushed boundaries and inspired mathematicians worldwide." In 1991, McGill made Langlands an Honorary Doctor of Science from McGill.
Alanis Obomsawin, an Abenaki, singer, artist, storyteller, activist and one of Canada's most distinguished documentary filmmakers. Obomsawin has been promoted to Companion for "her enduring commitment to recognizing and preserving Indigenous history and culture as an acclaimed filmmaker." In 2017, McGill made Obomsawin an Honorary Doctor of Letters.
Three members of the McGill community were made Officers of the Order of Canada:
Ric Esther Bienstock, a Canadian documentary filmmaker best known for her investigative documentaries. Bienstock has been recognized for "her commitment to raising awareness of global events and conflicts through film, and for her exceptional representation of the Canadian documentary-making tradition on the international stage." Bienstock earned a Bachelor of Arts from McGill in 1981.
Graham Fraser, a renowned journalist and Canada's longest-serving Commissioner of Official Languages (2006 to 2016). Fraser is being honoured for "his leadership as a journalist and academic, and for his contributions to bilingualism as Canada's commissioner of Official Languages." Fraser was a visiting scholar at the McGill Institute for the Study of Canada in 2018 – 2019.
James. A. O'Reilly, one of the most renowned legal experts on matters of Indigenous land claims in Canada. O'Reilly is being recognized for "his contributions as a jurist, for his advancement and protection of Indigenous rights and self-governance, and for his profound effect on the practice of Aboriginal law in Canada." O'Reilly earned his Bachelor of Civil Law from McGill in 1963.
Six McGillians were named Members of the Order of Canada:
Renaldo Battista, an expert in health technology assessment, health services and clinical epidemiology. He has been named to the Order for "his pivotal role in the revitalization of provincial and national public health." Dr. Battista was a professor in the Departments of Epidemiology and Biostatistics and of Medicine at McGill from 1982 – 2003.
Joseph Raymond Buncic, a clinical neuro-ophthalmologist. Buncic is being honoured for "his pioneering contributions to the field of pediatric neuro-ophthalmology, notably through his mentorship of multiple generations of pediatric eye specialists." Buncic graduated from McGill in 1965 with a Medicinae Doctor et Chirurgiae Magister (Doctor of Medicine and Master of Surgery)
Robert L. Carroll, a vertebrate paleontologist specializing in Paleozoic and Mesozoic amphibians and reptiles. Carroll is being recognized for "his academic leadership and contributions to his field as Canada's pre-eminent vertebrate paleontologist." In 1964 Carroll was appointed curator of vertebrate paleontology at the Redpath Museum. He was appointed Strathcona Professor of Zoology in 1987. From 1985 to 1991 he was director of the Redpath Museum
Mitch Garber, entrepreneur and philanthropist. Beginning his career as a radio sportscaster, Garber is a former television Dragon and current Chairman of both the Canadian federal agency Invest in Canada as well as Cirque du Soleil. Garber his honoured "for his contributions as an innovative entrepreneur, and for his active governance and philanthropic commitment to education, health and culture." Garber earned his Bachelor of Arts from McGill in 1986.
The Honourable Joseph Robert Nuss, former Justice of the Quebec Court of Appeal. Prior to his appointment as a judge, Nuss was a lawyer specializing in litigation, who appeared as counsel, in various areas of the law, before the Supreme Court of Canada, the Federal Court, all the Courts of Quebec as well as before administrative tribunals. Nuss is recognized for "his lifelong commitment to justice, and for supporting Montreal's Jewish community." Nuss graduated from McGill with a Bachelor of Arts in 1955 and a Bachelor of Civil Law in 1958.
Hanna Maria Pappius, a pioneering neurochemist. Pappius was a trail-blazing neurochemist at the Montreal Neurological Institute for more than fifty years, specializing in cerebral edema and the effect of brain injury on neurotransmitter and receptor mechanisms. Pappius is honoured for "her contributions to neurochemistry as a researcher and professor at the Montreal Neurological Institute." Dr. Hanna Pappius is an Emerita Professor at McGill and a retired neurochemist at the Montreal Neurological Institute, where she worked for more than 50 years.