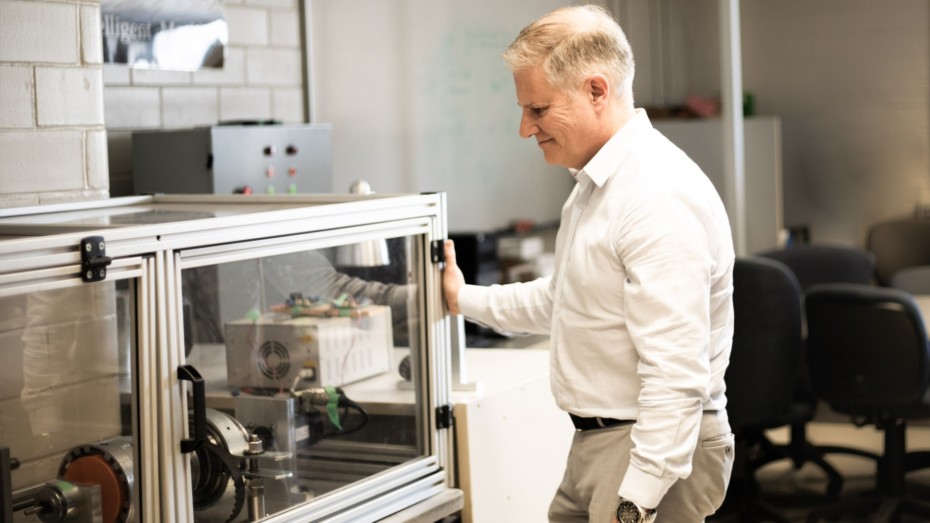 While electric cars are rolling off assembly lines in increasing volumes around the world, development of electric trucks has lagged behind. That's largely because bigger vehicles require bigger, heavier batteries and motors.
But researchers at McGill's Faculty of Engineering are helping to find ways to meet that challenge, and pave the way to a greener future for Canada's transportation sector.
"Electrification of road vehicles would be huge," says Benoit Boulet, a professor of Electrical Engineering and Associate Dean for Research and Innovation at the Faculty. "If all vehicles were electrified, we would reduce overall CO2 emissions by 27 per cent in Canada and roughly 43 per cent in Quebec."
Boulet's McGill Intelligent Automation Lab has been working on electric drivetrains, in collaboration with industry partners, for the past decade.
In 2013, the lab was awarded $4.7 million through the Government of Canada's Automotive Partnership Canada initiative. That funding, along with $5 million in corporate investments, supported a project to combine electric motor technology from TM4 Electrodynamic Systems of Boucherville, Que., with a drivetrain from Linamar Corp., an automotive supplier based in Guelph, Ont. Infolytica Corp., a Montreal firm that has since been acquired by Siemens, helped develop the software needed to design these advanced electric motor systems.
Purolator pilot
"Our goal was to look at opportunities for electrifying trucks for delivery," says Boulet. "We figured that courier-type trucks were very appropriate for electrification." Their short routes, with lots of stop-and-go to drop off and pick up packages, are conducive to operating on batteries: each time a truck decelerates, the electric motor can regenerate energy back into the battery, improving the vehicle's range. "Companies that operate fleets want to save costs, as well, because fuel costs are extremely high," Boulet notes.
To test their product, the collaboration turned to Purolator, one of Canada's leading delivery companies.
The group also needed to find a partner to integrate the electric drivetrain into the truck. For that, they teamed up with Cummins Inc., a leading manufacturer of diesel engines – but one with an eye on the future of electrified power technologies, as well.
One key contribution by the McGill lab was to provide a digital touchscreen display enabling the driver to monitor information about the vehicle, such as the battery's state of charge.
So it was that, during the past two years, an electric Purolator truck quietly plied urban operating routes in Canada – first in Ottawa, then in Montreal.
"It went really well," says Gary Parker, Director for Electrified Power Engineering Programs at Cummins. "The truck ran great. Purolator was very happy with the field-test performance and Cummins was, too," Parker said in a telephone interview from the company's Columbus, Indiana, headquarters. "We were very happy with the project and its outcome."
Drivers and customers appreciated the truck's quiet, pollution-free operation, Boulet says.
Patented drivetrain
Unlike conventional cars, most electric-powered passenger cars operate with single-speed transmissions. (The notable exception is the 2020 Porsche Taycan, a high-performance car that incorporates a two-speed transmission technology invented in Europe.)
For large trucks and buses, it's very difficult with single-speed transmissions to provide both adequate acceleration from a standstill and the top speeds required for highway travel, Boulet explains. "So companies wind up having to oversize the motor, oversize the power electronics and the battery, to be able to meet both specs."
To solve that problem, Boulet's research group has already developed a patented high-efficiency dual-speed electric transmission – one that doesn't require a clutch, and that shifts smoothly from first to second gear. By eliminating the need to oversize other components, this approach also promises to help cut vehicle-manufacturing costs sharply.
The lab – which includes 10 researchers – is now collaborating with a major automotive parts supplier to develop more advanced multiple-speed transmissions for potential use in the largest vehicles on the road.
"We still have some theory to go through before we can demonstrate it," Boulet says. "But we've already begun to build a test bed for it, and I'm confident that within six months to a year we should have a demo in the lab for a new type of transmission that's even more sophisticated."
And how soon might truck makers start incorporating this multi-speed transmission technology into their new models?
"The technology works, it's been proven to work," Boulet says. "But the decision to put it on a truck – or on a bus – is something that has more to do with the business environment and the application in the market. We are actively working with a company right now, and there are companies with whom we are negotiating and looking at projects."