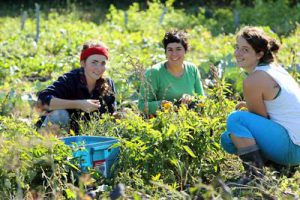 By Jim Hynes
It's a beautiful, early October Wednesday morning in a patch of garden on the Macdonald Campus, an absolutely perfect day for harvesting nature's spoils. And Katryna van Vliet and her colleagues at the Macdonald Student-run Ecological Gardens (MSEG) are working with a bit more urgency than usual – they've just heard that the first frost of the season is on its way. Time is of the essence.
Conceived three years ago and supported by McGill's Sustainability Projects Fun (SPF) for the past two, the MSEG practices holistic agriculture, helping students "learn and apply sustainable agriculture in practical ways."
The group grows herbs, vegetables, and flowers in two locations: a ¼-acre garden at the Mac campus' Horticultural Centre and another, one-acre, completely organic one on McGill-owned land in Senneville. Produce like dry beans, kale, beets, carrots, black radish, turnip, butternut squash, pumpkin, tomato, fennel, savoury, cabbage, okra, lettuce, eggplant, onions, melon, potatoes and more is grown in the gardens and then sold at three different markets in summer and fall: a student market on Mac campus, the Saturday Farmer's Market in Ste-Anne-de Bellevue, and the McGill Farmer's Market that sets up shop on McTavish St. every Thursday (through October 27). The SPF funding they receive covers salaries for the core members, several of whom put in as many as 50 hours of work per week.
 Working the land
Van Vliet and a core group of six other full-and part-time MSEG members also maintain a meditation garden and offer sustainable gardening workshops on and off Mac campus. But in the end, the main focus is still farming, which almost always means work – hard, sometimes backbreaking, work.
"I think a lot of us take great joy in doing this," says van Vliet, a Montreal West native who's wrapping up a degree in Biodiversity and Conservation at the McGill School of Environment. "It feels good to be outside all day, working for something you believe in, getting your hands, and knees, and face dirty. We are learning so much in implementing this project and I think we are getting as much from it as we are putting in. I also think it just makes sense that a campus that specializes in agricultural and environmental sciences would have an organic field for research and education. This is the way that agriculture and food systems are going and McGill should provide a venue for students to learn about ecological agriculture hands-on."
Back at the Mac Hort Centre garden, van Vliet and regular MSEG members Sophie Price Kevin Karle and Pauline Richard have picked the garden clean and are packing their bounty and tools into Price's 1974 VW Westfalia van. They're on their way to the larger garden in Senneville, where they'll work the rows of vegetables before washing and storing their entire haul in a neighbouring farm's cold storage room overnight. They'll convene there once again the next morning for the trek, the van bursting with veggies, to the McGill Farmer's Market.
With limited personnel and resources, and few tools of their own, the MSEG team must count on the help of friends both inside and outside McGill to make their project work.
"There are a lot of teachers who are very supportive and have linked their courses to our garden." van Vliet says. "Kristine Koski (Director and Associate Professor at the School of Dietetics and Human Nutrition) has her students doing food transformation workshops with our produce, and Caroline Begg, who will be supervising the Crop Planning course for our garden next year, has been great."
With a little help from their friends
Then there are those helpful neighbours from the organic family farms in Sennevile, Ferme Zephyr and Jardins Carya.
"Both helped us till our fields in the spring and when the weeds got out of control at the beginning of the summer," van Vliet explains. "I feel like the other farmers want to encourage us and make sure we don't burn out, which is great."
Great indeed, as peak harvest time takes place the same time fall classes start, making the work-school balance a difficult one to strike.
There are some perks, however, to this labour love, van Vliet admits.
"I have never eaten so well as I have this summer. It's a big treat when there are leftovers from markets. I feel satisfied, grateful and safe knowing exactly what my food went through to get to my plate."
Learn more about the MSEG and organic farming in general at http://mseg.weebly.com, on their blog at http://macdonaldstudentgarden.blogspot.com or by visiting the McGill, Macdonald Student-run Ecological Gardens Facebook page.