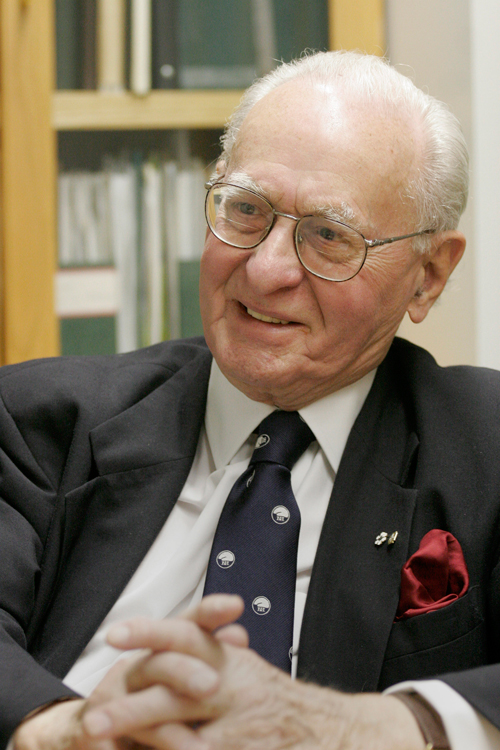 The Montreal Neurological Institute and Hospital, McGill University, and the McGill University Health Centre regret to announce the death of William Feindel, O.C., G.O.Q., MDCM, D. Phil., one of Canada's most distinguished neurosurgeons and The Neuro's third director. Dr. Feindel passed away quietly at The Neuro on Sunday night following a brief illness.
"For over 60 years, Dr. Feindel made his mark on Canadian medicine in surgery, research and administrative policy. His influence on his colleagues and on his many students was widespread. To the very end of his life, he remained a curious student of neurological science, and avidly took part in The Neuro's activities," said Dr. Guy Rouleau, director of The Neuro.
Dr. Feindel's many contributions to medical science were recognized in 2003, when he was among the earliest inductees into the Canadian Medical Hall of Fame. The induction was one of numerous honours accorded him, including honorary degrees and membership in the Order of Canada, the Ordre national du Québec (Grand Officier), the Académie des Grand Montréalais, and the Royal Society of Canada.
"Accomplished neurosurgeon, technological innovator, visionary administrator, inspiring teacher—Dr. William Feindel was all of these. His accomplishments live on at the Montreal Neurological Institute and Hospital, which he helped to bring to world prominence, and in the many medical fellows whom he mentored throughout his long career. With his passing, McGill University has lost a wonderful colleague and friend," expressed Suzanne Fortier, Principal and Vice-Chancellor, McGill University.
William Howard Feindel was born in 1918 in Bridgewater, Nova Scotia. He earned his undergraduate degree at Acadia University, where many years later he would serve as Chancellor. After graduation, he attended Merton College, Oxford University, as a Rhodes Scholar, earning a D. Phil. in neuroanatomy. In Montreal during the Second World War, Dr. Feindel worked to develop treatments for war injuries along with The Neuro's founder and first director, Dr. Wilder Penfield.
After earning his medical degree at McGill and further studies in neurosurgery at Oxford, Dr. Feindel became the first professor of neurosurgery at the medical college in Saskatoon in 1955. Seeing the potential of brain scanning equipment, he developed the first automatic isotope scanner.
"Dr. William Feindel personified the best of McGill's teaching hospitals. He was a caring doctor, an outstanding researcher and a team player with a fertile and inquisitive mind. In fact, he was a model physician who I hope will continue to inspire future generations of health care professionals," said Normand Rinfret, CEO and Director General, McGill University Health Centre.
He returned to The Neuro in 1959 as the first William Cone Professor of Neurosurgery. Three years later, he was appointed The Neuro's neurosurgeon-in-chief. A researcher who contributed to more than 500 scientific papers, Dr. Feindel had special interest in determining the causes of focal epilepsy as well as in finding methods for the early detection of brain tumours and strokes. He helped to develop what came to be known as the Montreal Procedure for temporal lobe epilepsy, which involved the surgical resection of the antero-mesial temporal lobe. The procedure was subsequently adopted throughout the world, leading to cures for thousands of epilepsy patients.
"Students, fellows and colleagues of our Faculty have had the great fortune of knowing and learning from Dr. Feindel, an innovator and Canadian icon in the field of neuroscience," said David Eidelman, Vice-Principal (Health Affairs) and Dean of Medicine at McGill. "His contributions to The Neuro and MUHC's pioneering reputation, and to the advancement of knowledge at McGill and internationally, leave an indelible impression on all of us and will continue to do so for future generations."
During his tenure as The Neuro's director from 1972 to 1984, Dr. Feindel largely introduced revolutionary brain scanning tools to Canada, acquiring the country's first CAT, MR and PET units. In 1984, the tools were combined into the McConnell Brain Imaging Centre, a unit that established The Neuro as one of the world's leading brain-imaging facilities. Under Dr. Feindel's direction, The Neuro doubled in size with the construction of two new wings, the Penfield Pavilion and the Webster Pavilion. McGill inaugurated the William Feindel Chair in Neuro-Oncology in 2001 with the support of the Clive Baxter Memorial Fund.
Along with his scientific research papers, Dr. Feindel wrote extensively on topics of medical history, especially about the work of Thomas Willis, the seventeenth-century British pioneer in brain research who coined the term, "neurology." In 1964, Dr. Feindel published a facsimile in English of Willis's treatise of 1664, "Cerebri Anatome" (Anatomy of the Brain and Nerves). The Osler Library of the History of Medicine at McGill University elected Dr. Feindel as Honorary Osler Librarian in 1984.
For many years, Dr. Feindel worked on an extensive history of The Neuro. The result of his labours is scheduled to be published by McGill/Queens Press under the title, The Brain Doctors. A collection of his historical observations about life and work at The Neuro was published in 2013 as Images of the Neuro. Until the end of his life, Dr. Feindel maintained an office at The Neuro and continued to attend lectures and conferences. He was also an avid amateur pianist and violinist, performing along with his colleagues at The Neuro's annual variety show.
He is survived by his wife, Faith (née Lyman), his two sons Christopher (Mary Ann) and Michael (Karen), his three daughters, Patricia, Janet (Robert) and Anna (Bernard), his two grandsons Michael (Laura) and Andrew (Tina) and his great grandson Finn. He was predeceased by his beloved son Alexander (Ling) in 1985.
The funeral service will be private. Details regarding a memorial service will be announced at a later date.